You or someone you know has eczema on their hands. Do you find yourself having hand eczema and not knowing where in the world it came from? I have completed extensive research to find answers to the causes, triggers, and how to manage symptoms of eczema on your hands. Let's go over the leading hand eczema triggers, and how to treat flare-ups.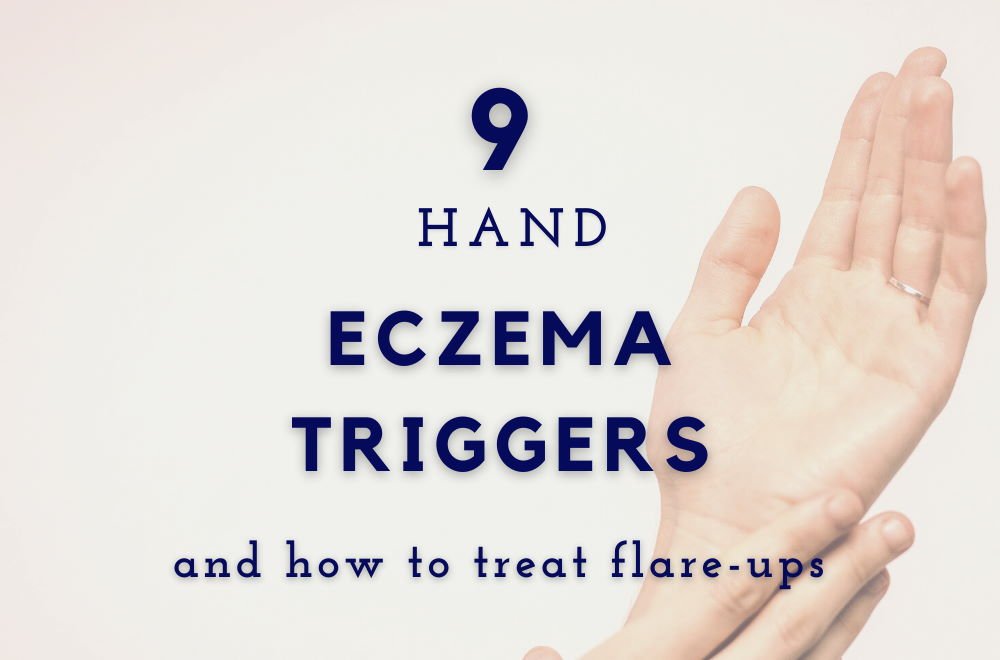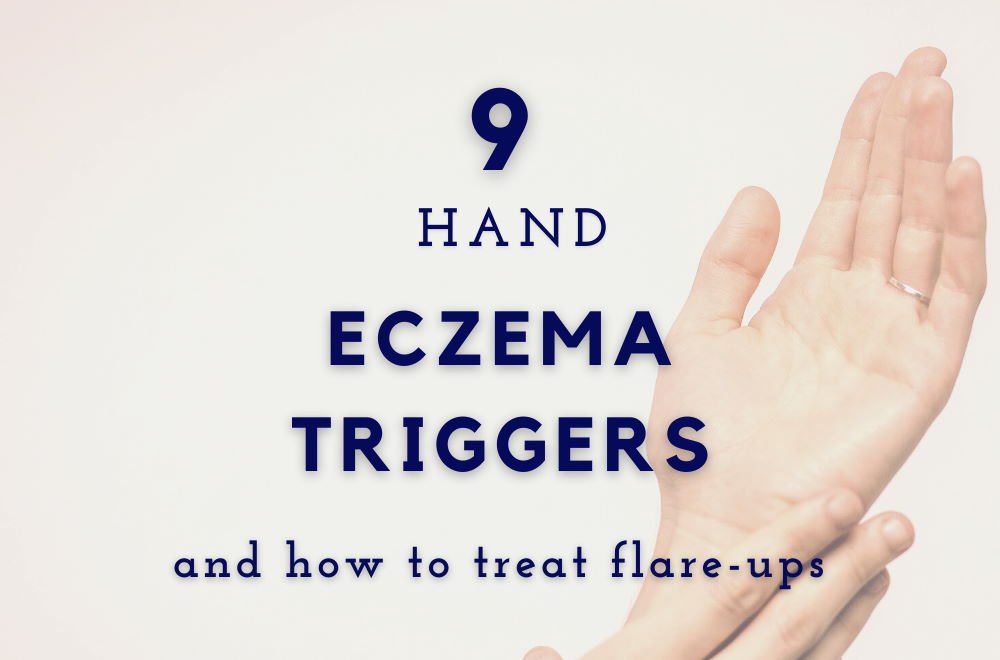 This post contains affiliate links. "As an Amazon Associate, I earn from qualifying purchases.
What is Eczema? 
First off, to get us all on the same page, eczema is an overarching medical term for an inflammation skin condition. Eczema is sometimes called "atopic dermatitis", or just "dermatitis". The symptoms of eczema vary, but most commonly cause itching.
I would also like to add that eczema is NOT contagious, you can not spread it to someone else. 
In this video, Dr. Jill Hanson, an Allergist with Boy Town Pediatrics, gives a brief rundown of some eczema causes, what eczema looks like, and how eczema can be treated. 
What Medical Professionals Know About Eczema Causes
Eczema (not just hand eczema) doesn't have a "catch-all" reason for surfacing, and triggers vary from person to person, this makes finding the cause for hand eczema and treatment options from medical professionals difficult.
Family History and Genetics Play a Role in Your Susceptibility to Eczema
Genetics play a role, if a close relative has eczema, they may have passed it down the gene pool to you. I recommended asking this family member what have they done to relieve symptoms and triggers they have found to avoid. Pick their brain so you can be ahead of the game and find out some lessons learned.  
Environmental Factors Could Be The Cause Of Hand Eczema
Frequent handwashing with soaps that are harsh on the skin or if the water you are using is too hot can cause eczema on your hands and fingers.
Harsh hand soaps and/or your job requires frequent handwashing examples:

Foodservice 

Healthcare workers 

Nursing homes 

Hospitals

Childcare facilities
Chemical exposure for hand eczema can have a quicker onset in professions that handle chemicals that are even tougher on our skin when handled, especially without protection like gloves. 
Professions That Could Cause Eczema on Your Hands
Professions with chemical exposures that could cause eczema and irritation on your hands and fingers. Here are just a few examples:
 Military Members
Working on or around, Aircraft, tanks, munitions, ground equipment, and unknown chemical exposures.
OCPs/U.S. Military uniforms are pre-treated with the chemical permethrin (bug repellent).
Industrial/Trade Professions
Construction
Mechanic
Maintenance
Trade professions
Hairdressers
Hair products
Dyes
Shampoo
Conditioners
Housekeepers
Harsh cleaning products and solvents
Repeated exposure
Eczema Culprits Are In Your Home
Take a moment to think about what is under your sink or in your cleaning cabinet at home… Chemicals!!! 
Think back to when your eczema started, was it after something you cleaned? If you are unsure if your eczema started from cleaning, use gloves to see if the eczema on your hands resolves.
These gloves have excellent protection, are latex-free, inexpensive, cotton-lined, and can be reused.
Mr. Clean Bliss Premium Latex-Free Gloves 
Depending on your profession, these gloves may be a good barrier for you to have on hand (no pun intended) if they fit your needs in the workplace. 
The fact is, most people ignore the labels and expose their hands to household cleaners daily without thinking twice about how damaging it can be to the skin.
 The next time you find yourself using chemicals use gloves, as this is one of the leading hand eczema triggers.
Allergies May Be The Cause For Your Hand Eczema 
Touching or consuming something you are sensitive to or have an allergy to can cause eczema.
Allergy Examples
Food

Metals (i.e. nickel or cobalt) are usually found in lower-quality jewelry 

Latex allergies

If you have hay fever or asthma 
Stress Can Trigger Eczema
Stress has been found to be a factor in triggering eczema flare-ups in certain individuals. If you notice that your eczema shows up in high-stress moments, try and do something that you find relaxing.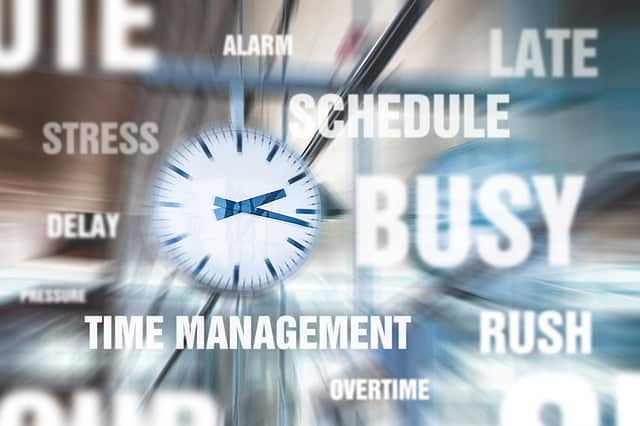 Relaxing Activity Ideas
Exercise, do yoga, or go for a walk
Increased oxygen and blood flow will be great for the mind and body to keep you on track.
Take some deep breaths
Concentrate on releasing that stressful tension.
Vent to your best friend 
Have a conversation with a loved one, sometimes letting out that rant will allow you to relax when you share your stressors with someone who can relate.
Get quality sleep
Your body needs to repair and rejuvenate.
Eat Healthily 
Fuel your body with what it needs to handle stress appropriately. 
Moisture (too much or too little) Is A Flare-up Culprit of Eczema
Our body is always trying to find that balance of optimal performance. Climate change could spark eczema on your hands as well. 
Chronic Dry Skin Can Cause Eczema
Dry skin can be a hand eczema trigger. Dryness causes your skin to not provide the protection and moisture needed for healthy skin. To prevent such chronic dryness you need a moisturizer.
Moisturizer Types for Eczema
According to the National Eczema Association, there are three types of moisturizers. 
Ointments
The best bet for eczema and chronic dry skin. Contains a higher concentration of oils.
Creams
Provides good moisture to the skin. Contains less oil, which makes your skin feel less greasy compared to ointments.
Lotions
Does not last as long as ointments or creams. Contains a high content of water, and tends to have preservatives and fragrances which could make problems worse. Check the label.
Best Ointments, Creams, and Lotions to Treat Eczema
Now the moment you have been waiting for, the answer to giving you or someone you know some relief from hand eczema!
The following recommendations for finding the best product that works for you are:
NEA accepted

Offer affordable options

Safe for the whole family (in accordance with the NEA and the manufacturer)

Contain proven testimonials and ratings for actually improving eczema symptoms.
Here are the best products on the market, all of which have earned the National Eczema Association (NEA) seal of acceptance.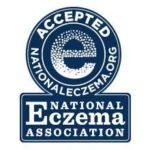 This Acceptance of a product means that the product has been evaluated to determine that it does not contain ingredients or contents that are known to be unsuitable for use by persons with eczema or sensitive skin conditions.
Best Ointments for Eczema
It protects and helps moisturize the skin. Non-comedogenic. Gluten-free. Free of dyes, fragrance, masking fragrance, lanolin, parabens, formaldehyde, and other preservatives. Improved formula. Dermatologist recommended.
As stated on the NEA website, CeraVe® Healing Ointment combines vital ceramides with a gentle, lanolin-free formula to protect and soothe dry skin with a lightweight, non-greasy feel.
Best Creams for Eczema
Gentle emollient cream soothes, moisturizes, and replenishes extremely dry, eczema-prone skin. Recommended for daily maintenance. Recognized by the National Eczema Association. Fragrance-free. Steroid-free. Newborn safe.
This lipid-replenishing cream directly targets itching, redness, and irritation for skin prone to atopic dermatitis and eczema.
Suitable for infants, children, and adults.
Best Lotions for Managing Eczema

Vanicream Lite Skin Care Lotion is a face, hands, and body lotion specially formulated to moisturize dry skin. Carefully chosen ingredients effectively moisturize the skin without exposing the user to common chemical irritants found in most ordinary lotions. Gluten-free.

The NEA has described this top-selling product as follows:
Free of the ingredients found on the North American 80 Comprehensive Series (NAC 80) list of possible allergens, Remedy Dermatology Series lotions are fragrance-free, paraben-free, and contain no aloe and phthalates which may cause irritation.
Top Steroids for Eczema Treatment
You may need a steroid cream, and your Doctor or Dermatologist might prescribe you corticosteroids, or a more common term of topical steroid cream.
The NEA classifies topical steroids strengths on a classification scale of class 1 through class 7, with class 1 being the strongest prescription available.
This OTC cream is a Class 7 strength and is the strongest cream available without a prescription (1% hydrocortisone).
Cortisone 10 intensive healing lotion treats your eczema and itchy, dry skin with maximum strength hydrocortisone, 7 intensive moisturizers, and restora botanical and vitamin complex.
If you haven't already, give this cream a try for your hand eczema.
Conclusion
As a recap, when handling chemicals or items you have a sensitivity to don't forget to wear gloves. Keeping your skin healthy is the first line of defense against eczema. Click here to find a moisturizer
that fits your needs and is NEA-accepted.
Please share the post, and send me a message with any questions you may have.
Check these articles out:
10 Best Spongiotic Dermatitis Moisturizers