Those of us who suffer from allergies enjoy it when family members and loved ones get us gifts that can either help with our miserable allergy symptoms, prevent allergic reactions, or simply gifts that stay clear from allergens altogether. These 13 Allergy-friendly stocking stuffers steer clear of allergens, are practical for anyone to use, and cost less than 15 dollars!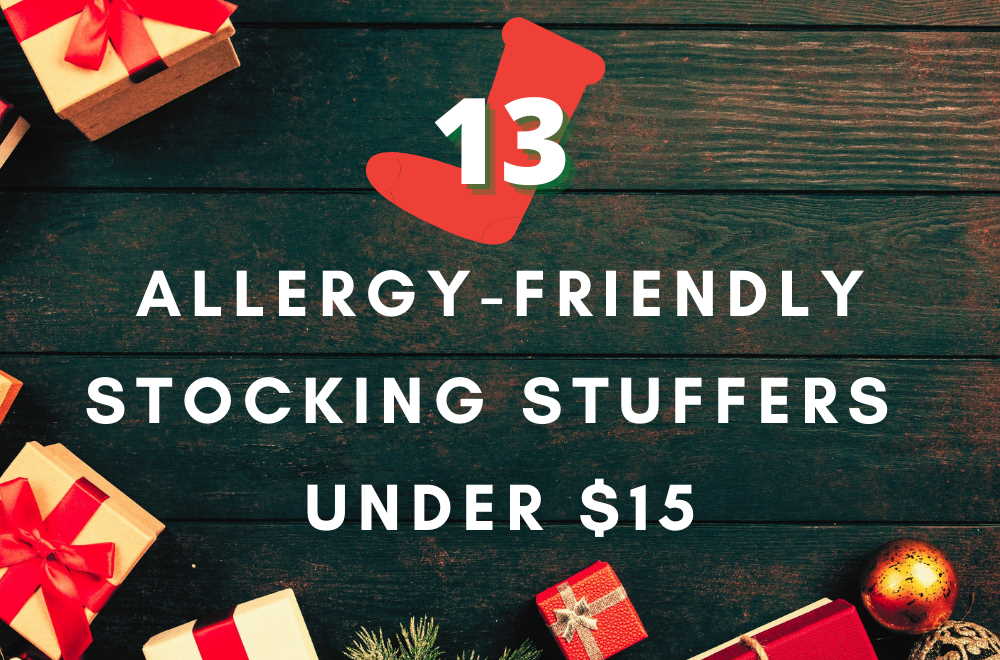 As an Amazon Associate, I earn from qualifying purchases.
Great for Anyone, and Budget-friendly Gifts
What do you get for someone who is suffering from food, outdoor/indoor, dust, or mold allergies? (Just to name a few)
These allergy-friendly stocking stuffers under $15 were compiled with allergy sufferers in mind, they can easily be a great present for anyone, and are budget-friendly.
1. Dust & Pollen Face Masks
This Reusable Washable Face Mask is a lifesaver for allergy sufferers who spend time outdoors, mow the lawn, go hiking, or have hobbies that create a dusty environment. Masks are effective in keeping pollen, smoke, and dust out of your nose and lungs. 
This mask is an N95 filter, meaning it can filter 95% of particles that are 2.5 microns in size! Pollen ranges from 10-100 microns, and dust mites feces are around 10 microns, which means pollen and dust mite waste doesn't stand a chance.
2. Latex-free Cleaning Gloves
Chemicals are rough on our skin and often we ignore the labels on our household cleaners. Protecting your hands while working around the house will prevent eczema flare-ups, and rashes, and save your hands from painful or itchy dry skin. 
If you know someone who loves to clean, has eczema or uses cleaners constantly, gloves will allow them to continue their task even longer because of this extra protection. Buy now here 
3. Facial Tissues
Stock up all the stockings with facial tissues. I recommend travel sizes so they can be strategically placed in the car, purse, pocket, and diaper bag. When runny noses or watery eyes start to kick in, you will be armed and ready.
Click to buy the Kleenex Slim Pack.
4. Eye Drops
Sometimes we need an extra boost of moisture to relieve our symptoms, by utilizing eye drops. Allergies, medications (usually allergy medication), and climate all can cause us to have itchy or dry eyes.
The Bausch & Lomb Opcon-A Eye Drops are what my optometrist recommended for my allergies and I have had great results for years. They are modestly priced for how well they work! Find them here. 
5. Books
Books can be a great budget-friendly stocking stuffer Idea. Pick up a book of interest or even an allergy-related book. The 14-Day Elimination Diet Plan: Identify Food Allergies and Sensitivities the No-Stress Way, walks you through the process of completing an elimination diet to find out what foods are causing allergies or sensitivities.
6. Benadryl Anti-Itch Gel
Benadryl anti-itch Gel. This gel is great for itchy, painful, or burning symptoms. I receive allergy shots weekly and use this gel after every injection, and this stuff has been a lifesaver in making the itching bearable.
If someone you are shopping for gets allergy shots, insect bites, possible poison ivy/poison oak exposure, sunburns, cuts, or scratches, this is THE  stocking stuffer gift for them. Click for the latest price. 
7. Allergy Medications
Find out what allergy medications they use and pick them up a box or two. When you constantly have to take allergy medicine, it tends to get expensive fast, so helping cover the price for a month would be a great gift, even more so during the holidays.
8. Hand Soaps
Many daily hand soaps contain harsh chemicals that can cause skin irritation leading to dry cracked skin and even eczema flare-ups. Hand soap is a great gift because you can wash away any accidental food allergy contact, and remove pollen, dust, and dander from your hands.
Mrs. Meyer's hand soap has very few ingredients, is made with essential oils, does not use parabens or phthalates, and contains natural moisturizers like aloe vera. Products that have fewer ingredients mean you are exposed to fewer things you may be allergic to.   Don't forget that washing your hands also prevents illnesses like colds and flu.
If you would like to check out the latest price on a 3-pack of Mrs. Meyer's hand soap, click here.
9. Neti Pot
Seasonal allergy sufferers and indoor/outdoor sufferers alike, get their noses all gummed up with allergens trapped in their sinuses. If you want to relieve nasal symptoms naturally and almost instantly you need to get a Neti Pot. This device flushes out the nasal passages and takes away your symptoms.
I own a Neti Pot and I love it. I like that it relieves nasal pressure and clears out any post-nasal drip I may be experiencing. Since I have allergies to dust, animals, grass, trees, weeds, and pollen this device is my favorite.
The Netty Pot works when you have congestion from a cold or the flu as well. You cannot go wrong with this allergy-friendly stocking stuffer  NeilMed Nasaflo Porcelain Neti Pot on Amazon.
10. Allergen-free Treats
 You might be looking for a gift that is tasty but also free from allergens. Sometimes it is difficult to find such snacks for those with food allergies, but I have found two brands worth checking out.
Made Good brand makes allergy-conscious snacks and carries a variety of products that are free from the 8 most common allergens (peanuts, wheat/gluten, eggs, dairy, tree nuts, soy, sesame, fish, and shellfish). Just be sure to check the labels. Click here to buy.
FreeYumm Baked Goods – These cookies are made in their dedicated allergen-free bakery and are free of the 8 common allergens and they currently have 7 different flavors. 
Always check the labels to ensure the foods you are buying do not contain the ingredients you or someone you know might be allergic to. Click here to buy. 
11. Butterbur Supplements
Butterbur (Coltsfoots) is an herbal supplement that has been used to treat multiple conditions including hay fever (allergic rhinitis).
A study was conducted to compare how effective butterbur supplements were versus cetirizine (Zyrtec) against hay fever. The results proved that the butterbur supplements were similar to cetirizine, but the butterbur didn't have sedative side effects!  Click to buy. 
12. Allergen Multisurface Cleaner
Dust and pollen allergies make their way into our homes and begin to gather on surfaces in the house. To relieve dust and pollen allergy symptoms we need to remove the culprits.  What better way than to give the gift of this allergy-friendly stocking stuffer.
This cleaner was designed to reduce dust, pollen, and pet dander from hard surfaces by preventing dust from becoming airborne when you are cleaning. Not only will it help remove the allergens it will leave behind a clean and shiny surface.
Buy Pledge Dust & Allergen Multisurface Cleaner now
13. Swiffer Duster
 There will be surfaces that you will not be able to use a spray cleaner on, but still, need to clean to get allergy relief. 
This Swiffer 360 duster is the tool for the job. I have found that all Swiffer products are exceptional at keeping dust trapped when cleaning and it doesn't release it into the air as a cloth or feather duster would. Buy now. 
Final Thoughts
Of course, your best bet is to stay away from anything they are allergic to, and if you ever have any doubts, get guaranteed allergy-free stocking stuffers like a gift card to their favorite store or a gift related to any hobbies they enjoy.
Have you thought of an allergy-friendly gift that should be featured? Send me an email at admin@allergypreventions.com