Nickel-free hypoallergenic earrings can be hard to find, but I have done it! I have compiled a solid list of earrings without nickel. During my research, I have found that it is a difficult task to find earrings that are both hypoallergenic AND nickel-free.
Many of my relatives have suffered from nickel allergies, and it becomes a big bummer when they can't wear beautiful earrings because their ears react.
My goal with these earrings is to provide you with some options that are nickel-free to take away your heartache, frustration, and concerns.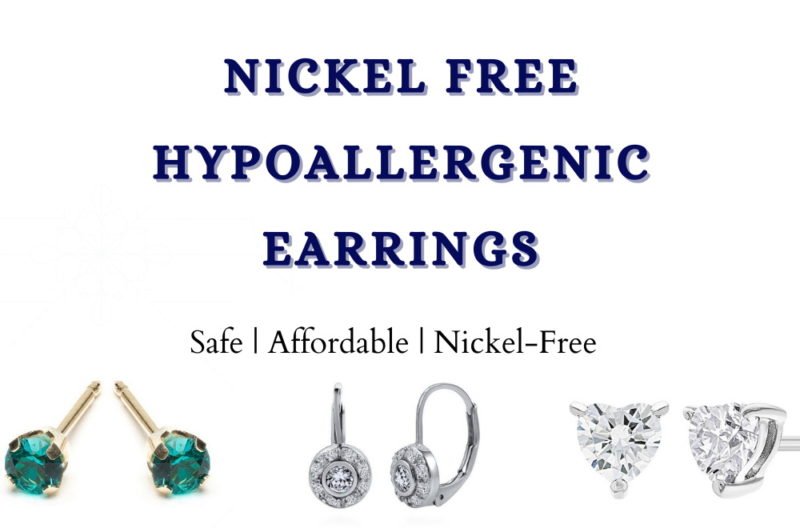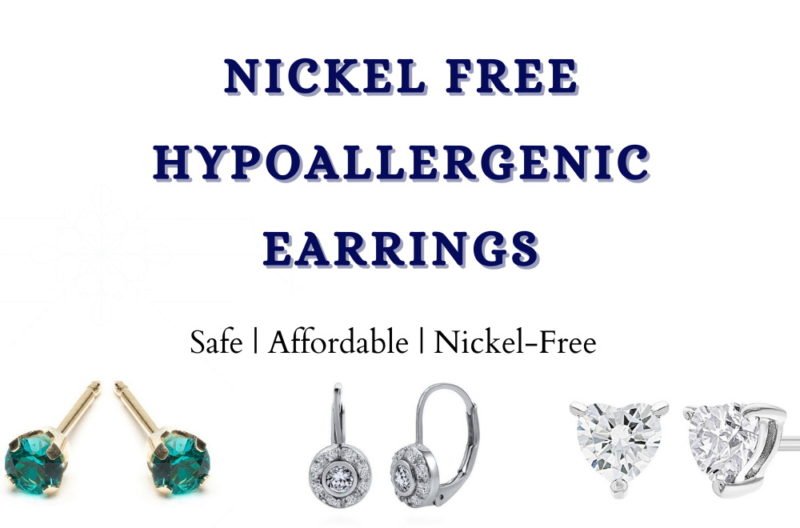 As an Amazon.com Associate (and/or other affiliate networks), I earn from qualifying purchases.
18k Yellow Gold-Plated Sterling Silver Pear-Cut Cubic Zirconia Lever Back Earrings
Key Features
These earrings are from the Amazon Collection and are 18k yellow gold plated. Underneath the gold is real sterling silver. This set of earrings has lever back closures for a secure fit.
Materials & Metal Types
9mm x 6mm cubic zirconia stones (4.73 carats)
.925 Sterling silver
18K yellow gold plated
Returns
Easy. This is an Amazon.com product, so returns are simple and free.
Price
Under $30
Real User Experiences
Customers who have bought these earrings rave about the quality, price, looks, and comfort.
Look no further if you want a set of earrings that are hypoallergenic, comfortable, and affordable.
Where to Buy
Since these are an Amazon-exclusive product, you will have to buy them directly from Amazon.com.
Simply Whispers 14k Gold Earrings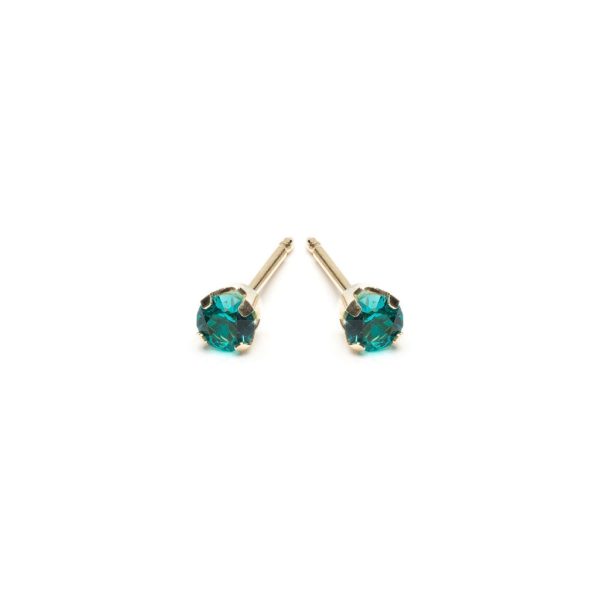 Simply Whispers is in the market to provide hypoallergenic jewelry, and hypoallergenic jewelry only. This company has a large lineup of jewelry options, but here is a pair of beautiful turquoise earrings. Did I mention they do not contain nickel?
Key Features
Turquoise earrings that don't just look great, they are affordable too! Additionally, they are equipped with a butterfly closure and are made in the USA.
Size
3mm (1/8th inch x 1/8th inch)
Materials & Metal Types
Returns
There is a 60-day return policy to ensure these are right for you or your loved one.
Price
Under $40 & free shipping on orders over $20.00.
Where to Buy
These earrings and other hypoallergenic choices are sold at SimplyWhispers.com
In Season® Jewelry – 925 Sterling Silver 4mm Cubic Zirconia Heart Earrings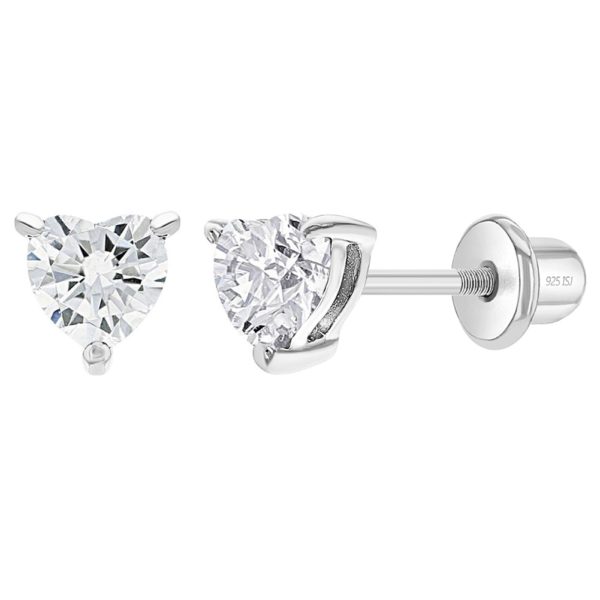 Key Features
All In Season Jewelry is in compliance with the Standard Specification for Consumer Product Safety for Children's Jewelry. That means they provide a product that is safe, even for your little ones. Their jewelry is marketed towards the younger crowd of 0 – 17 years old. These are sterling silver heart earrings with a safety screw back.
Materials & Metal Types
925 sterling silver (complies with ASTM F 2923-11)
 Cubic Zirconia
Size
4mm x 4mm x 10mm
Returns
A generous 90-day, no-hassle return policy
Price
$20, and free shipping if you spend $25
Real User Experiences
These earrings are a great product at an affordable price. The screw-back earrings worked great for my baby who has sensitive ears. Some users claim this is the only place they buy jewelry for their children, and they have never had an issue with the company or the products.
Where to Buy
Buy directly from InSeasonJewelry.com
925 Sterling Silver Stud Earrings Set of 4 by Fcebsty
Key Features
Now, to be honest, I haven't heard of this brand, but there are over 3,000 reviews of folks who love the brand and the earrings. You get 4 pairs of earrings at a very affordable price. These earrings made the nickel-free hypoallergenic earrings list because of the strong consumer support for this product.
Materials & Metal Types
925- Sterling Silver
White gold plated
Cubic Zirconia
Size
2mm, 3mm, 4mm, 5mm
Returns
It's Amazon.com, simple, easy, free
Price
Very affordable. 4 pairs of earrings for under $20
Real User Experiences
Metal and allergy sufferers tell us that these are earrings they can finally wear without issues! A solid set of earrings that are not easily broken. Some users reported the need for stronger backings, but overall love this set.
Where to Buy


SilverRainSilver Three Dot Trio Stud Earrings
Key Features
Handmade. You read that correctly, these are handmade earrings. You can choose between a gold (18k gold) or silver finish (rhodium). These are quite dainty and a favorite by thousands of customers.
Materials & Metal Types
18k Gold or Rhodium
Sterling silver
Cubic zirconium
Size
4mm
Price
$10
Returns
Returns are accepted within 14 days of delivery, buyer pays the return shipping cost.
Real User Experiences
These stunning earrings would make a wonderful gift. Users report that they are really quite small, so if you are looking for something tiny these will do great. Users that have sensitive ears can wear these earrings without any problems.
Where to Buy
Since this is a handmade item, it is currently only available at the SilverRainSilver shop on Etsy.com
Pure Titanium Earrings Cubic Zirconia Facet Cut Hypoallergenic Nickel Free Studs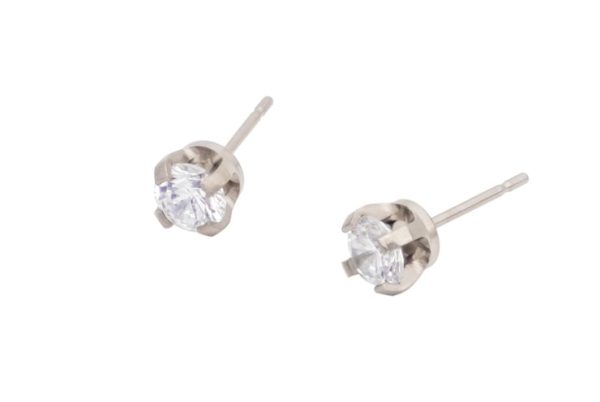 Key Features
The brand, Pretty Sensitive Ears, sells earrings made out of titanium, niobium, surgical steel, and Argenteum silver, all of which are considered hypoallergenic and nickel-free. These stud earrings are handmade in the USA and offer regular or long post-length options.
Materials & Metal Types
100% pure titanium setting, post, and backs
Cubic Zirconia
Size
5mm diameter
Price
$43.00 & free shipping
Returns
Accepted for items with defects, or shipping damages. Guaranteed not to react, or we'll take them back within 90 business days for a full refund.
Where to Buy
Online at their website prettysensitiveears.com
Sterling Silver Round CZ Halo Leverback Dangle Earrings


Key Features
Berricle brand offers a wide array of nickel-free earrings, including these dangly beauties right here. With a lever back clasp and round cut stones, you cannot go wrong with wearing these.
Materials & Metal Types
925 Sterling Silver
Rhodium plating
Cubic Zirconia
Size
4mm
Price
Under $50, free shipping and returns
Returns
Free 30-day return policy
Real User Experiences
Real users describe these earrings as sleek, elegant, daily wearers, and classy. Many reviews state that these earrings look really expensive in person, but they are actually affordable. A few users have worn these earrings for 4+ years without any issues or signs of wear.
Where to Buy
You can buy these earrings directly from Berricle.com or Amazon.com
Wintergreen Falls Earrings by Nickel Smart®

Key Features
Handmade in North Carolina, dichroic glass earrings that are Certified Nickel Free™. Guaranteed to never test positive for nickel, so you can rest easy knowing you won't react if you have a nickel allergy.
Materials & Metal Types
Dichroic glass
Nickel-free metal (no other specifics)
Size
44mm long
Price
$32 – $35
Returns
45 days from nonickel.com, and 30 days from Amazon.com
Real User Experiences
Not many users have reported back on this product, but one thing is sure from the users who did have something to say, these earrings are really nickel-free. Other raves include how pretty and unique these earrings are.
Where to Buy
You can buy these beauties from nonickel.com  or Amazon.com
Solid 14k Yellow Gold Hypoallergenic AAA Cubic Zirconia Solitaire Screw Back Stud Earrings

Key Features
DECADENCE brand has a wide array of colors and sizes of nickel-free earrings. Here we have a pair of affordable 14K white gold earrings, with a 4mm round ball screw back stud.
Materials & Metal Types
14K white gold
Cubic zirconia
Size
3 – 7mm
Price
Under $30
Returns
Amazon's streamlined 30-day returns
Real User Experiences
Users think these earrings are of good quality and great for sensitive skin. There are some users that have found them difficult to put in. No users reported any issues with itching discoloration or sensitivities.
Where to Buy
You can find these earrings at Amazon.com
BLOMDAHL® Silver Titanium Prong Set CZ Earrings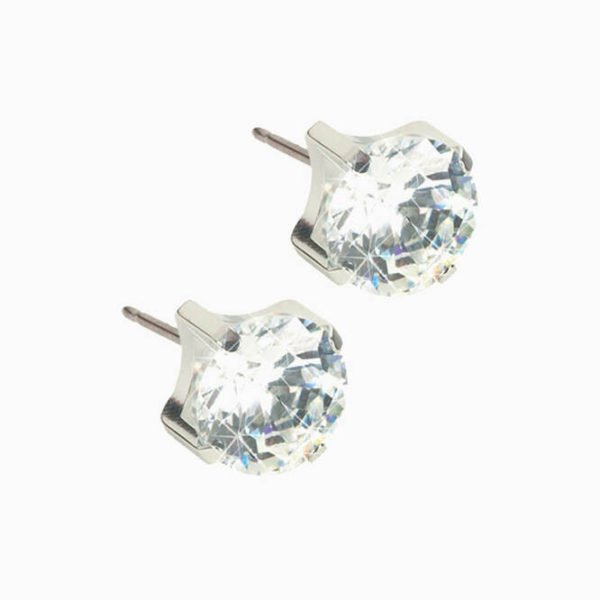 Key Features
BLOMDAHL provides such an array of nickel-free jewelry, but these ones sparked my interest. The silver titanium prong earrings are made from titanium and are available in many different sizes.
Materials & Metal Types
Medical grade titanium
Cubic Zirconia
Protective silver coating to parts that don't touch your ears
Size
3mm, 4mm, 5mm, 7mm
Price
$30 – $70 (depending on the size)
Returns
Full 30-day money-back guarantee & free shipping
Real User Experiences
After reviewing a boatload of user experiences, no one has reacted (negatively) to these earrings. Additionally, great customer service is provided by the company. Some buzz words that caught my attention regarding these earrings are "Miracle technology", "Highly recommend", and "The best".
Where to Buy
These earrings and their other medical-grade jewelry products are found at blomdahlusa.com
Next up
Next up, check out Is Sterling Silver Hypoallergenic? to find out if your sterling silver is causing you more harm than good.