Nickel free necklaces can be hard to come by, which is so frustrating! I have searched the web to help you find necklaces that are hypoallergenic, nickel-free, and affordable without being cheap in quality. These allergy free necklaces are handpicked to be worn for any occasion. Additionally, these necklaces would be a great gift for a Mom or a loved one, knowing they will not have an allergic reaction.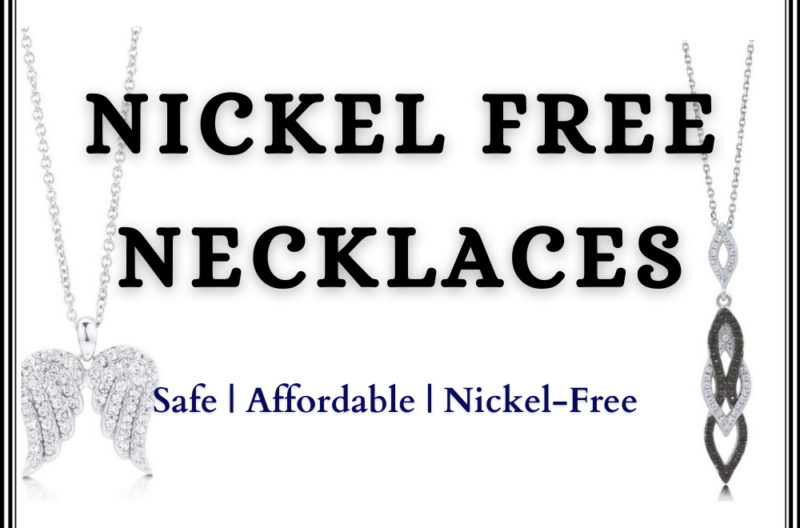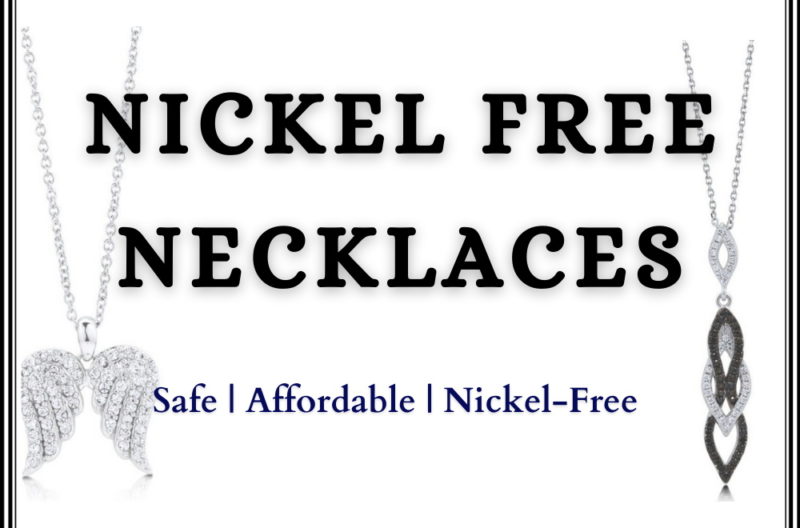 As an Amazon Affiliate, I may earn commissions on qualifying purchases.
Sterling Silver Black and White Pendant Necklace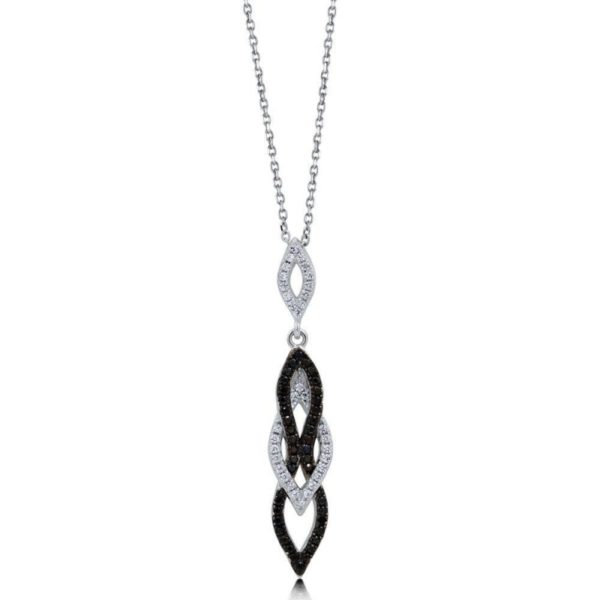 Highlights
Check out this allergy-free pendant necklace made by BERRICLE. Berricle strives to make brilliant, high-quality jewelry without costing you an arm and a leg. With this necklace, you are getting a nickel-free sterling silver chain and pendant.
You can also get matching dangle earrings with this necklace to complete your look.
Materials & Metal Types
925 Sterling Silver
Rhodium-plated
Cubic Zirconia
Size
The pendant is one size (1.5" x 0.3"). The chain comes in many sizes ranging from 16 – 24 inches
User Experience
Users love that this necklace is unique and doesn't look like the other nickel-free products on the market. The word "gorgeous" was used to describe this necklace over and over. The pendant is small but elegant with lots of sparkles.
Price: Under $50
Purchase Options:
Online from BERRICLE.com
Sterling Silver Angel Wings Pendant Necklace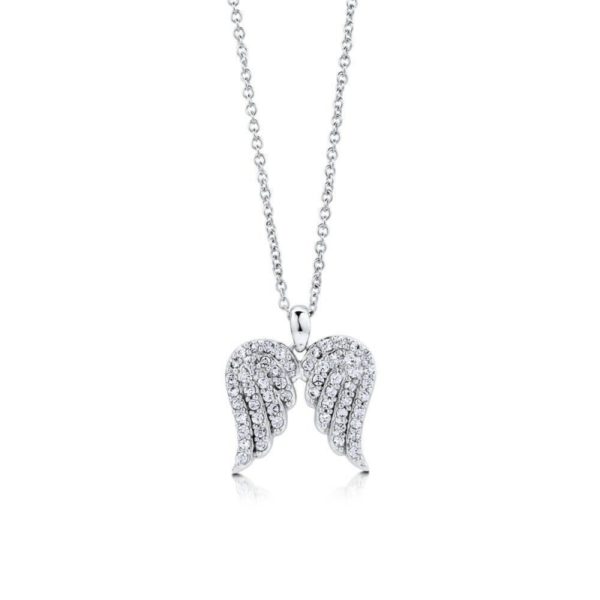 Highlights
Another BERRICLE-made beauty is this nickel free necklace of angel wings. This pendant would make a great gift to a loved one knowing that they are being watched over by the divine. This allergy free necklace and pendant are .925 sterling silver and made without nickel.
Materials & Metal Types
925 Sterling Silver
Rhodium-plated
Cubic Zirconia
Size
18" necklace chain with 0.6" x 0.55" pendant
User Experience
Users inform that this necklace is lightweight, with a nice subtle sparkle. This necklace has been purchased for Mother's Day, remembrance of loved ones, and as a necklace to wear every day with no disappointments from anyone.
Reviewers recommend that you read the website description/measurements so you know exactly what you are getting (images are accurate in detail, but not necessarily to scale).
Price: $49.90
Purchase Options:
Online from BERRICLE
BoRuo 925 Sterling Silver Snake Chain Nickel Free Necklaces
Highlights
A fancy 925 sterling silver, snake chain nickel free necklace by BoRuo. This necklace is made in Italy, hypoallergenic, lead, and nickel-free.
Additionally, the manufacturer has a 100% free replacement guarantee if you break the chain.
Materials & Metal Types
.925 sterling silver
Platinum plating
Sizes
14"- 30" options
User Experience
Real users experienced this necklace as sturdy, dainty, and doesn't pull their hair. Some people did have an issue with the chain but customer service was excellent, and they ended up not having any problems with the replacement.
Most customers (72%) were completely satisfied with this necklace.
Price: $19.99
Purchase Options
You can buy this necklace directly from BoRuo925.com or from Amazon
Sterling Silver 1.3mm Fine Cable Nickel Free Necklaces
Highlights
Joyful Creations offers a thin, yet durable cable chain that does not contain nickel. The chain is made in Italy and marked with 925 markings. If you are in the market for an allergy free necklace that is sleek and lightweight, consider giving this one a try.
Materials & Metal Types
Sizes
16" – 24" chain options
User Experience
This necklace has some repeat customers because they love how dainty yet strong this necklace is. Others report that it is a little too thin for their liking, but nothing actually wrong with the chain. Overall, this chain is praised for its price, looks, and craftsmanship.
Price: $10 – $14
Purchase Options
There are a couple of purchase options for this item, directly from Joyful Creations, or Amazon.com:
Sterling Silver Diamond Twist Pendant Necklace – Nickel Free


Highlights
A double-infinity pendant necklace that is curated by Amazon directly. The pendant contains 1/10 ctw of real diamonds. A great-looking nickel free necklace at an affordable price to gift to Grandma, Mama, or a significant other.
Materials & Metal Types
925 Sterling silver
Conflict free diamonds
Size
18" chain with a 1.1" x 0.5" pendant
User Experience
A nice, elegant nickel free necklace, especially if you are looking for a double infinity design. Some folks wish they got a longer chain vs the 18", as it seemed to be a bit short. Subtle and feminine for all ages and styles.
Price: $56.80
Purchase Options
Since this is an Amazon Collection item, the purchase option is Amazon.
Kendra Scott – Nickel Free Elisa Pendant Necklace 14k Gold-Plated
Highlights
The brand is Kendra Scott, and Kendra Scott takes a different approach from all the other jewelry brands I have found. This brand uses brass as its base metal and then coats the base with 14k gold, creating a fashionable allergy free necklace. There are many color options (all birthstones) available.
Materials & Metal Types
Gold-plated brass
Emerald cats' eye
Size
15" necklace with 2" extender, 0.63" x 0.38" pendant
User Experience
Wow! So, 92% of all customer ratings gave this nickel free necklace at least a 4-star rating.
One of the ratings made me laugh-out-loud stating "It's what women want". I don't know if that is true or not, but I believe they were just trying to say it is a perfect gift.
An overwhelming number of customers describe this allergy free necklace as "Perfect, beautiful, and never disappoints".
Price: $50
Purchase Options
Directly from KendraScott.com or Amazon.com
925 Sterling Silver (Nickel Free) Birthstone Heart Pendant Necklace
Highlights
Made in the USA and sold by the Boston Bay Diamonds Store, this nickel free necklace is bound to turn some heads. Available with different colored gemstones to fit your needs. This nickel free necklace is .925 sterling silver, and rhodium plated.
The price is a bit higher, but it's also a quality you can trust.
Backed by their 90-day satisfaction guarantee AND a lifetime warranty, there is no risk in getting this stellar allergy free necklace.
Materials & Metal Types
.925 sterling silver
Rhodium-plated
Conflict-free gemstone
Size
18" rope necklace with 2" extender
User Experience
A good quality allergy free necklace that makes a great gift. Some users felt misled by the pendant size compared to what they have seen in the photos.
"Simple, clean, highly recommended" are what sums up the user experience for this necklace.
Price: $104.99
Purchase options
Walmart and Kohl's sell Boston Bay products, but I was not able to find this specific necklace.
The surefire location I have found to purchase this necklace is Amazon.