Amazon is the "go-to" place for a lot of us, so I wanted to make it easy for you to find the top-rated hives treatment options available on Amazon.com.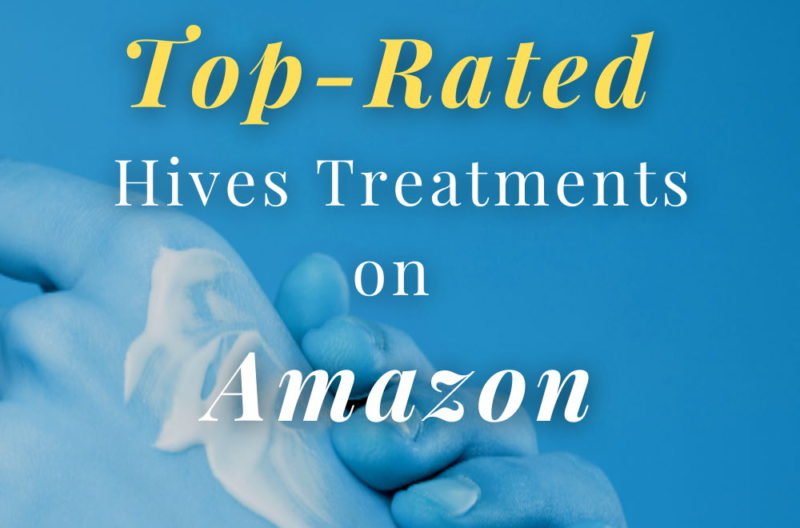 As an Amazon Associate, I earn from qualifying purchases.
Antihistamines
Antihistamines are typically the doctor's first choice when treating hives. Here are the top-rated antihistamines on Amazon.
Boiron Histaminum Hydrochloricum
Yes, this sounds like a Harry Potter spell, but it has some amazing ratings! Some folks say they would give this allergy relief 6 stars if they could.
Non-drowsy
No known side-effects
No known drug interactions
Quick-dissolving pellets (place under the tongue)

Zyrtec 24 Hour Allergy Relief
This is what I am currently taking and it is a must-have for me, my allergies, and hives.
Bundle pack options
24-hour relief
Prescription-strength
Genexa Homeopathic Allergy Tablets
Non-drowsy
No known drug interactions
No artificial ingredients
Vegan
Organic

Top-Rated Anti-Itch Creams
These are the top-rated anti-itch creams that are sold on Amazon. These creams all provide instant itch relief.
Benadryl Anti-Itch Gel
Topical itch relief
Cooling formula
Histamine blocker (anti-histamine)
Very affordable
Aveeno Hydrocortisone Anti-Itch Cream
1% Hydrocortisone
Anti-itch
Enriched with aloe, vitamin E, and oats
Multiple uses (i.e. rashes, bug bites)
Aquaphor Itch Relief Ointment, 1% Hydrocortisone Anti Itch Skin Ointment
Lasts up to 12-hours
Fragrance-free
Paraben-free,
Hypoallergenic
 Safe for adults and children over the age of 2
Top Rated Hive Relief Lotions
Amazon has a huge variety of lotions, so I have compiled a few of the top-rated lotions that can assist with relieving your hives.
Pipette Fragrance-Free Lotion
Hypoallergenic
Safe for babies
100% plant-derived
Fragrance-free
Locks in moisture
EWG (Environmental Working Group) verified

ATTITUDE Moisturizing Body Lotion
Hypoallergenic
Skin protectant
Free from BHA, BHT, parabens, and more
Fragrance-free
Vegan
Biodegradable
EWG verified

CeraVe Itch Relief Lotion
Fragrance-free
Contains 3 essential ceramides
Clinically tested itch relief
Fast-acting
Lasts up to 8 hours
Accepted by the National Eczema Association (NEA)
Check out, these hive articles to learn more: 
26 Pictures of Hives (Urticaria) on Skin