It can be tough to determine the best CMPA (Cow's Milk Protein Allergy) formula for your baby. This guide will help you compare the different formulas and decide which one is right for your child. All of the formulas listed here are great choices, so don't feel overwhelmed.
Simply pick the one that seems to fit your baby's needs and discuss it with your child's pediatrician before changing their diet and/or anything health-related.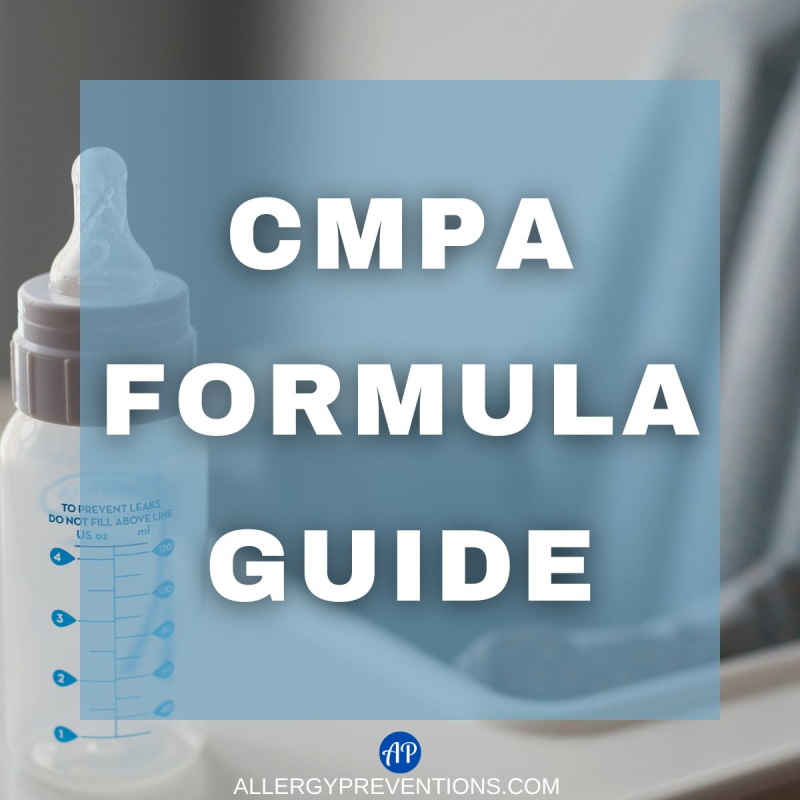 As an Amazon Associate, I earn from qualifying purchases.
Table of Contents
Types of CMPA Formulas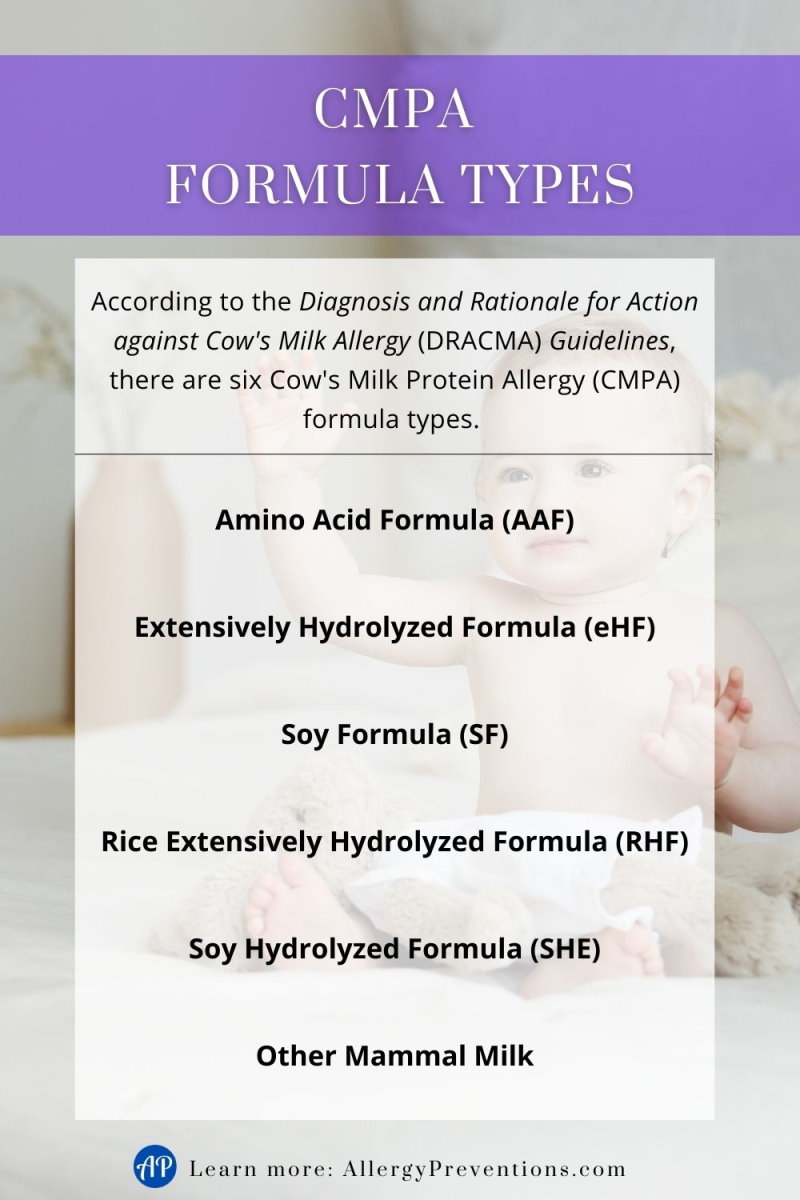 According to the Diagnosis and Rationale for Action against Cow's Milk Allergy (DRACMA) Guidelines, published by the World Allergy Association (WAO), these are the types of CMPA formulas available. All of these formulas have their own benefits and risks associated with them. The study recommends that you speak with your allergist when choosing a formula for your child.
Amino Acid Formula (AAF)
Extensively Hydrolyzed Formula (eHF)
Soy Formula (SF)
Rice Extensively Hydrolyzed Formula (RHF)
Soy Hydrolyzed Formula (SHE)
Other Mammal Milk
Recommendations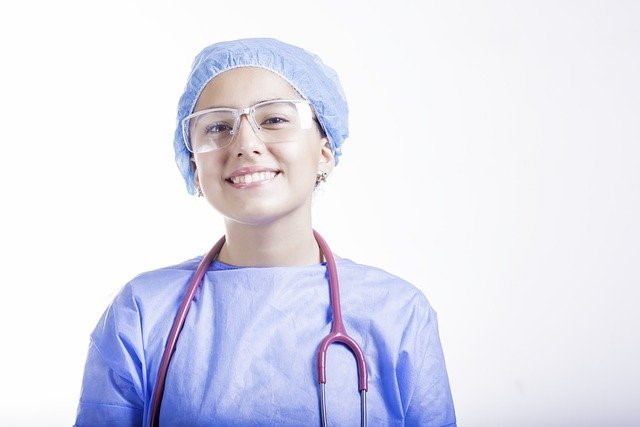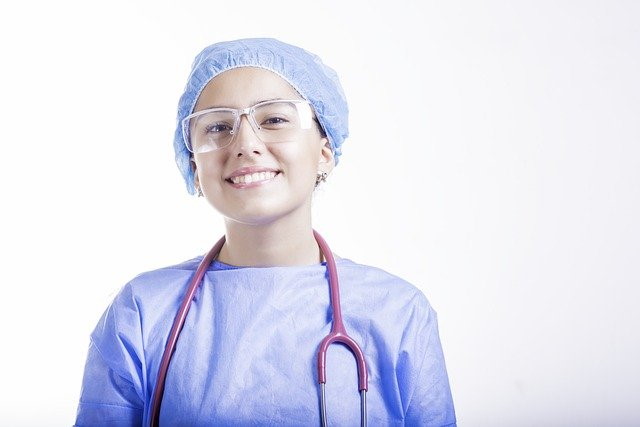 These DRACMA guidelines conclude with some clinical recommendations that may be useful to bring up when talking to your child's medical provider about cow's milk protein allergies.
Children with CMA (Cow's Milk Allergy) – High Anaphylactic Risk
The suggestion for children with IgE-mediated CMA (history of anaphylaxis and not using hydrolyzed milk formula) is to use amino acid formula (AAF) rather than an Extensively Hydrolyzed Formula (eHF). Suggestions are conditional with very low-quality evidence to support them.
Children with CMA – Low Anaphylactic Risk
For children considered "low risk" for anaphylaxis, the recommendation is to use an eHF over AAF. The recommendation is mostly based on cost, as AAF is expensive. Additionally, it is recommended that the eHF should be tested in clinical studies before being used, and monitored for adverse reactions after the first administration of the formula.
Extensively Hydrolyzed Formula vs Soy Formula
These guidelines also compare eHF versus SF as a CMPA formula replacement. The recommendation is to use eHF over SF. This recommendation is based on avoiding adverse reactions that may be caused by soy. Additionally, soy should not be used during the first six months of life because of nutritional risks.
eHF vs RHF
Also compared in the guidelines was Extensively Hydrolyzed Formula (eHF) vs Rice Extensively Hydrolyzed Formula (RHF). The recommendation is to use eHF, based on very low-quality evidence. This recommendation was based on how widely available eHF is compared to RHF.
Final Clinical Recommendation
The last recommendation regarding formulas in the guidelines calls for more studies. The issue that they ran into with making recommendations is that there is not much evidence, research, or controlled studies that can fully back up the recommendations.
Which Formula is Best For CMPA?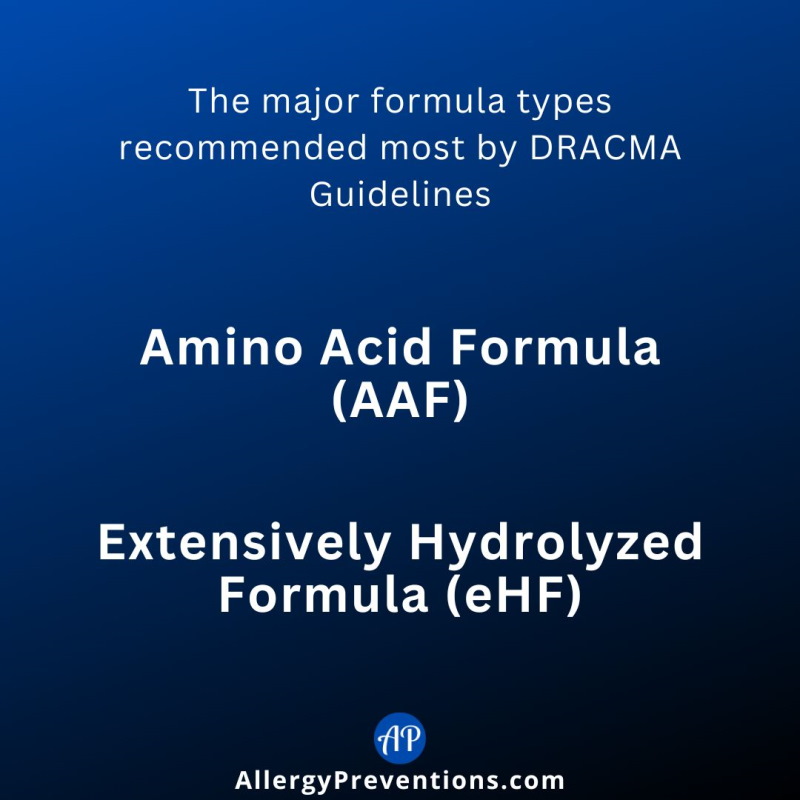 When we review the clinical recommendations from the DRACMA Guidelines, there are really only two major formula types that are recommended for CMPA/CMA. The two types are Amino Acid Formula (AAF), and Extensively Hydrolyzed Formula (eHF).
Please remember, after you choose a formula that you think would be a good fit for your little one, talk with their pediatrician first.
AAF CMPA Formula
The DRACMA Guidelines recommend using an AAF formula if your child is at a higher risk for anaphylaxis. My research has shown that AAF formulas are much harder to find compared to eHF. Nevertheless, here is what I have found!
Alfamino Infant Formula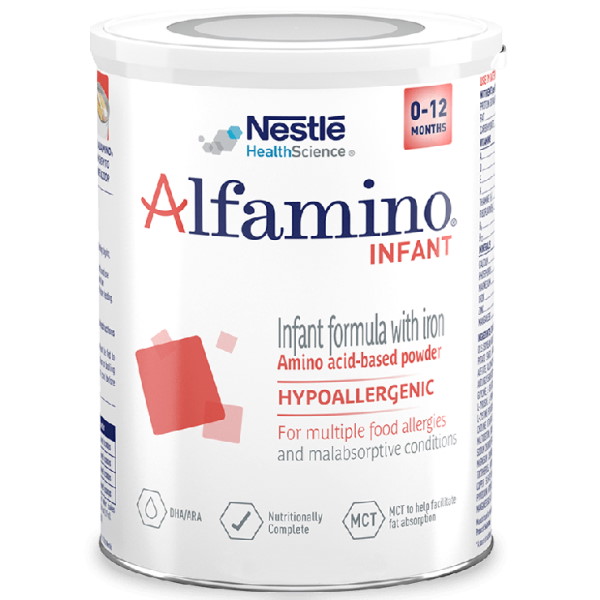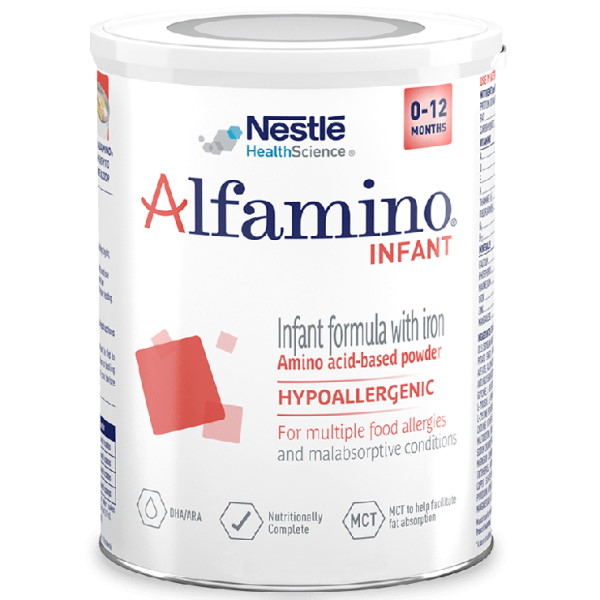 Alfamino® is the perfect solution for parents with infants that have cow's milk protein allergy, multiple food allergies, or malabsorptive conditions.
This formula is a hypoallergenic amino acid-based (AAF) infant formula that has been designed specifically with CMP allergies in mind. It contains essential nutrients for growth and development, as well as a unique fat blend containing medium chain triglycerides (MCT) to facilitate fat absorption.
Alfamino formulas offer unique compositions with tailored nutrient profiles and highly selective ingredients, making them appropriate for conditions such as cow's milk protein allergy.
Purchase Alfamino infant formula on Amazon.
Neocate – Syneo Infant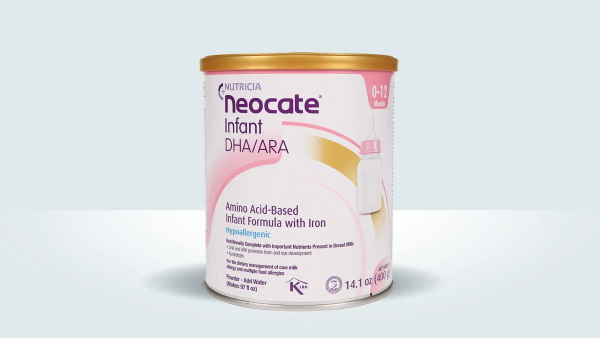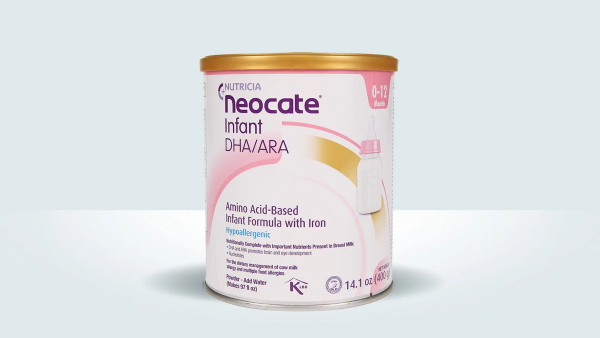 Neocate® is the world's number 1 amino-acid-based (AAF) formula brand and it's specifically designed for infants with food allergies. It provides key nutrients to support normal growth and development, making it the perfect nutritional choice for your little one.
The formula also contains nucleotides and DHA/ARA, which supports brain and eye development. This makes it the perfect choice for infants who need a nutritionally complete diet.
Purchase Neocate Infant DHA/ARA on Amazon.
eHF CMPA Formula
The DRACMA Guidelines state that if your child is considered low-risk for CMPA-related anaphylaxis, an eHF formula is recommended. Here are the most popular eHF formulas in the United States.
Enfamil Nutramigen Formula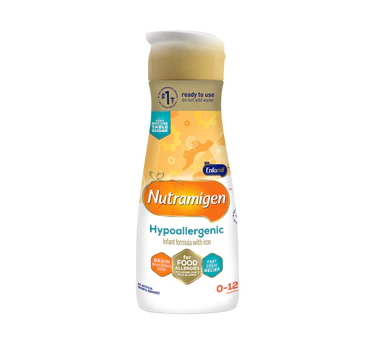 Colic from CMPA is a common problem for babies, and it can be really tough on parents. That's why Enfami­ Nutramigen™ is here to help. Their gentle, lactose-free baby formula has been clinically proven to provide relief from colic caused by cow's milk allergy.
You'll see results fast – 90% of infants have symptom improvement within 48 hours. Plus, their formula is nutritionally balanced and has no added sucrose.
Learn more about Nutramigen on Amazon.
Gerber Good Start – Extensive HA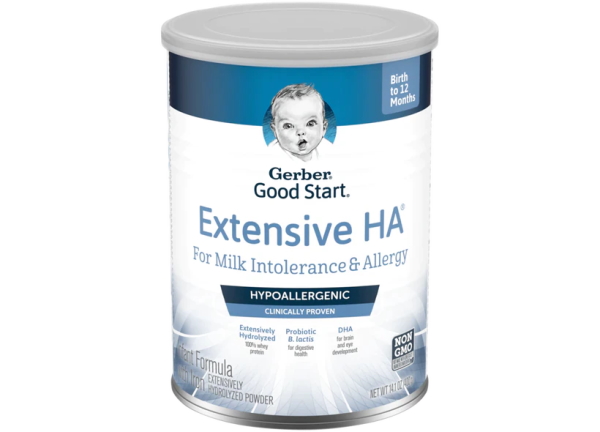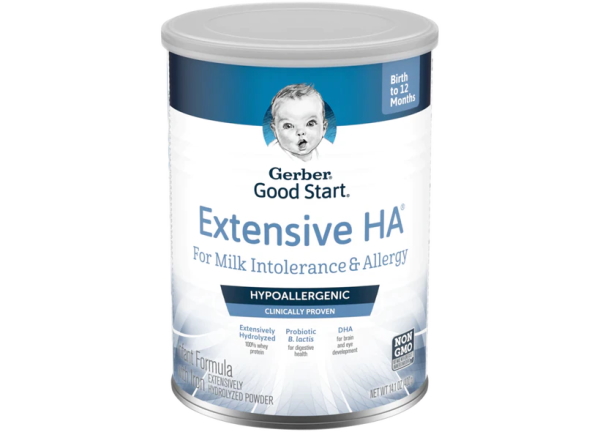 The Gerber Good Start Extensive HA® formula is an eHF formula. This formula is designed with all essential nutrients for adequate growth and features DHA, recommended by experts for brain and eye development.
Their hypoallergenic formula also contains B. lactis, a probiotic similar to those found in breast milk to support digestive health. It is the only hypoallergenic formula on the market today that features this probiotic.
Purchase Gerber Good Start Extensive HA on Amazon.
More CMPA Information
Looking to learn more about CMPA allergies? Check out the CMPA (Cow's Milk Protein Allergy) article for in-depth information.