These 17 practical ways to prevent fall allergies will cover immediate and long-term allergy relief solutions. For most people, the fall season is wonderful and doesn't cause allergies. I am not like most people, and if you are reading this… (I bet) you are not like most people as well. 
Let's buckle up and keep reading to get that allergy-free Autumn you are looking for. 
This post may contain affiliate links. "As an Amazon Associate, I earn from qualifying purchases". When you click the link and make a purchase, we might get a kickback from Amazon or other affiliate companies at no extra cost to you. 
1.  Take A Shower or Bath
Taking a shower or bath when you come into the house for the night, and especially before bed is a great way to prevent your allergy symptoms from attacking you all night. 
Your relaxing rinse will rid your hair and body of the allergens you might have tracked into your house from the great outdoors. 
2.  Saline Nasal Rinses
Nasal rinses like Neti-Pot and Navage, all have the same basic concept of rinsing contaminants out of your nose and sinuses. These rinses are typically salt water (saline) with the same pH as your body so they don't burn. 
The instructions on the neti-pot say you can rinse your nose multiple times a day.
If you typically suffer from sinus headaches, congestion, and sneezing, this might be the trick for you. Some folks can't stand liquid in their nose, and the drainage can be offputting for some people. But, if you are like me, relief from allergies is all I am worried about. 
I use this traditional Neti-Pot, but I am looking at getting the Nasal Navage! 
My Current Neti-Pot (I love it)
 Nasal Rinse I want to Try
3.  Wear A Mask That Covers Your Mouth and Nose
These days we are no strangers to the face mask. Did you know they are also great for blocking pollen from entering your nose and lungs? Yep! But make sure you wash them frequently.
You don't want to get in a position where your mask is making your symptoms worse because it's chock-full of allergens. 
4.  Take a Trip to Prevent Fall Allergies
Sometimes the best thing to do is take a trip or vacation to relieve allergies. Travel to a location where your allergies aren't crazy this time of year, you are essentially removing yourself from your allergens.
Of course, knowing what you are allergic to will help narrow down good places to go. Even if you don't know your triggers a relaxing trip can still do wonders for the body. 
5.  Kick Off Your Shoes
Remove your shoes when you go inside. By removing your shoes, you are preventing the allergens on your shoes from being dragged all over the house.
 I have a pair of outdoor shoes and a separate pair of indoor shoes. This helps me greatly in not tracking dirt and allergens. 
6.  Change Your Air Conditioner and Furnace Filters 
If your home is equipped with central air, or a furnace (HVAC), it has a filter. Before you kick on the heater as temperatures drop consider changing the filter. 
When your filter isn't changed regularly, it lowers performance and allows dust and allergens to pass by and blow throughout the house. 
Check with the manufacturer's recommendation, but you should change the filter every three to six months. 
7.  Change Your Car Cabin Air Filter
Did you know that your car has a HEPA air filter for the vents?! It sure does, and it is frequently missed when talking about fall allergies. 
If you did not know this and you suffer from allergies when you get in the car, it's time to change the filter! The cabin air filters are relatively cheap (not through express oil change shops or dealerships). 
Auto parts stores like NAPA, O'Reilly and Auto Zone tend to have the best prices. If you ask nicely, they will probably change it for you. 
8.  Change Your Clothes
Clothing does a great job of protecting us from the elements, but they also do a great job at harboring allergens! Changing your clothes after you have been exposed to your allergy triggers (pollen, dander, mold, dust) can do wonders in preventing fall allergy symptoms
9.  Sweep and Vacuum to Prevent Autumn Allergies
Sweeping and vacuuming often can keep your home in "ship shape" and prevent any allergens from sticking around.
Make sure your vacuum cleaner has a HEPA filter built-in.
If you do not have a HEPA filter on your vacuum that dust will become airborne and can make your allergy symptoms worse. The HEPA filter will capture 99.9% of everything including allergens from blowing around the house. 
You can pick up a HEPA vacuum at any major retailer, but we got our Shark vacuum from Amazon, and we love it. 
The Shark Navigator Life-Away is the one we use and it's been great for a few years now. If you have any specific questions about it, let me know.
10.  Air Purifiers Prevent Fall Allergy Symptoms  

Air purifiers are a lifesaver, but make sure they have a HEPA filter. HEPA is a High-Efficiency Particulate Air (filter) that removes dust, germs, viruses, bacteria, mold spores, pollen, smoke, and some chemicals from the air. 
Air purifiers come in all shapes, sizes, and prices to fit your needs.
Our family cannot live without one, and it has helped all of us with our allergy symptoms. 
We are currently sporting the WINIX 5500-2, but it looks like they don't sell it anymore. If I had to go and buy another today it would be this bad boy (pictured above). You can check it out here. 
11.  Oral Antihistamines 
Most allergy sufferers are no strangers to antihistamines. Antihistamines help calm your immune response to allergens which relieves your symptoms. 
Fall allergies tend to be caused by ragweed allergies, so you may need to check out Best Allergy Medicine for Ragweed to see which medication would be best for you.
If you don't currently take an antihistamine, here are the most popular over-the-counter medications that you can discuss with your doctor: 
Top Rated Over-The-Counter Antihistamines
Benedryl 

Zyrtec 

Claritin

Xyzal

Allegra
12.  Allergy Eye Drops 
Allergy eye drops are typically an antihistamine that you get to put directly in your eye. You may be suffering from itchy, watery, and red eyes, these will provide instant relief.
I haven't needed my allergy eye drops yet this season, but my optometrist prescribes the Pataday eye allergy itch relief drops. 
These work wonders, and you only need to put them in ONCE a day! You can now get them without a prescription which is even better. 
Check them out on Amazon if you are interested, they do not disappoint. 
13.  Nasal Decongestants
Nasal decongestants help relieve nasal and sinus-related issues caused by colds and allergies. Decongestants can sometimes be used in combination with an antihistamine.
Make sure that your current medications don't already contain a decongestant, but this may be a good option to discuss with your medical provider for fall allergy relief.
14. Prevent Fall Allergies with Essential Oils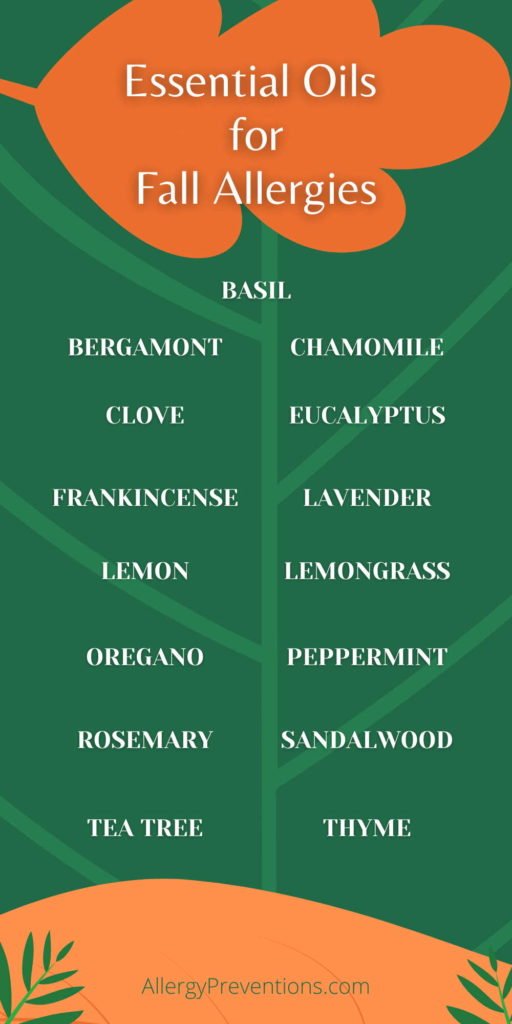 There are tons of allergy sufferers out there that swear by essential oils. Essential oils just might be the all-natural answer to your allergies this Autumn.  
MONQ Aromatherapy has listed the following essential oils for allergy symptom control.
Essential Oils for Allergy Relief in the Fall
Basil
Bergamont
Chamomile
Clove
Eucalyptus
Frankincense
Lavender
Lemon
Lemongrass
Oregano
Peppermint
Rosemary
Sandalwood
Tea Tree
Thyme
15.  Consider Allergy Shots
Immunotherapy (allergy shots) is a longer-term fix, and can get expensive if you don't have insurance or insurance doesn't cover them.  Allergy shots try and desensitize your body from what it is allergic to, which relieves symptoms. 
This process can take multiple visits a month, and go on for years. Don't let that stop you if you are interested! I get allergy shots and I have noticed an improvement in allergy symptoms. 
16.  Steroid Nasal Sprays 
Steroid nasal sprays like Flonase take a few weeks to really work, but if you stick with them you should see your sinus allergy symptoms lessen. 
These steroid sprays calm down the inflammation in your nasal passages so you can finally get some relief. I have been using Flonase for many years and it does work for me. 
17.  Clean Surfaces Frequently
Cleaning is an allergy sufferer's best friend, too bad cleaning isn't always fun…By cleaning often you are destroying mold, and dust mites (and their homes), while also removing pollen. 
Our family has gone "green" with our cleaner and we use Force of Nature cleaner for everything, and it's made at home.
All we have is ONE  cleaner in the house.  Force of Nature Cleaner also only has 3 ingredients (water, Salt, and Vinegar).
Here are a few highlights of the Force of Nature (all-natural) Cleaner.
Force of Nature Cleaner Highlights: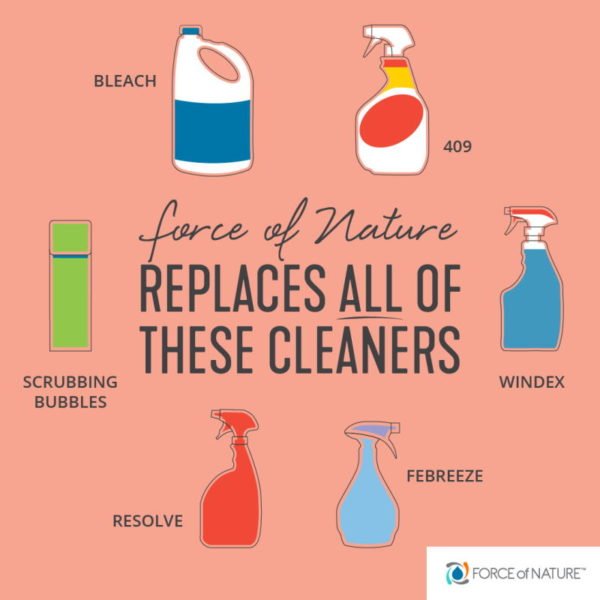 EPA Approved Sanitizer/Disinfectant (kills 99.9% of germs) 

Outperforms these brands

 Formula 409®, 

Lysol® Bathroom Cleaner

Scrubbing Bubbles®

Windex® Glass Cleaner & More

Deodorizes

Replaces bleach

Can use on fabric, metal, glass, carpet, food contact surfaces, and more. 

Free from all allergens (dyes, fragrances, preservatives, colors additives) 
I can go on all day about Force of Nature Cleaner!
You can check out my full product review, Force of Nature Cleaner Starter Kit Review.
Or go straight to their website here: Forceofnatureclean.com 
Use these codes to get an awesome discount when you are ready to buy! 
Force of Nature Discount Codes
$15 off + free shipping on Starter Kits with code YAYSUMMER15
40% off + free shipping on Bundles (that's the Extra Value Bundle & the Year of Capsules Bundle) with code YAYSUMMER40
Final Thoughts
By using one or many of these practical ways to prevent fall allergies, you are taking a step in the right direction to love Autumn once again!
Also, I have a Fall Allergies Survival Guide to cover everything you need to know about fall allergies, check it out.  
Are your allergies bothering you in late summer and into fall? You may have a ragweed allergy. Check this out Ragweed Allergy: What You Need to Know