This is a review of the Force of Nature Cleaner Starter Kit. Force of Nature is an all-natural cleaner and EPA-approved disinfectant (it even kills the coronavirus/COVID-19), you make Force of Nature on-demand at home, and it is just as effective as bleach (without bleaching fabrics).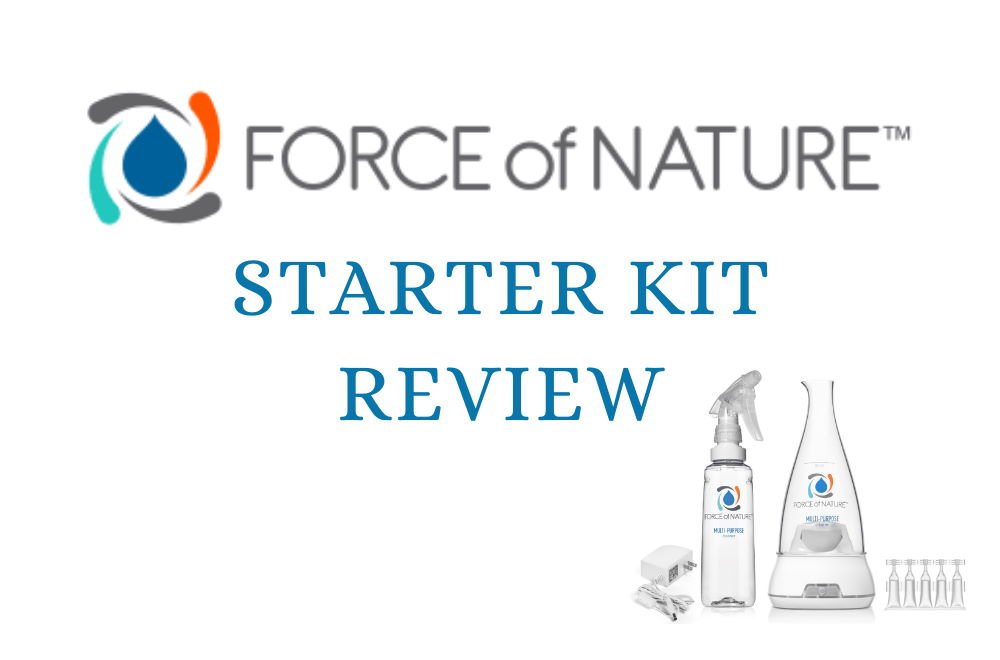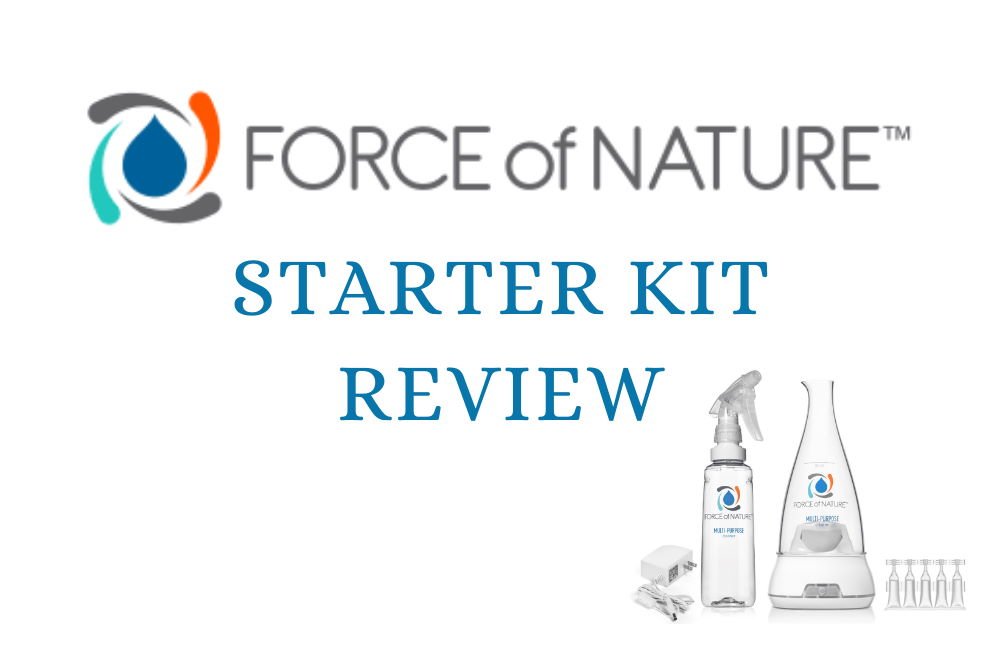 This post may contain affiliate links. "As an Amazon Associate, I earn from qualifying purchases". When you click the link and make a purchase, we might get a kickback from Amazon or other affiliate companies at no extra cost to you. We pride ourselves on only linking products, goods, and services that we have thoroughly researched and/or use ourselves. Please contact us here with any questions.
Force of Nature Review Intent
This review provides you with the information you need to make a confident and informed decision when choosing if this cleaner is right for you.
Finding a Genuinely Safe and Effective Cleaner is Hard to Find
As a father of two, I worry about my children's safety nonstop.  In an effort to make smarter choices for our family, my wife and I began searching for an effective cleaning product that is free from harsh chemicals, doesn't pose health risks, will not trigger allergies, and is non-toxic. 
A lot of all-natural cleaners and disinfectants on the market state they are all-natural or derived from plants, which is good, and a true statement but all-natural can still be toxic.
How we Discovered the Genuinely Safe and Effective Cleaner, Force of Nature
My wife stumbled upon Force of Nature from an ad, and when she showed me the video below, I knew I had to research this product more. They are spraying cleaner next to a baby and directly onto a pacifier. Is Force of Nature too good to be true? 
Force of Nature Quick Facts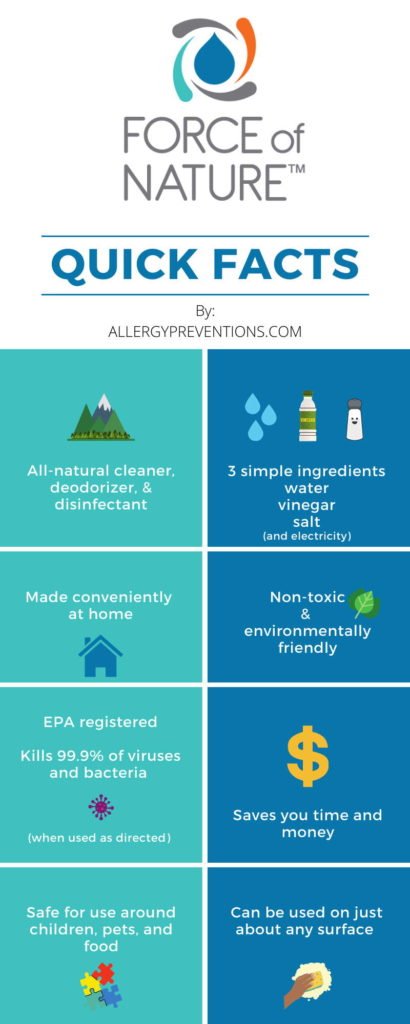 I am known to be quite the nerd when it comes to research, so I nerded on Force of Nature stats, and here is what I gathered.
Force of Nature Facts:
All-natural cleaner, deodorizer, & disinfectant
Made with 3 ingredients (water, vinegar, salt)
Non-toxic
EPA-registered disinfectant & sanitizer
Made conveniently at home
Saves you time & money
Safe for use around pets, children, and food
Environmentally friendly
Outperforms multiple top-name brand cleaners

Can be used on just about any surface (haven't found one it can't be used on yet)
My family does own the Force of Nature Starter kit, and we love it (you will see why as you read the article)
You came here for the full review with all the safety, pros, cons, etc. so let's keep going!
Force of Nature Starter Kit Contents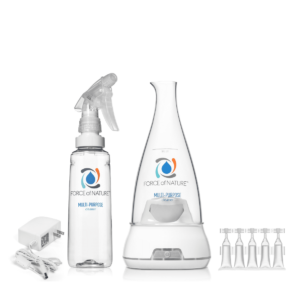 The Starter Kit comes with:
5 Activator Capsules (salt, water, vinegar), enough to make 5 bottles of cleaner

Electrolyzer (with product expiration notification lights)

Power Cord

12-ounce Spray Bottle

Quick Start Guide

User Manual
Each Force of Nature Capsule makes one 12-ounce bottle of multi-purpose cleaner, deodorizer, disinfectant, and sanitizer. 
Force of Nature Cleaner & Disinfectant Spray is Safe
Now don't try this at home, but I did spray the cleaner directly into my mouth… It tingles a bit and does not taste pleasant (won't be doing that again)
Think about it, there is no way I would do that with any other cleaner on the market. Imagine getting Formula 409 or Febreeze in your mouth?! 
Force of Nature Ingredients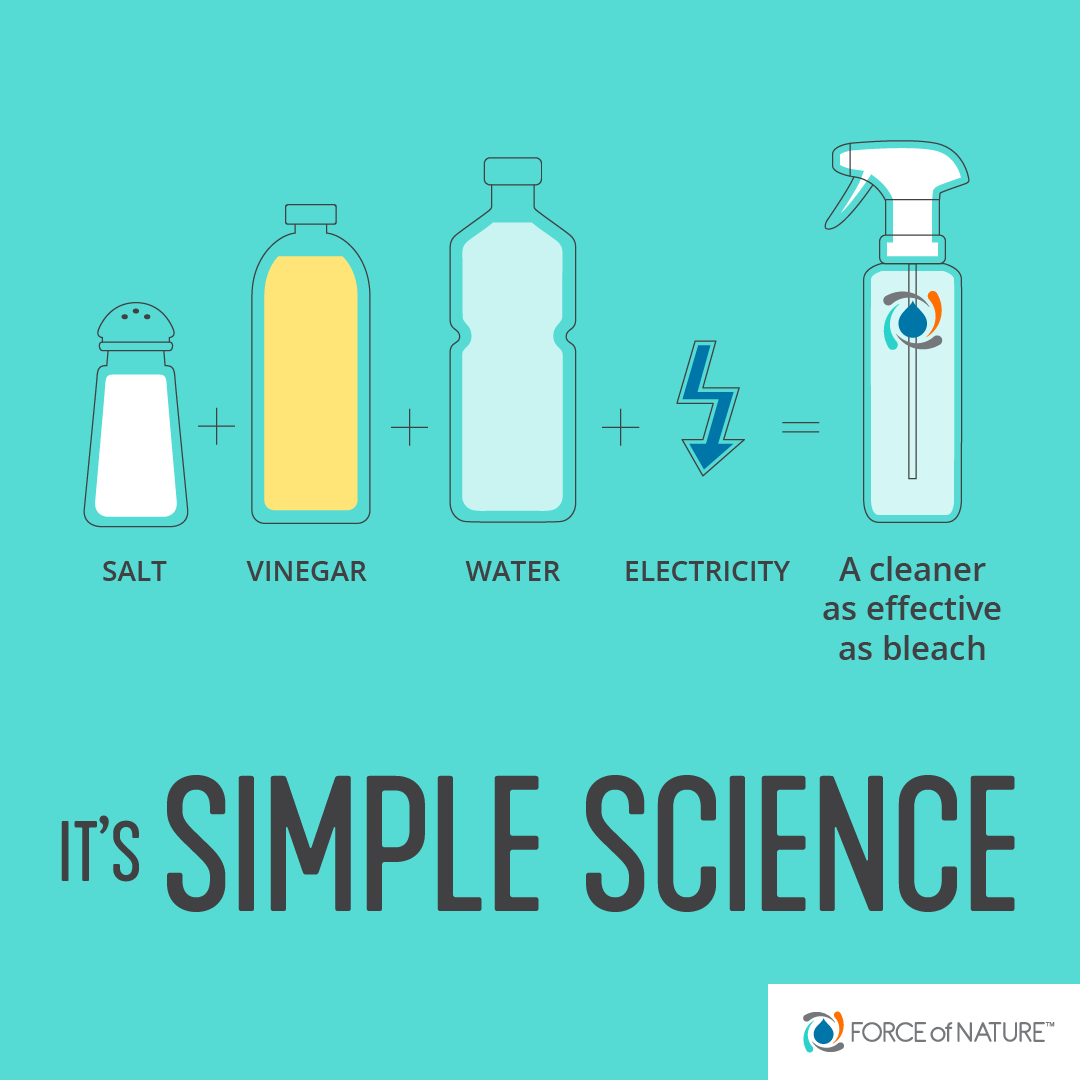 Force of Nature Cleaner contains 3 ingredients: Water, Salt, and Vinegar (and science)
Hypochlorous Acid is Natural, Safe, and Non-toxic
When we Electrolyze (the science)  the 3 ingredients contained in the capsules of your starter kit, you produce the active ingredient, which is Hypochlorous Acid (HOCI), this sounds scary but it's not scary! 
Our bodies produce hypochlorous acid (HOCI) to kill germs that are trying to invade our bodies. 
Medical professionals use hypochlorous acid in eye drops and for wound cleaning in humans and pets Overall, Force of Nature is safe, and it keeps you and your loved ones safe. 
Force of Nature Cleaner Kills Germs, Bacteria, and Viruses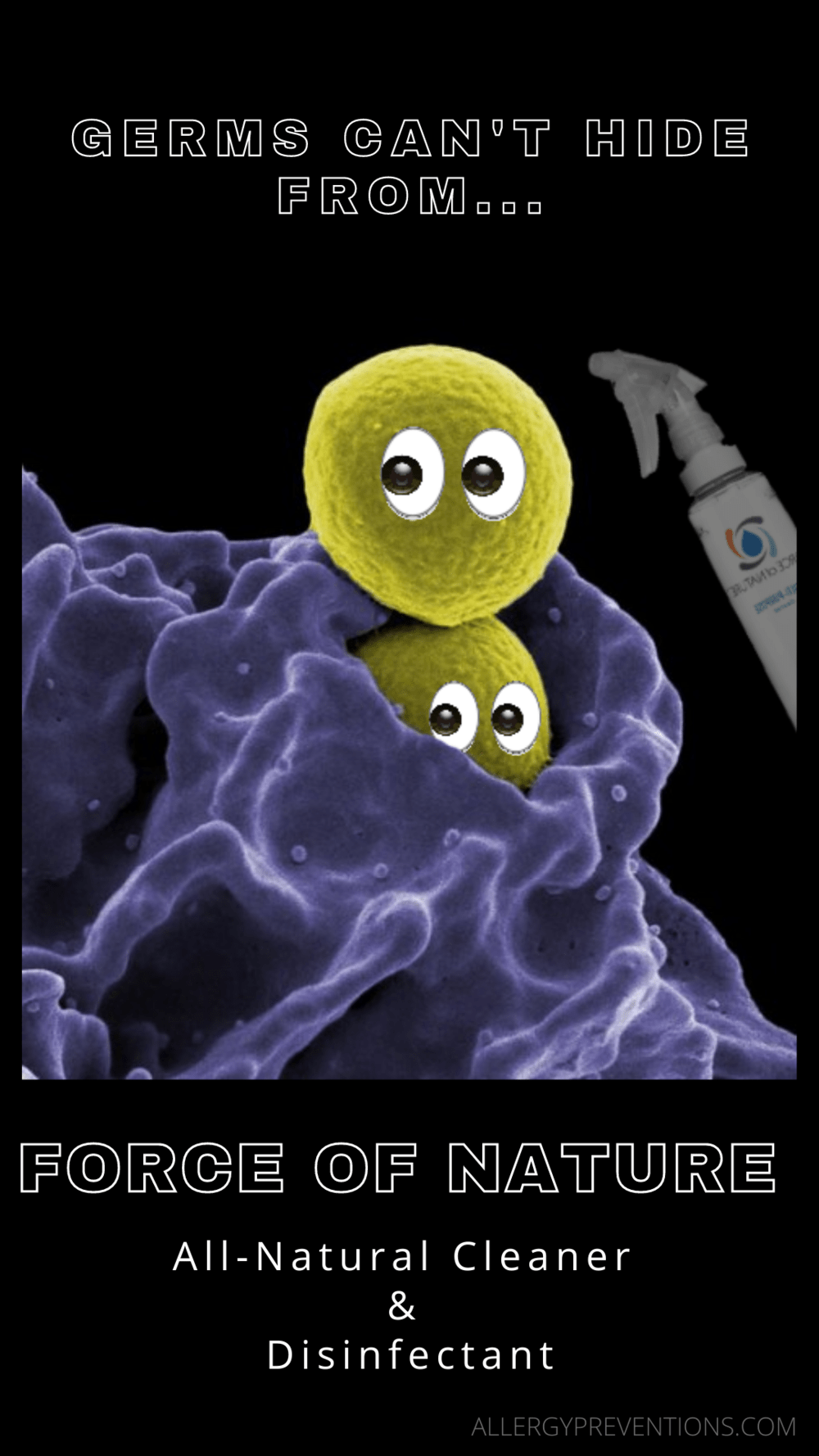 Force of Nature is an EPA-registered disinfectant and sanitizer, verified to kill 99.9% of germs including the following:
COVID-19 (SARS-CoV-2, coronavirus)

Listeria monocytogenes (listeria) 

Staph (Staphylococcus aureus) 

MRSA (Methicillin-Resistant Staphylococcus aureus)

Salmonella enterica (Salmonella)

Pseudomonas aeruginosa (Pseudomonas) 

Feline Calicivirus surrogate for Norovirus

Strain F-9

Influenza Strain A 

Influenza Strain Hong Kong

Influenza Strain 8 

Influenza Strain 68
Does Force of Nature Work? 
Force of Nature is third-party tested by TURI (Toxic Use Reduction Institute, the University of Massachusetts). The results showed that Force of Nature does work and is effective compared to top cleaners.  
Overall Cleaning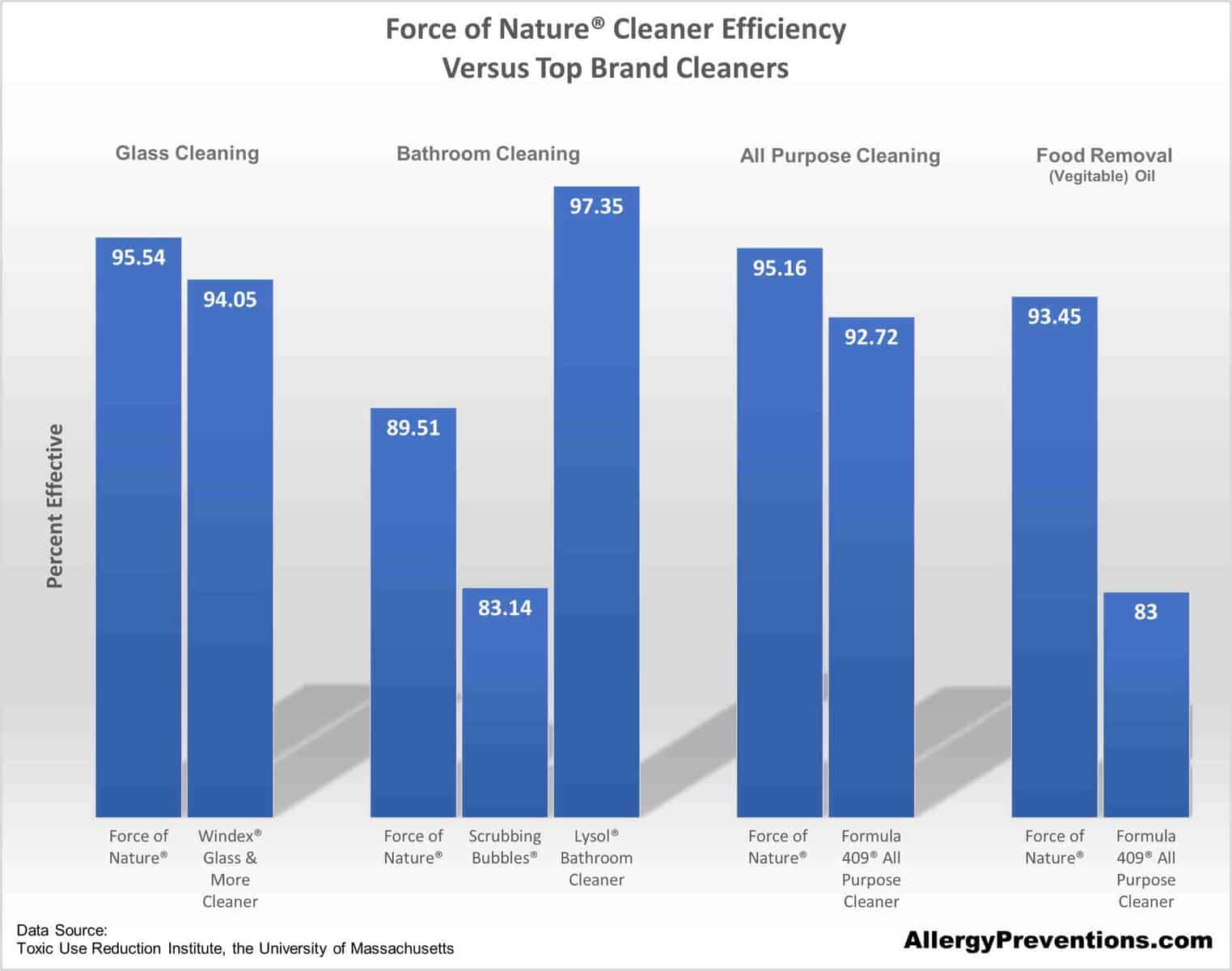 This chart represents the cleaning efficiency results versus the top name-brand cleaners.
Force of Nature outperformed the top name brand cleaners in glass cleaning, all-purpose cleaning, and oil removal, and was considered average in bathroom cleaning.
Odor Elimination
Force of Nature was compared against Chlorox bleach in eliminating odors.  The rating system was 1 – 5, with 1 as no smell, and 5 as the worst smell. 
Force of Nature had an average odor elimination rating of  3.5 and Chlorox bleach had an average odor elimination rating of 3.6. 
Both products were effective in removing odors, but Force of Nature had a slight advantage over Chlorox bleach.
Carpet Stain Removal
Force of Nature was compared against Resolve High Traffic Foam Carpet Cleaner for stain removal effectiveness.  The rating system was 1 – 5, with 1 resulting in no stain, and 5 resulting in a severe stain.
Force of Nature had an average visual clean rating of 2 (slight stain) and Resolve with an average visual cleaning rating of 2.1. Both products are effective in removing stains, but Force of Nature had a slight advantage over Resolve.  
As you can see Force of Nature does work, can hold its own versus the top cleaning products on the market, and outperforms most. 
Let's not forget it also kills 99.9% of germs on top of its cleaning performance. 
If you would like to see the TURI testing reports, click this hyperlink to go directly to the reports: www.cleanersolutions.org
Real-Life Experience with the Efficacy of Force of Nature Cleaner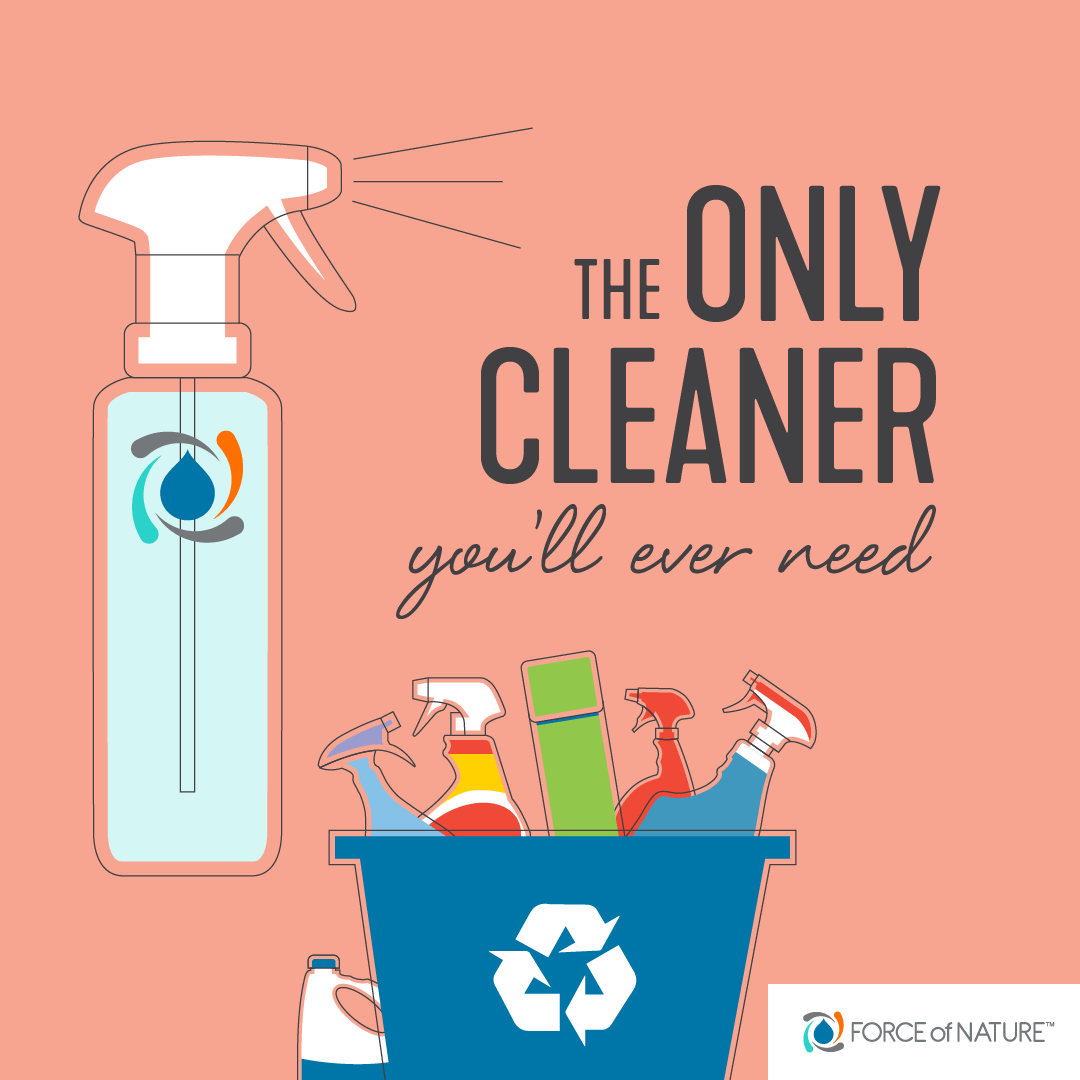 Our family uses Force of Nature on everything.
Force of Nature Cleaner Uses
Force of Nature Cleaner has performed above our expectations with cleaning and odor removal on the following (I am sure I am forgetting some)
Glass/mirrors
Counters
Carpet
Pacifiers
High chairs
Produce (fruits & vegetables) 
Toilets
Yoga Mats
Showers
Cellphones
Sinks
Couch
Face Masks
Stove
Laptop
Doorknobs
Light switches
tables/chairs
Shopping carts
Clothes
Floors
Toys
Cutting boards
Thermometers
Makeup brushes
Hairbrushes
Toothbrushes
Night Guards/Bite Guards/Mouthguards
Gym equipment
Sports gear
Inside cars 
Refrigerator 
Coolers
Shoes
Throw Pillows
Rugs
Faucets
Remote Controls 
Diaper Pails
Trash Cans
Shoes
Microwave
Clothes washer/dryer
Hard-to-wash items (bedding, dresses, suits, etc.
Where Force of Nature has Underperformed
Below are the items that our family has noticed Force of Nature did not clean to our expectations (but still disinfected/deodorized like a champ!)
Makeup brushes 
Force of Nature Cleaner did not remove all the grime from makeup brushes and sponges. This does not mean it wasn't effective in killing acne-causing bacteria.
Deep-set stains on rugs and carpet 
Force of Nature helped get out some of the dirt and stains but missed the mark on older and darker stains. It did perform well on light/recent stains and all odor was removed.
Benefits and "Pros" of Force of Nature
It works

No toxic chemicals or fumes (3 ingredients, electricity, and science)

Limits your overall chemical exposure

Replaces all your other cleaners 

Saves you time

Make cleaner on demand

Peace of mind with the pets and little ones 

You can use it on thousands of items 

Saves you money 

Cleans 

Disinfect

Sanitize

Deodorize

Makes cut flowers last longer

Replaces all your toxic chemicals, giving you peace of mind and a safer home

Customer service is great (more on that below)

You can take it on the go (portable spray bottles)

Electrozyer base is also a timer

Women's Voices for the Earth business partners

EPA approved 

Green seal Certified

Cruelty-Free

MAYO clinic skin safe approved 

100% satisfaction guarantee
What could be better "Cons" with Force of Nature
These are some things that I thought could be improved on with Force of Nature, which might be considered a "con" for your intended needs
Part of the instructions could use a modification
I followed the instructions to rinse the electrolyzer after making the solution, but after a few weeks, I noticed some tiny black specks inside the electrolyzer.
I called Force of Nature and they stated that if you live in a humid environment you need to rinse and spray Force of Nature into the device. This did resolve the issue.
My recommendation would be to just make it standard practice in the instructions to spray the electrolyzer with Force of Nature after rinsing. 
Our spray bottle stopped working after about 6 months
We use Force of Nature all day and probably make a new bottle every 3 days, with this heavy use our spray bottle stopped working after 6 months. 
I am not sure if this was a fluke, but bottle design and/or quality could be something for the company to look into.  We reached out to Force of Nature and they sent a new one right away! (Customer Service was awesome and solved the issue)
There is a 2-week shelf life for maximum efficacy on Force of Nature once you make it
2 weeks seems quick to go through a bottle of cleaner, we have yet to have a bottle "expire".  Our family uses it up within 2 weeks no problem, but this could be a "con" for some.  
If the base/electrolyzer is unplugged the 2-week timer goes away
 In the first month, we had the power go out which reset the timer (didn't affect us, as we go through the stuff so fast).    
Force of Nature cannot be stored in direct sunlight
Again, not an issue for us but it could be for you. 
Electrolyzer has a bulky plug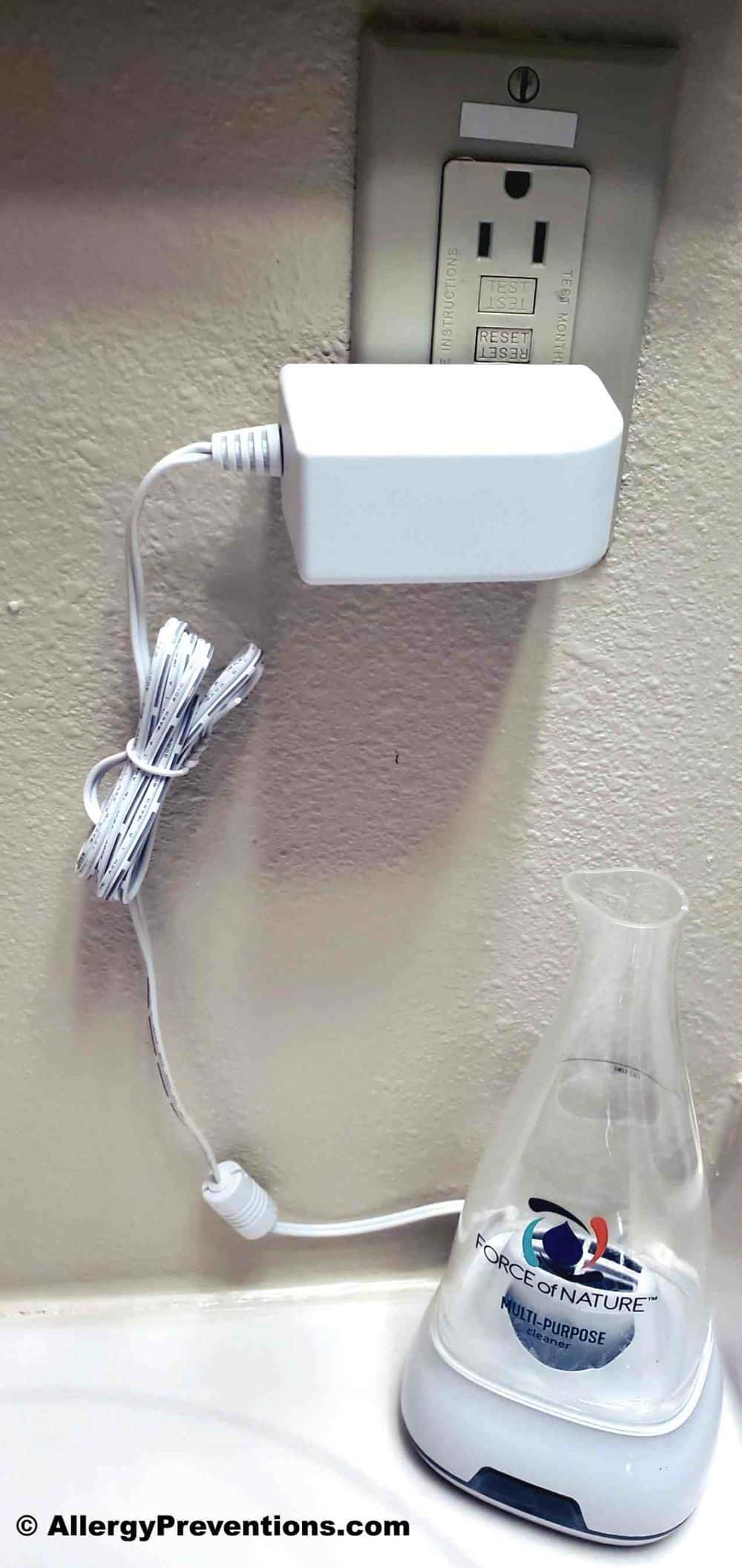 If you have the electrolyzer plugged in at all times as your timer, the bulk of the plug might seem unsightly to some. Ours is out of sight in our guest bath, and if we have guests we just put it under the stink for storage.
Using Force of Nature Saves Us Time and Money (maybe life savings?)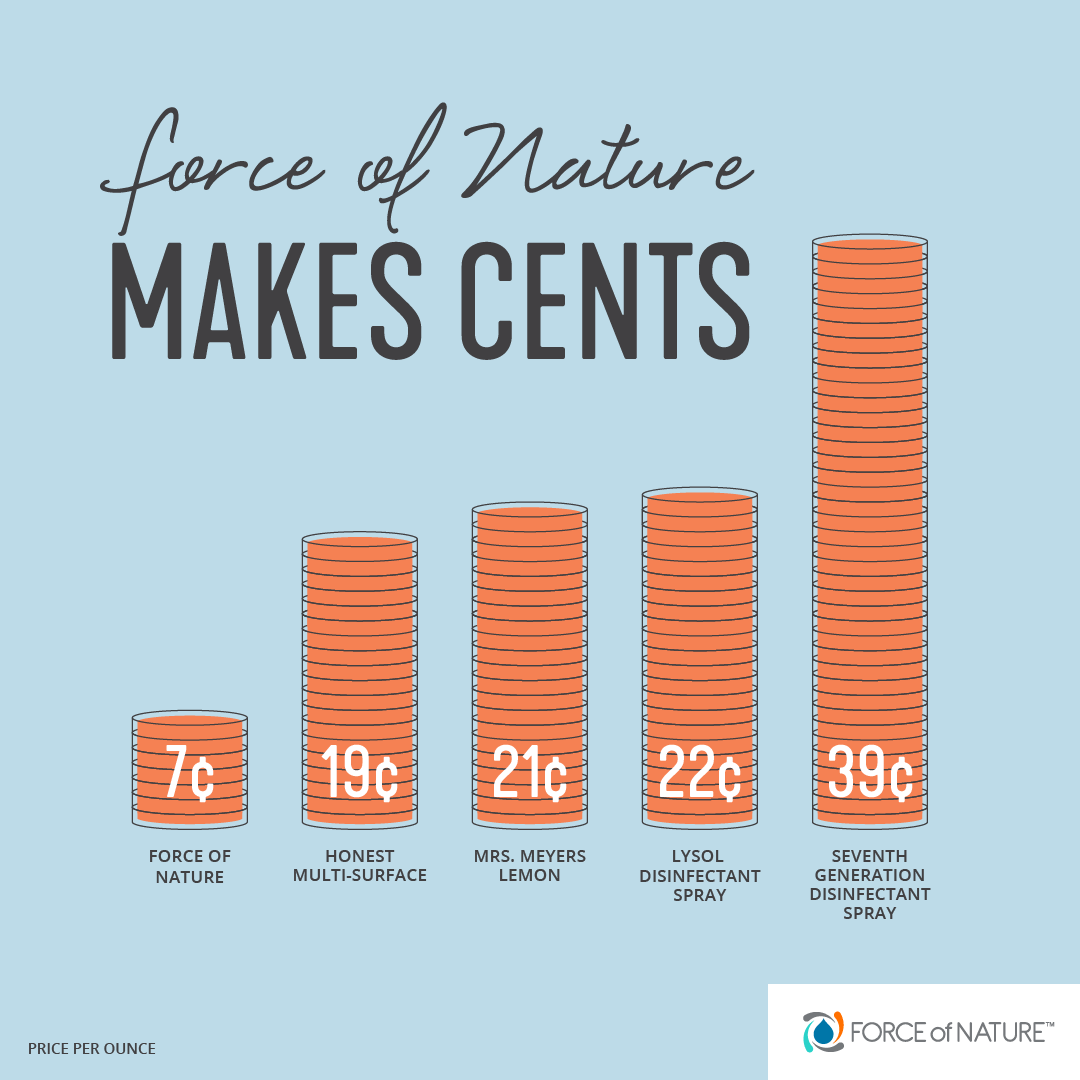 Money Savings
We have replaced almost all our cleaners with Force of Nature.  By not having to buy an all-purpose cleaner, carpet cleaner, window cleaner, shower cleaner, mop solution, disinfectant spray, etc. we are saving money every time we make a new batch of Force of Nature. 
Time Savings
How long does it take you to wake up, get dressed, and out the door?  How long does it take to drive to the store?
You can potentially get that time back. If you live a busy life, you know that every minute counts. 
You might be thinking "I am already going to be at the store so it's no big deal".
True, but now you don't need to go down the cleaning aisle (saves you time, and a headache from all the strong odors)  You make Force of Nature at home, so in some way or another, you are saving time. 
Life Savings Theory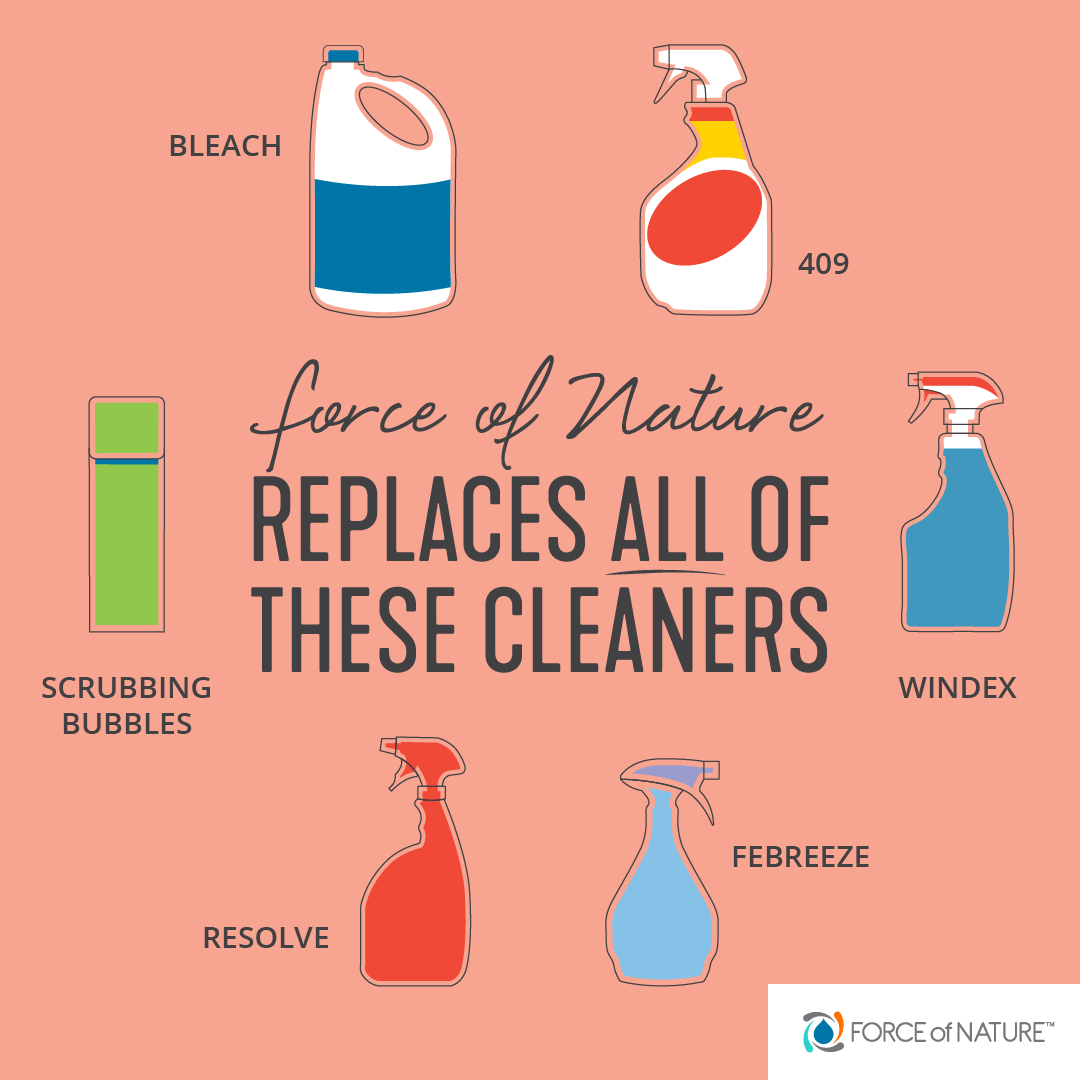 You are potentially extending the life of yourself, your family, and your pets by not being around all those toxic chemicals unnecessarily. 
My thought is, that if you are exposed to fewer chemicals, you have a better chance of not becoming ill or developing cancer than those who are exposed to multiple chemicals.
Force of Nature Cleaner can assist you towards a healthier lifestyle.  
Force of Nature's Customer Service is Great
My first encounter 
I reached out via email to Force of Nature because I noticed some tiny black spots on my electrolyzer about three weeks after my first use.
 They emailed me back within a day or two and explained that this can be remedied by rinsing the electrolyzer after use and then spraying Force of Nature back into the container. 
The reason for the black dots was that it wasn't in a location it could dry easily (I have it in the bathroom, with not too much airflow) I did as they instructed and it resolved the issue.
My second encounter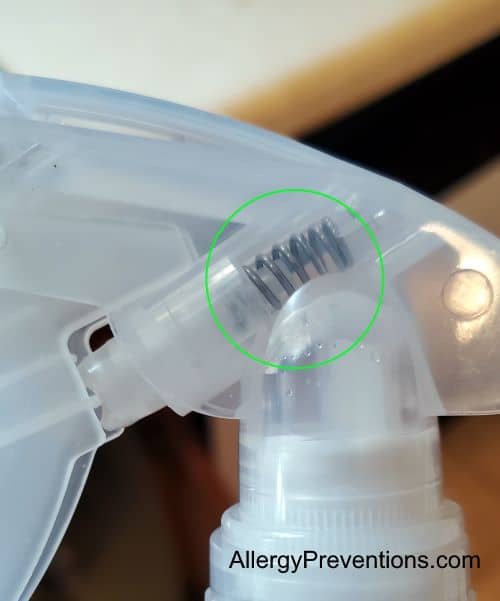 The spray bottle that the kit came with started to become worn out at about the 6-month mark and the spring wouldn't return freely. Customer support informed me that the bottle should definitely last more than 6 months. Within 24 hours they sent me a replacement bottle and solved the issue. 
Overall, I haven't had many encounters as you can see, but I feel this lets you know that Force of Nature is a solid product,  and if there are issues or even questions they are prompt to respond!
Force of Nature Starter Kit Return Policy and Warranty
Return Policy
Force of Nature stands by its policy of "100% Happiness guaranteed".  This means if you are not COMPLETELY satisfied with your Starter kit, you can return it within 30 days for a full refund.
Warranty
 Force of Nature states that as long as you prepare the product according to its instructions, it is covered by a one-year warranty.  Remember how I had an issue with the bottle not working properly? That was covered by the warranty and they sent me a new one pronto with no questions asked.
Do I recommend Force of Nature Cleaner? 
Absolutely I recommend Force of Nature Cleaner! The benefits to our health and safety are a no-brainer for our family (and everyone we tell about it). 
Before & After Images
Here a just a few before and after images to show you some daily grime that Force of Nature tackles.
Photoset 1: Cofee pot stains
Photoset 2: High-chair that our child had some messy fun with
Photoset 3: Leg of the table from our child launching baby food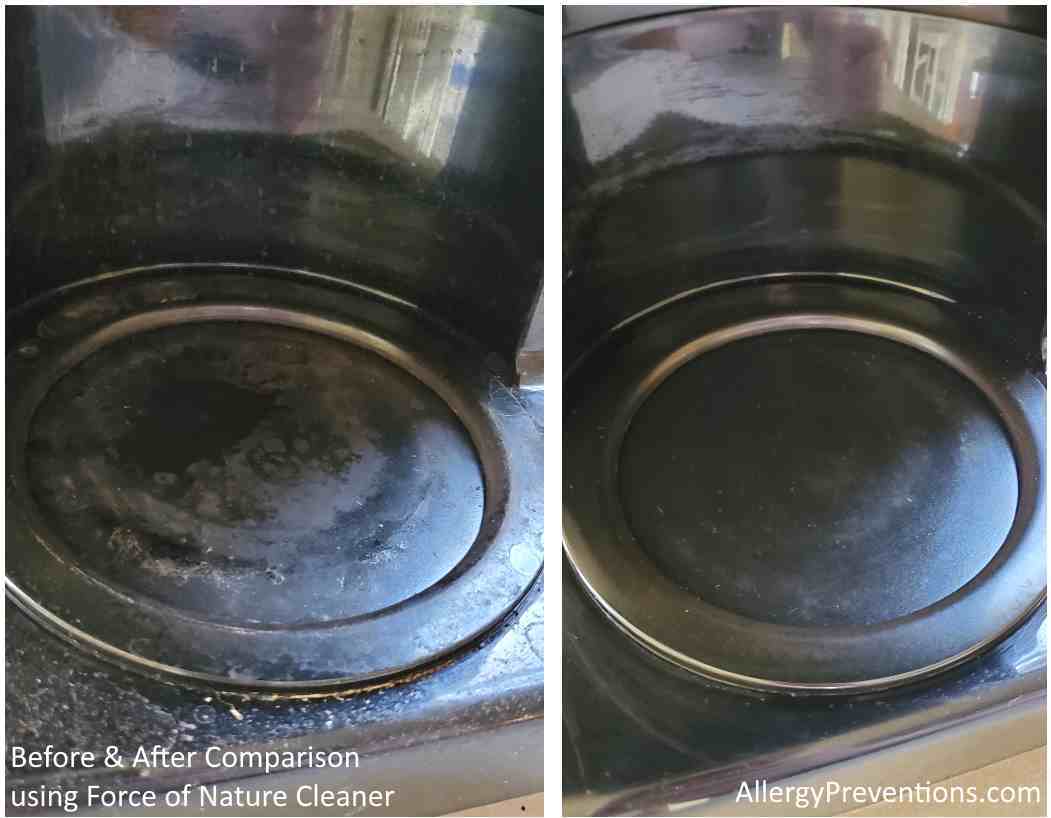 What if Our Family Didn't Make the Switch to Force of Nature Cleaner?
If we didn't get Force of Nature we would be:
Worried about our kids getting into toxic chemicals

Worried about our family's chemical exposures

Unable to clean/sanitize/disinfect many surfaces throughout the home

Overspending on cleaning products

Still holding on to multiple cleaners for different jobs
All of these concerns were solved by switching to Force of Nature cleaner.
There is no way we will be going back to a collection of chemicals under our sink. 

What Others Are Saying About Force of Nature

Here is a collection of my favorite reviews from actual Force of Nature users.
"One of the best clean product swaps I have made! This just replaced almost every cleaning product in my home. Non-toxic and makes everything just feel so clean. I absolutely love it:)" – Sandra D

"Amazing! Cleans floors, glass, mirrors, wood! One bottle, one product. For a non-toxic minimalist life, this is perfect!" – Chantal Giroux

"I absolutely love this product!!! It does a great job in sanitizing and cleaning. It's natural and non-toxic what more could you want? While it doesn't have any added fragrance it has a natural subtle clean smell". – Nicole Thomas

"Love, love, love this product….especially now that I have a new puppy that makes occasional messes! I get the best and safest cleaning without harmful chemicals. It leaves no residual odor and no risk of bleach splashing on me!" –  Didi

"THIS LITERALLY COSTS ABOUT $1 TO MAKE PER BOTTLE. NO TOXIC FUMES OR CHEMICALS – GREAT STUFF!" – Circawdm

"I love this product. It cleans everything. I use it in the kitchens, bathrooms, and even in a pair of kiddo smelly shoes after she jumped in a pond with sneakers on. It deodorizes, cleans well, and is non toxic. Our kitchen table is white and our resident artist is six. The table is still white because of this spray! I've had this product for almost three years!" – Dobbs
Bottom Line
If you are in the market for an all-in-one cleaning product that sanitizes, cleans, deodorizes, is non-toxic, and saves you money; you need Force of Nature.
Where to Buy Force of Nature Cleaner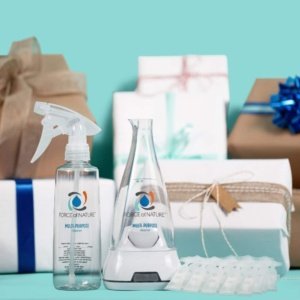 The best place to buy Force of Nature Cleaner is directly from Force of Nature. You can also buy Force of Nature at Amazon.com, but it is more expensive and you are not able to use my discount code.
Buy From Force of Nature (Recommended) 
Holiday Promo is Live!
The Force of Nature best offer on bundles is live now!
Code: GIVEFON
Promo: 40% off Bundles + free shipping
Dates: Nov 3-Dec 14, 2022
Buy directly from the Force of Nature Website.
Black Friday, Cyber Monday
For the big weekend this year, we're offering savings on our most popular bundle!
Code: GIVESUPER
Promo: $50 off the Super Saver Bundle + free shipping
Dates: Nov 21-28, 2022
Buy directly from the Force of Nature Website.
Amazon
Amazon does sell Force of Nature, but it is more expensive than buying it directly from Force of Nature above (with the discount link/code).
Sometimes time is money, and you might be able to get 2-day shipping in your area.
Conclusion:
The safety and whole-house use of Force of Nature is a no-brainer for our family and we will continue to be customers for the foreseeable future. Buy Force of Nature Cleaner directly from their website and use the discount code for the biggest savings. Link: forceofnatureclean.com
Don't forget to check out 20 Reasons Force of Nature Cleaner is Legit
I would like to invite you to take a moment to share this article and spread the word about this great product!