Here are 20 reasons why Force of Nature Cleaner is legit. This will help you decide if this all-natural & non-toxic disinfectant is right for you, your family, and around pets.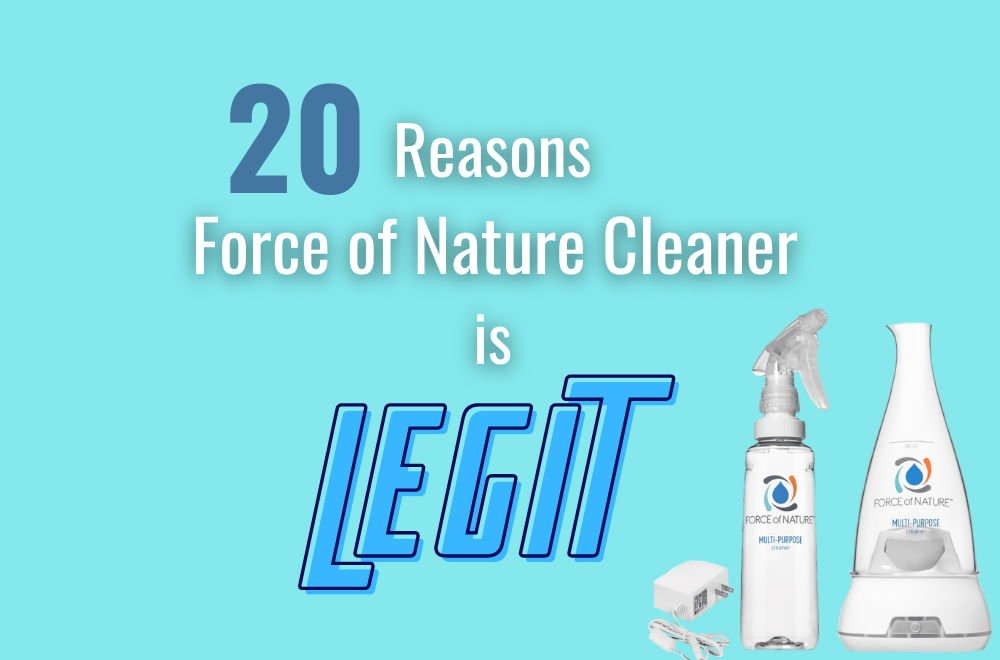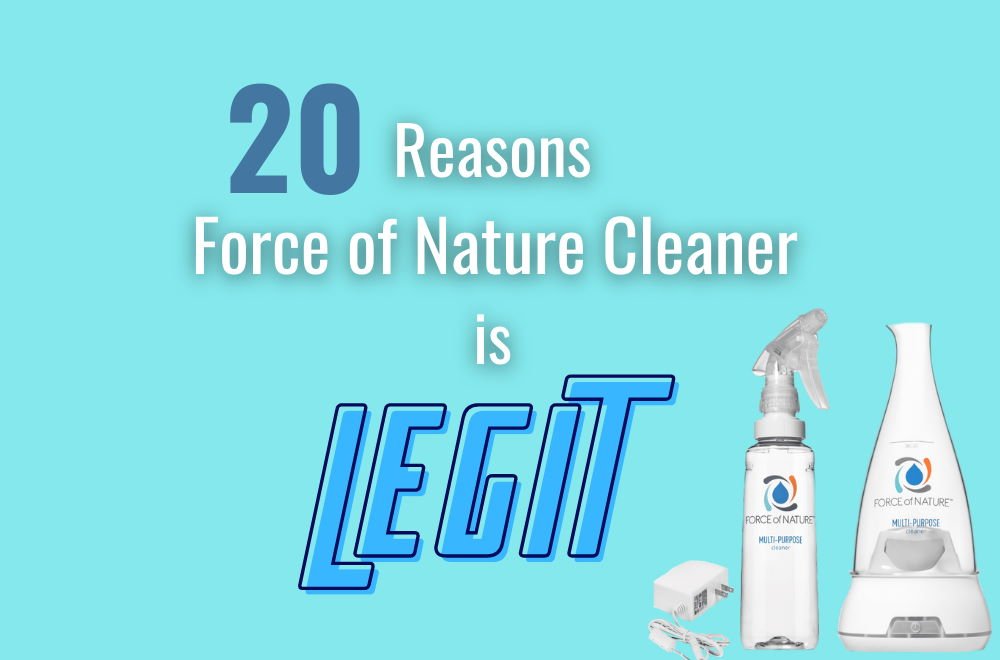 This post may contain affiliate links. "As an Amazon Associate, I earn from qualifying purchases".
Introduction
I have been noticing that many of you are wondering if Force of Nature is "Legit". I created this article to help with deciding if this all-natural disinfectant is right for you and your family, and of course, to answer the question…
Is Force of Nature legit? 
Spoiler alert, it is legit. I have a detailed FON review if these 20 reasons are not enough. For those of you who are wondering what the heck Force of Nature cleaner is, let me briefly explain.
What is Force of Nature Cleaner?
The Force of Nature Cleaner is a non-toxic multipurpose cleaner. This cleaner is made by electrolyzing water, salt, and vinegar to create hypochlorous acid, which is just as effective as bleach (without the fumes, need to rinse, and no staining).
1. Force of Nature is EPA Registered 
The U.S. Environmental Protection Agency (EPA) registered Force of Nature activator capsule on 18 April 2018, under EPA Regulation number 93040-1.
The EPA assesses the risk for potential harm to plants, animals, humans, and the environment. To become a registered product the law requires the product to be evaluated based on scientific data and a risk/benefits assessment. 
For more information on the EPA registration process, or to view the full report on Force of Nature Cleaner, proceed to epa.gov
2. Force of Nature is Green Seal Certified 
Force of Nature Cleaner is Green Seal certified, which is not an easy feat for any company.  Green Seal only certifies products that help protect our health, reduce pollution, conserve resources, minimize climate change, and perform effectively. 
Green Seal (Greenseal.org says it best, "Our science-based standards define sustainability leadership in the marketplace and reward industry innovations. Only the healthiest, most responsible, and most effective products achieve the Green Seal."
3. Force of Nature is SkinSAFE Approved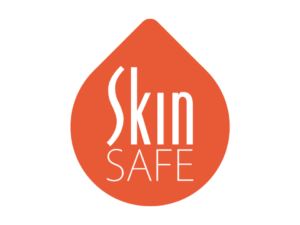 SkinSAFE approval is a collaboration of the Mayo Clinic and HER Inc. based on product ingredients. Force of Nature Cleaner was named "Best for sensitive skin, 100% Skin Safe! SkinSAFE also has given Force of Nature additional safety shout-outs for:
Teen Safe (free of harmful hormone-altering chemicals)
Lip Safe (cosmetics)
Baby Safe (Free of the top common allergy-causing ingredients)
Eyelid Safe (Free of the most common fragrances, preservatives, soap, and glue ingredients that cause eyelid rashes)
Common Preservative Free
Fragrance-Free
Paraben-Free
Lanolin Free
Coconut Free[
Topical Antibiotic Free
MCI/MI Free (Free of Methylisothiazolinone, Methylchloroisothiazolinone)
Nickel Free
Gluten-Free
Soy Free
Propylene Glycol Free
Oil-Free
Irritant Free
Dye Free
Part of SkinSAFE's vision is, "We (skinSAFE) believe everyone has a right to know exactly what goes into the products they use every day and how it affects their skin, their health, and the planet. We believe brands should be transparent about what goes into their products so people can make healthy informed choices."
Being a part of the SkinSAFE-approved program, earning the 100% skin-safe badge of honor, and getting 18 additional safety shout-outs, are just one more reason why Force of Nature Cleaner is legit.
4. All-Natural Cleaning Product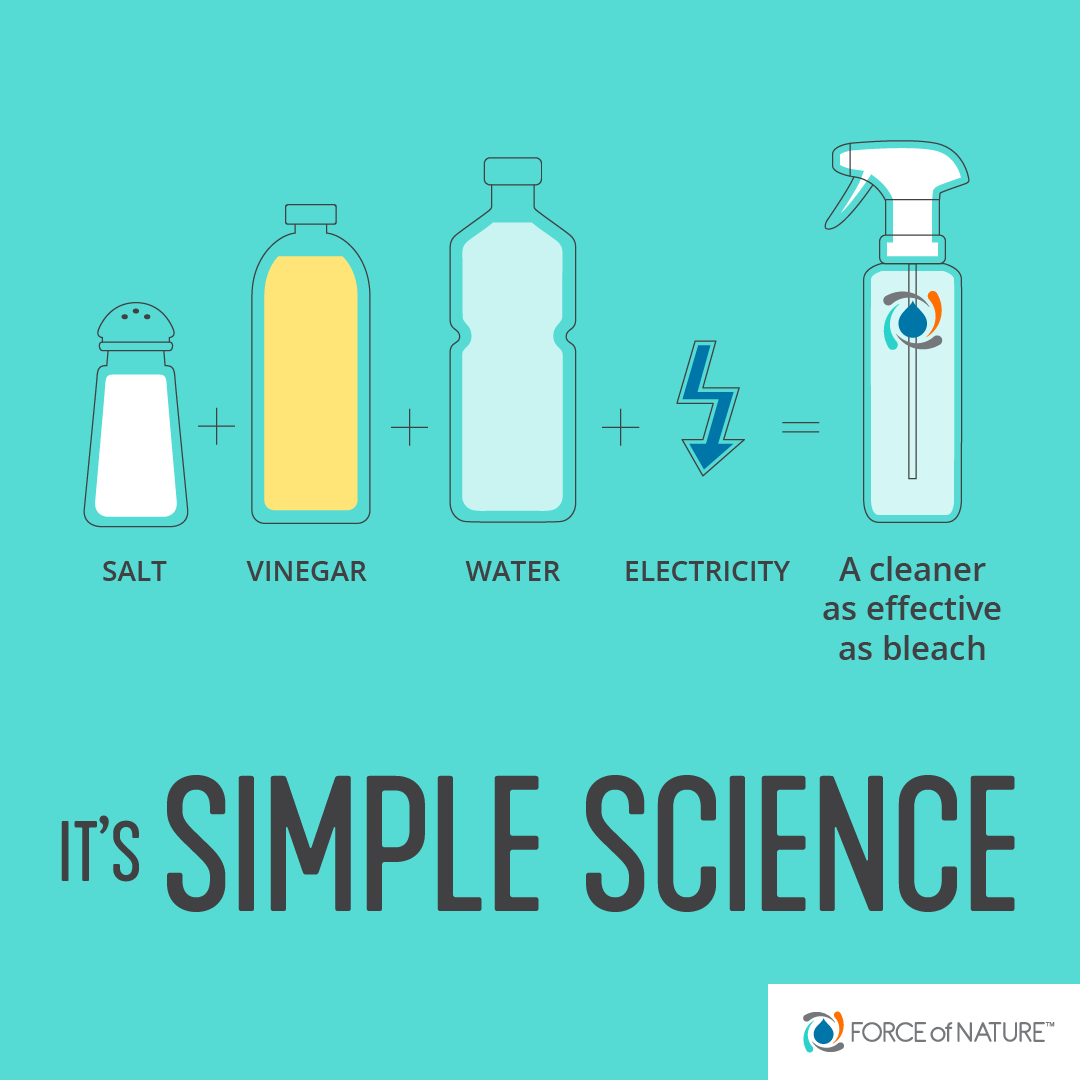 Force of Nature has 3 all-natural ingredients and creates 1 all-natural active ingredient. Force of Nature capsule ingredients is salt, water, and vinegar. Once you electrolyze these ingredients you create Hypochlorous acid (HOCI), which is naturally occurring in our bodies to fight off infections.
5. Non-Toxic
The active ingredient in Force of Nature is Hypochlorous Acid, which is non-toxic. Hypochlorous acid is safe on the eyes and skin, and safe around food. HypochlorousAcid.com  points out that HOCI is 100 times more efficient at killing microbial pathogens than sodium hypochlorite (aka. bleach) 
6. Eco-Conscious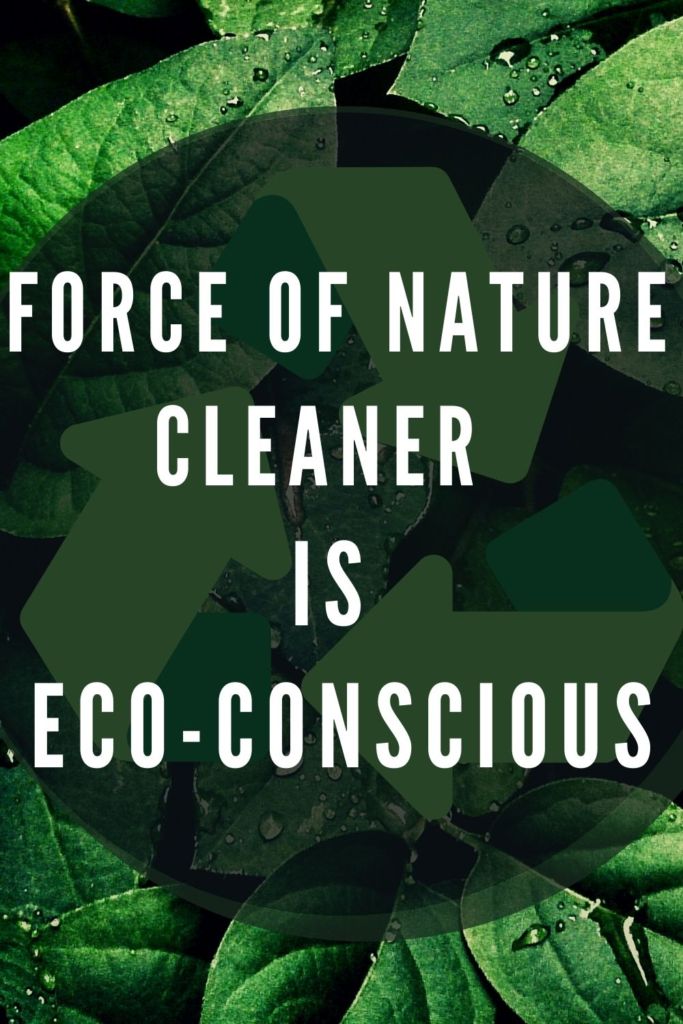 Force of Nature Cleaner is made at home and comes with a reusable spray bottle, it is EPA-approved, and Green Seal certified.  All of these facts show us that Force of Nature has the environment in mind. 
Force of Nature's business model, makes us all more eco-conscious as well. By reusing the bottles we no longer are throwing away toxic cleaning bottles and limiting our impact on landfills. 
When you make Force of Nature at home, you no longer need to leave the house to pick up more bottles of chemicals, this can potentially assist with lowering our carbon footprint when we don't need to make additional trips to the store. 
The activator capsules can be recycled too! 
7. Force of Nature Cleans 
Force of Nature is an all-purpose cleaner that really does clean and does what it is supposed to.  Our family uses it every single day to clean up after ourselves and our kiddos. We love that it is the "Jack of all trades" and cleans everything!
8. Outperforms Multiple Name Brand Cleaners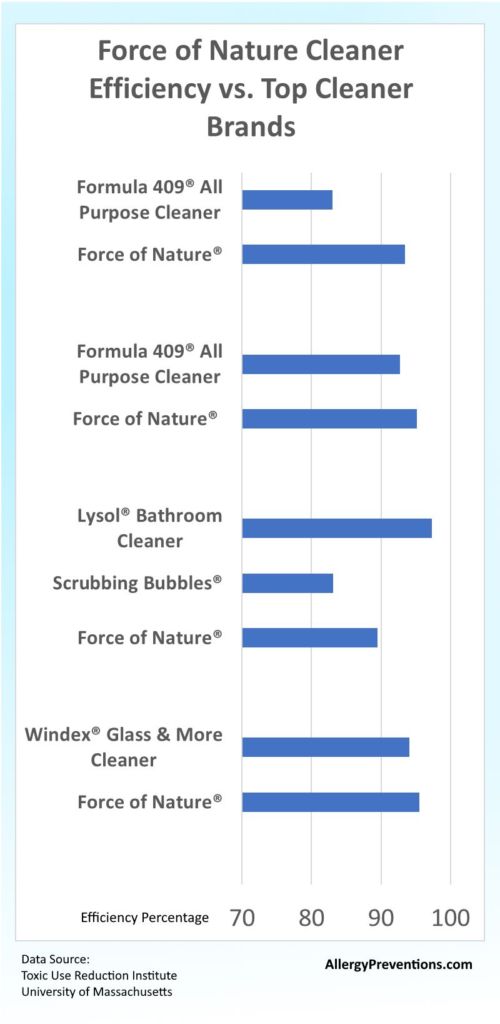 You read that right, Force of Nature outperforms multiple brands in cleaning efficiency.  A third-party study conducted by the Toxic Use Reduction Institute (TURI), University of Massachusetts, shows that  Force of Nature outperforms well-known cleaning brands. 
 This proves to me that Force of Nature Cleaner is a cleaning beast, and is legit. 
9. You Make Force of Nature Cleaner at Home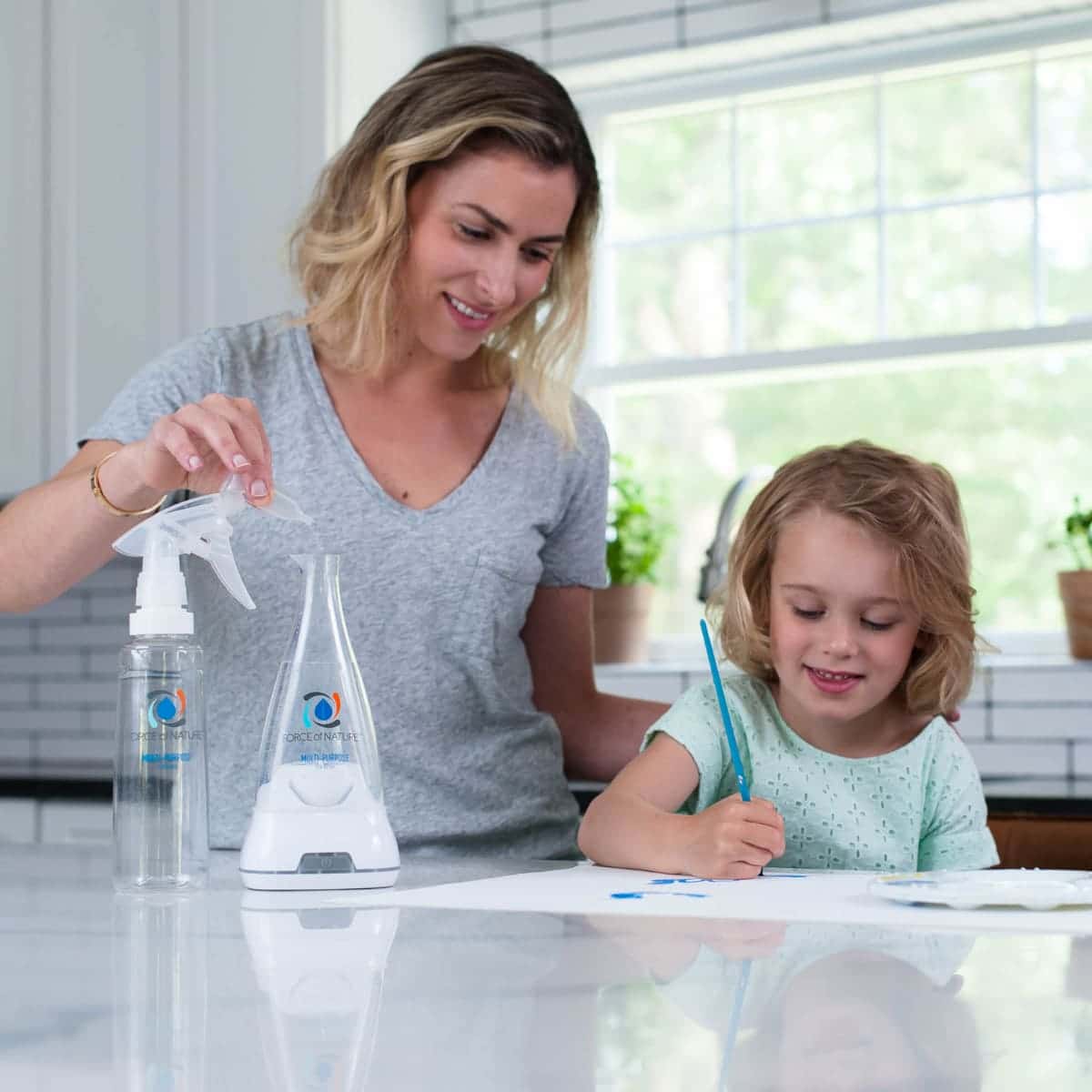 This cleaner is made at home and on demand! It takes about 7 minutes for you to have a new bottle of cleaner that is ready for action. 
10. Saves You Money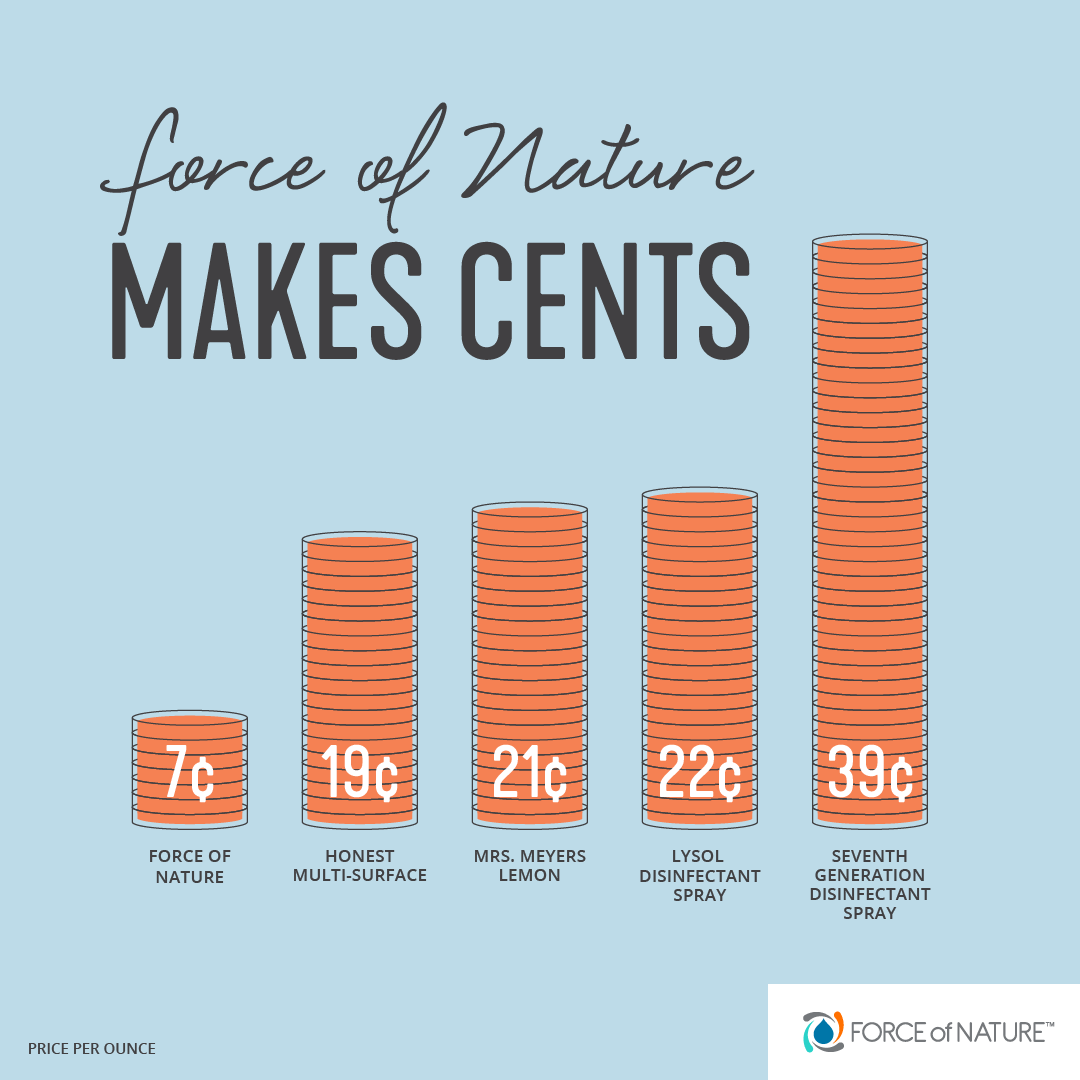 Force of Nature typically costs less than all other cleaners per ounce. We all like to save money, and using the Force of Nature to save money is legit.
11. Deodorizes
Force of Nature was found to deodorize better than bleach.  The TURI third-party testing that was mentioned in #7, also tested to see if Force of Nature is better than eliminating the odor of 3-day-old milk versus bleach. The test concluded that Force of Nature had a smell average of 3.5 and bleach had an average of 3.6. 
The closer you are to the number 1 (best smelling) the better. Force of Nature for the win!
Bleach is strong smelling by itself, so this is quite impressive to see that Force of Nature is more legit than bleach, and doesn't have fumes. 
12. Sanitizes & Disinfects
Force of Nature kills 99.9% of germs! This cleaner is EPA registered for sanitizing and disinfecting hospitals, Intensive Care Units, veterinary clinics, schools, daycares, commercial buildings, hotels, homes, offices, restaurants, and many more.
13. Force of Nature Replaces All Other Cleaners 

This cleaner is a deodorizer, sanitizer, and disinfectant, that can be used on just about every surface without rinsing or staining  After reading the sentence above, what cleaner do you still legitimately need after you switch to Force of Nature?  
Typical disclaimer, please test in an inconspicuous area. My family has used Force of Nature on hundreds of items without any color change/staining.
14. Great Return Policy 
The force of Nature return policy is simple.  If you are not satisfied with the Force of Nature Starter Kit, you can send it back within 30 days for a full refund minus the return shipping cost.
15. Respectable Warranty
 If your Force of Nature Starter Kit is not working properly, they will send you a new kit. The warranty is straight forward and as long as you use the starter kit according to the manufacturer's instructions, the product is covered by a limited one-year warranty. 
For a full description of their warranty/disclaimers check out their terms and conditions page on the Force of Nature website. 
16. Excellent Customer Service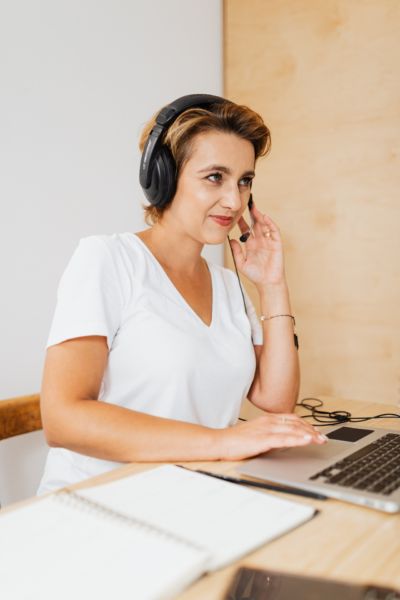 The Customer Service Team is always friendly and they listen to the customer's concerns and needs.  Force of Nature truly serves the customer.  I have needed to contact the team a couple of times with questions as well as a replacement item and they answered all concerns promptly. 
The Force of Nature Customer Service Team is legit.
17. Force of Nature Cleaner Can Be Used Virtually Everywhere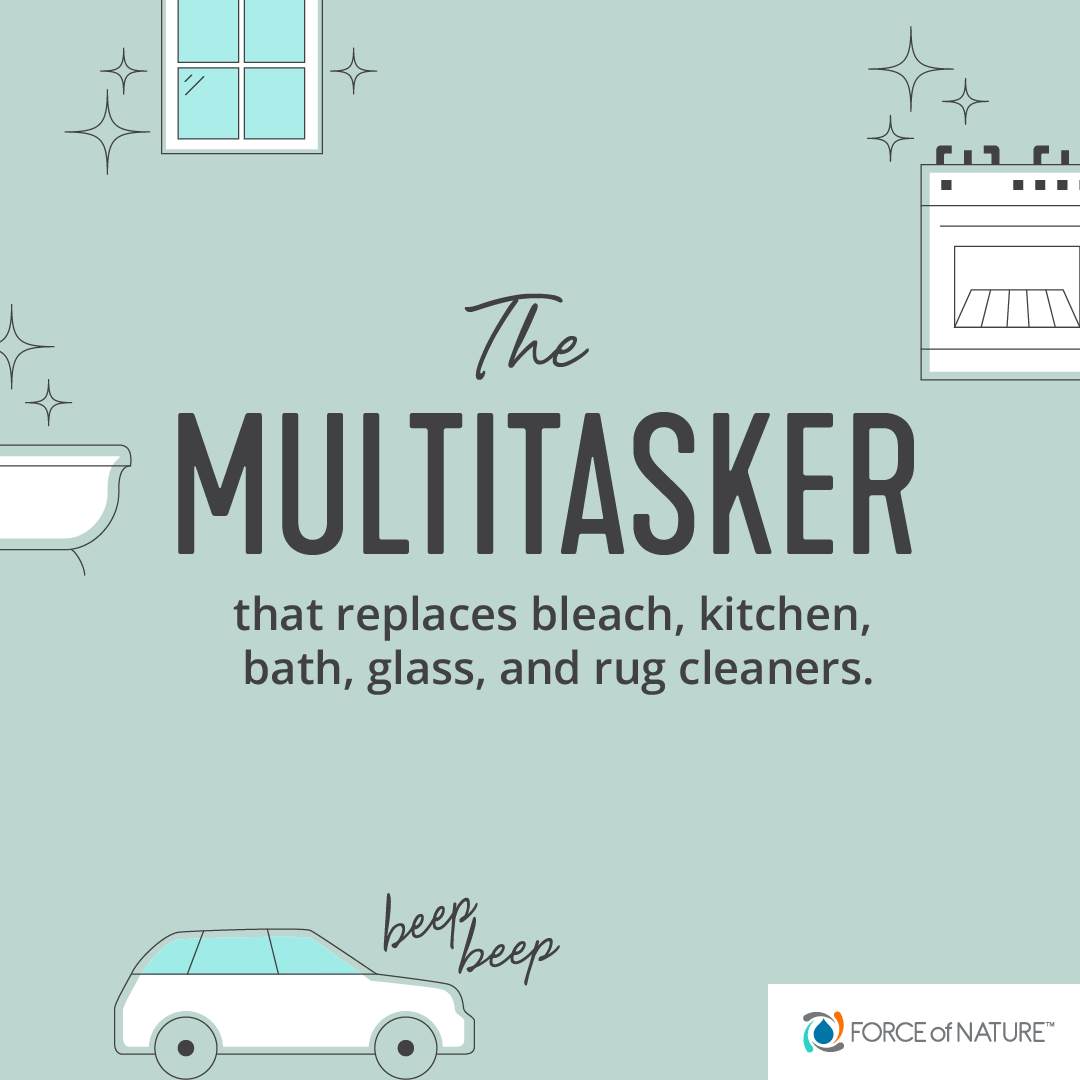 If you need to clean it, deodorize it, or disinfect it, you can use Force of Nature cleaner.  Instead of making a long list of 10 million Force of Nature uses, I will tell you where you should be cautious or avoid using Force of Nature. 
Does not remove rust or hard water from porous surfaces

Be cautious when using on brass or copper, and rinse or wipe until dried thoroughly. 

Force of Nature should not sit on soft metals over time
Think of all the areas you CAN use Force of Nature, it's legit. 
18.  Cruelty-Free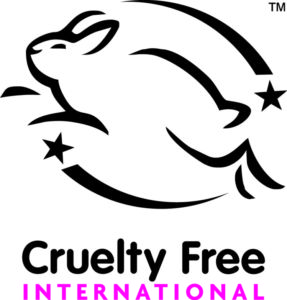 Force of Nature Cleaner is cruelty-free, meaning their products and ingredients are not tested on animals, yay! 
19. Force of Nature Contains No Allergens 
This cleaning product is free of common preservatives, fragrances, dyes, and color additives.  Say yes to this cleaner if you are trying to reduce flare-ups of skin allergies and irritation. 
Bonus reason Force of Nature is legit
You can actually use Force of Nature to remove other allergens like dust, pollen, and mold when cleaning. 
20. Disinfects On-The-Go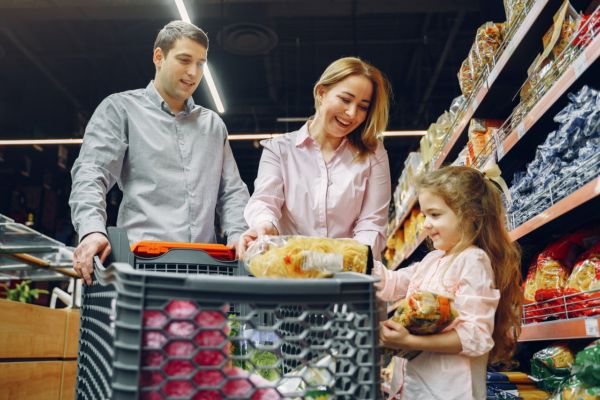 Force of Nature can be placed into travel-size spray bottles that you can take with you on the go. You can fit this powerful disinfectant conveniently in your pocket, purse, car, diaper bag, or backpack so you can sanitize while out in public.
Imagine being able to spray down your restaurant table, that dirty shopping cart, the nooks, and crannies that your kids keep getting into on an airplane, or that pacifier when it falls on the mall floor. 
Force of Nature Cleaner is "Legit" For Us! 
Our family began our Force of Nature journey in 2020, and it has made our lives safer and cleaner every day since!  We started with the Force of Nature Starter Kit which comes with everything you need to get started as well as make 5 bottles of cleaner. 
Where Can You Buy the Force of Nature Starter Kit? 
The Force of Nature Starter Kit is currently offered through Force of Nature and Amazon.  The Force of Nature Starter Kit is discounted, offers free shipping, and is 100% satisfaction guaranteed.  Literally risk-free. 
Buy From Force of Nature (Recommended) 
Buy directly from Force of Nature and you will give you the biggest savings.
Buy From Amazon
With Amazon, there isn't a discount code but if you are an Amazon Prime member you might be able to get faster shipping.