You came here to find out if orzo is gluten-free. There is more to orzo that you will need the answers to besides its gluten content. If you just came here to find out if orzo is gluten-free, we have that as well. 
This article will cover all things orzo. Ranging from origins, nutrition, best brands, and more. 
The problem is that we all have heard of orzo, but we might not really know what it is. This causes great frustration if you are on a specific diet, have food allergies, or have an autoimmune disorder.  
When you are done here you will have all the answers you need. Leaving you smarter about orzo and healthier alternatives.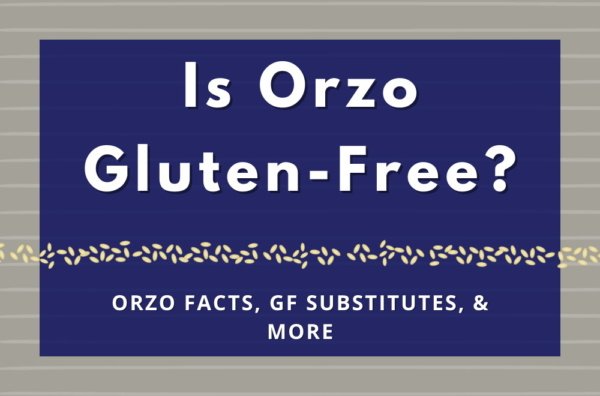 As an Amazon Affiliate, I may get compensation for qualifying purchases. 
Is Orzo Gluten-Free? 
No. Orzo is not traditionally gluten-free (GF). According to barilla.com, the first ingredient in orzo is semolina (wheat), which contains gluten.
To understand more about orzo, and its potential alternatives, we need to dig a little deeper. 
What is Orzo? 
The modern definition of orzo from dictionary.com is, "Pasta in the form of small ricelike grains."That definition sums it up perfectly. Orzo may look like a grain of rice, but in reality, it is a pasta derived from wheat flour.
Why Orzo, is Called Orzo
The Pasta Project explains that the traditional (or Italian translation) of the word orzo is "barley". Additionally, orzo is called "risoni" which is another Italian word meaning "large rice".
Orzo does not contain rice. Curveball, orzo DOES NOT contain barley or rice, but it does look like both. 
Risoni vs Orzo 
In a battle between risoni and orzo, it would be a tie! Risoni and orzo are the same rice-shaped pasta.  
Orzo Varieties
Since orzo is pasta, there aren't really any varieties, but here are the varieties you may see:
A slight change in size (vary by brand)

Variation of taste

Organic options

Alternative versions (not true orzo) 
Big picture, there is not a variety of orzo like you would find with grains. 
Nutrition Information
Orzo ingredients and nutrition are based on a standard box of Barilla® pasta.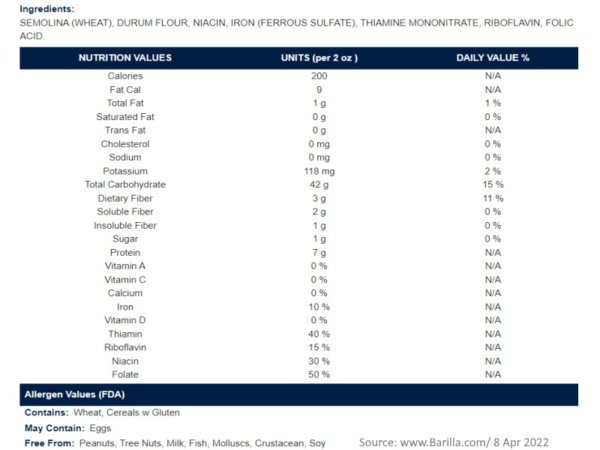 Ingredients
Here is the list of ingredients of a typical box of orzo (with gluten).
Semolina (Wheat)

Durum flour

Niacin

Iron (Ferrous Sulfate)

Thiamine mononitrate

Riboflavin

Folic acid 
Nutrition Facts 
Calories: 200

Total Fat: 1g

Potassium 118mg

Total Carbohydrate: 42g 

Dietary Fiber: 3g 

Sugar: 1g 

Protein: 7g 

Thiamin: 40%

Iron: 10%

Riboflavin: 15%

Niacin: 30% 

Folate: 50% 
Allergen Information 
Orzo allergen information is based on the 8 major food allergens, please check your specific product for any variation from this specific orzo. 
Contains: Wheat, cereals with gluten
May Contain: Eggs
Free From: Peanuts, tree nuts, milk, fish, mollusks, crustacean, soy 
Gluten-Free Orzo Brands
These are the brands that make GF orzo to fit your dietary needs. Some brands contain grains, and others do not, check them out and find the best one that works for you. 
DeLallo®

Jovial®

Lulupasta®

Andean Dream®

Explore Cuisine®
Best Gluten-Free Orzo 
The best gluten-free orzo currently on the market is Jovial 100% Organic Grain-Free Cassava Orzo. This orzo (risoni) cooks to the texture of normal pasta without gluten, grains, or allergens. 
Jovial Orzo Highlights 
100% organic (USDA certified) 

Certified Gluten-Free

Affordable

Two (2) ingredients

Grain-free

Paleo-friendly

AIP approved

Glyphosate residue-free 

Top 8 Allergen free (LINK)
Click to buy Jovial Orzo directly from Jovialfoods.com or Amazon.com. 
Honorable Mention GF Orzo
The runner-up brand of GF orzo is DeLallo®. The DeLallo GF Pasta is a great orzo alternative and could be the best choice for you, depending on your specific dietary needs. 
DeLallo GF Orzo Highlights
Certified Gluten-Free (GF)

Affordable

Made in Italy (Pasta capital of the world) 

Tree nut-free

Peanut-free

Soy-free

Lactose-free

Egg-free 

Kosher

Non-GMO

Made in a gluten-free dedicated facility 

Contains grains 
You can buy DeLallo Gluten-Free Orzo from delallo.com, or directly from Amazon.com
How to Cook Gluten-Free Orzo 
Cooking GF orzo is similar to cooking regular pasta. The brand and ingredient content may change your cooking instructions slightly. In general, you will cook by completing the following steps. 
Step 1 
Bring 3 quarts (96 oz) of water to a boil 
(add salt, if desired) 
Step 2 
Add orzo to boiling water 
Step 3
Cook on high heat, and stir often 
Step 4 
Continue cooking until the desired doneness is achieved. 
(5-10 minutes)
Step 5 
Remove from heat and drain 
Warning: Some orzo brands have cook times that are greater than 10 minutes. Many complaints have been made that the cooking time on the box is too long.
Please check your pasta at the 5-minute mark, and about every minute after, to prevent overcooking. 
Gluten-Free vs Original Orzo
The biggest difference between gluten-free (GF) orzo and regular orzo, is the ingredients. Original orzo is just like traditional pasta, made from wheat. GF orzo is typically made from cassava flour, rice, or corn.
Macronutrient Comparison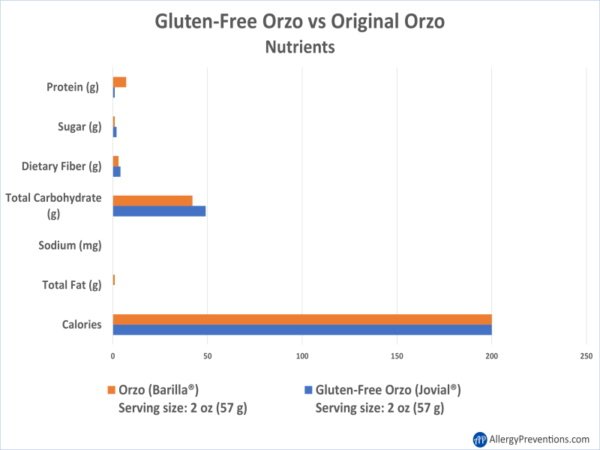 When comparing macro nutrition levels, both types of orzo pasta are about the same. The original orzo has a little bit fewer carbohydrates and a little more protein.
Both are so similar that this comparison will "boil" down to micronutrients, diet restrictions, or personal preferences when choosing the best option for you.
Micronutrient Comparison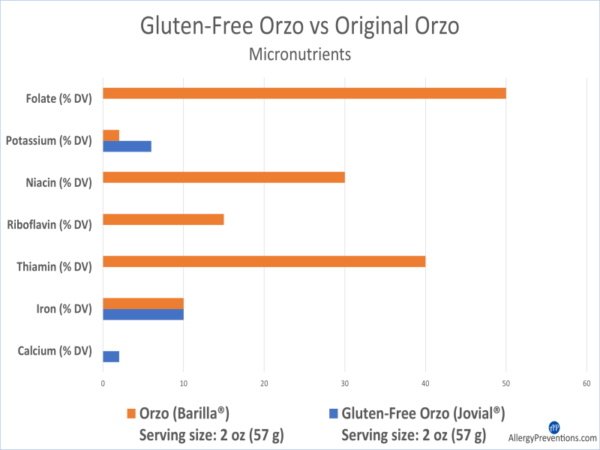 A comparison of the micronutrients shows us that the vitamin-fortified Barilla pasta is much more nutrient-dense versus the GF Jovial orzo.
The GF pasta does contain more potassium and calcium but comes up short in the other vitamin categories.
Gluten-Free Orzo Substitutes
So orzo might be "off the table" because it is not the gluten-free version, or because you do not have any orzo readily available for your recipe (oh no!). Don't worry, here are some alternatives to use in its place. 
Gluten-free Couscous
Streit's Israeli Gluten-Free Couscous is made from potato/tapioca starch and eggs. This couscous takes about 15 minutes to cook on the stove. Streit's products are from Israel, but you can buy them directly from Amazon (thank you technology). 
Gluten-Free Pasta 
There are many gluten-free options on the internet or available in-store. Pick one that you think would work best to sub orzo in your recipe and go with that. 
Rice 
Rice is a GF grain and resembles orzo. If you are looking for something that looks and acts like orzo pasta, rice may be the best option for you.
Orzo vs Rice 
The main difference between orzo and rice is that orzo is pasta (flour-based), and rice is a GF grain. Here is a nutritional comparison of the two. 
Nutrient Comparison
At first glance, we see that orzo has about 40 more calories per serving compared to rice. the carbohydrates are fairly even, with rice having a bit less overall. Let's see how the vitamins compare.
Micronutrient Comparison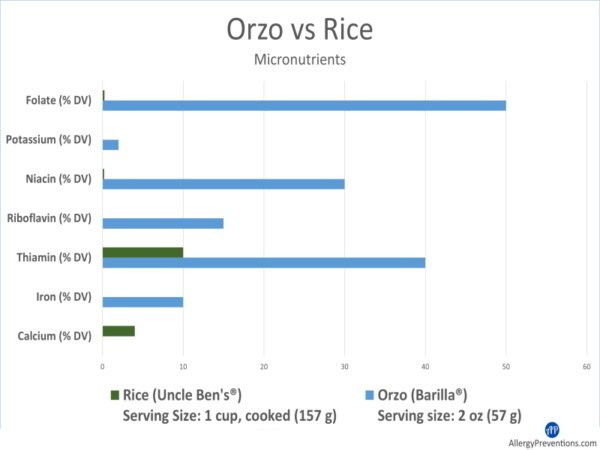 Comparing the vitamin levels, we can see that the orzo has many more nutrients than rice. Rice had measurable amounts of calcium and thiamin but came up short in all other areas.
Which is healthier, orzo or rice? 
Orzo. For the trade-off of 40 more calories per serving, orzo gives your body way more nutrition compared to rice.
Orzo vs Couscous 
Both of these yummy foods are types of pasta. The biggest difference between the two is their shape and nutritional information.
Couscous tends to be "bead-like" and orzo is "rice-like" in shape.
Here is how their nutrition compares.
Nutrient Comparison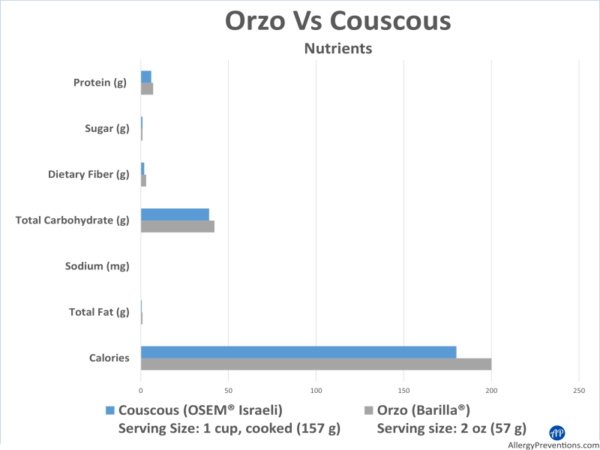 By no surprise, both of these wheat-based pastas have (nearly) the same macronutrients. Couscous has fewer calories and carbohydrates.
Micronutrient Comparison
When comparing the two labels, orzo has the most vitamins per serving. This specific couscous does not have much nutritional value for the calories consumed.
Which is healthier, orzo or couscous? 
Orzo. For a few calories more, you get way more vitamins and nutrients into your system. When choosing foods, you should look for nutrient-dense.
Nutrient-dense foods make you feel fuller longer and provide your body with the substances it needs.
Orzo vs Gluten-Free Orzo vs Couscous vs Rice 
When comparing orzo, GF orzo, couscous, and rice, you get a clearer picture of their nutritional content.
Nutrient Comparison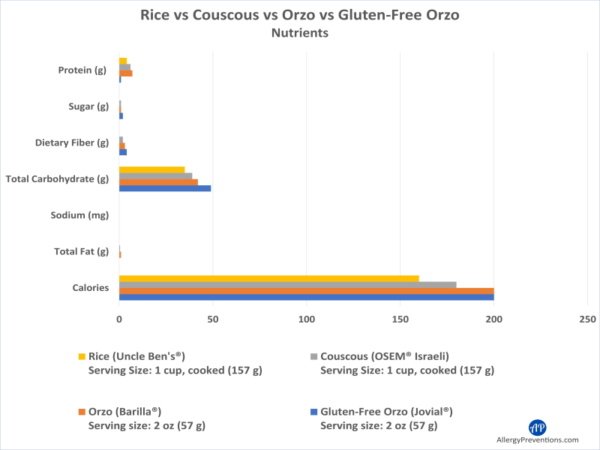 Comparing all four (4) "pastas", there is not too much of a difference. Rice contains the lowest amount of calories, and GF orzo has the highest.
What about the vitamins?
Micronutrient Comparison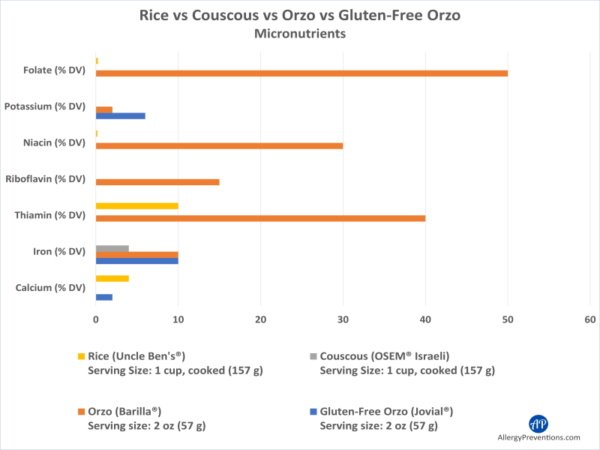 Comparing micronutrients, it is clear to see that orzo dominates. Orzo came out in the number one spot for folate, niacin, riboflavin, and thiamin (and a tie for iron).
Healthiest Overall 
The healthiest overall, without taking gluten into consideration is orzo. Orzo might have more calories than the others, but it also has more nutrition. Taking gluten into consideration, I would say there is a tie between rice and GF orzo. If you are concerned with keeping calories down, go with rice. if you need more iron and potassium in your diet, go for GF orzo.
The choice is really up to you and how your body responds to these foods.
FAQs 
You ask the orzo questions, I give the orzo answers!
Is semolina gluten-free?
No. Semolina is made from wheat and is not gluten-free.
Is acini de pepe the same as orzo? 
No. Acini de Pepe is a "peppercorn shaped " pasta, and orzo is rice-shaped pasta.
Are acini de pepe and orzo both pasta? 
Yes. They are both wheat-based pasta.
Is orzo a grain or rice?
Neither. Orzo is a wheat pasta, not a grain.
Is orzo a grain or pasta?
Pasta. Orzo is made from wheat flour, like most pasta.
Is orzo salsa gluten-free?
No. orzo salsa or any other dish containing orzo is not gluten-free.
Is orzo coffee gluten-free?
No. Orzo coffee is made from barley which contains gluten. 
Is barilla orzo gluten-free?
No. Barilla® brand pasta does not currently have gluten-free orzo.
Is chicken orzo soup gluten-free?
No. Chicken orzo soup is not gluten-free unless it is made with an orzo alternative.
Is whole wheat orzo gluten-free?
No. Whole wheat orzo is not gluten-free.
Is organic orzo gluten-free?
No. All orzo pasta contains gluten. There are orzo alternatives that may be used.[spacer height="15px"]
What is orzo called in Australia? 
Risoni. According to taste.com.au, orzo is known as Risoni in Australia.
Can coeliac eat orzo?
No. According to NHS.uk, Coeliac sufferers are to avoid gluten products, and orzo contains gluten.
Is orzo healthier than pasta?
No. Orzo is pasta, and cannot be healthier than itself.
Can you eat orzo on a gluten-free diet? 
No. Orzo is not gluten-free, and should not be consumed if you are on a GF diet.
Is orzo diabetic friendly?
Yes. According to sharecare.com, pasta (orzo) can be diabetic-friendly if consumed in moderation.
Is orzo healthier than spaghetti?
No. Orzo and spaghetti are both wheat pasta and will have similar nutritional values.
What is the difference between pasta and orzo?
Shape. The only difference between pasta (noodles) and orzo (rice-like) is what it looks like.
 Final Thoughts
We have learned that orzo does contain gluten, but that does not mean you cannot enjoy a healthy alternative. I hope you have a better understanding of orzo, and that all of your questions were answered. 
Be sure to check out:
I am curious, which alternative are you going to choose? Or are you going to give up orzo altogether? Please send me an email!  admin@allergypreventions.com