This ultimate coffee allergy guide contains everything you need to know about coffee allergies. Get ready to learn the causes, symptoms, and facts! With this delicious java being such a popular drink, it is no wonder that there are concerns about having an allergy to something that most of us consume every day. This guide is for anyone looking to learn about coffee allergies. You may be recently diagnosed, or just curious about the symptoms because you suspect you have an allergy to coffee.
Fun Fact: Coffee is the second most popular drink in the world.
After reading this article you will have all your questions answered, and the information you need about coffee allergies. Let's make it happen!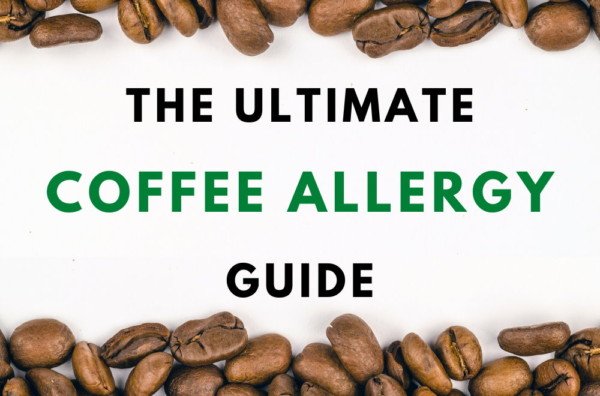 As an Amazon affiliate, I may receive compensation for qualifying purchases. 
Can You Be Allergic to Coffee?
 Yes, you can be allergic to coffee. There are not many documented cases of coffee allergies, but they do exist. A true coffee allergy is extremely rare. Medical publications inform us that the allergy was first suspected when coffee processing workers had an increased prevalence of airway disorders.
These workers were exposed to green coffee beans (and their dust) while performing their duties. 
Although there are not many documented coffee allergies, there are quite a few self-reporting individuals around the world that are allergic to coffee. 
Lori K. states "I have asthma and chemical sensitivity. I am so allergic that even being near the smell of coffee gives me an asthma attack." – Quora.com

Janet M. explains, "My nose and eyes start running, and eject mode is on – It tries to get rid of it in all ways." – Quora.com 
What is a Coffee Allergy?
A coffee allergy is an illogical immune system response to coffee. In other words, your body thinks the coffee (allergen in this case) is a threat, so your body reacts with allergy symptoms. 
Coffee Allergy Causes 
The cause of a coffee allergy is an allergic reaction to an ingredient in the coffee. scienceofcooking.com states, coffee contains over 1000 compounds, any of which could technically cause an allergy. An allergy is your body responding negatively to a substance that is normally harmless to the body. 
Coffee Allergy Symptoms
Allergy symptoms usually have a quick onset after being exposed to an allergen, according to NHS.uk. If you are allergic to coffee, you may have the following symptoms. 
List of Symptoms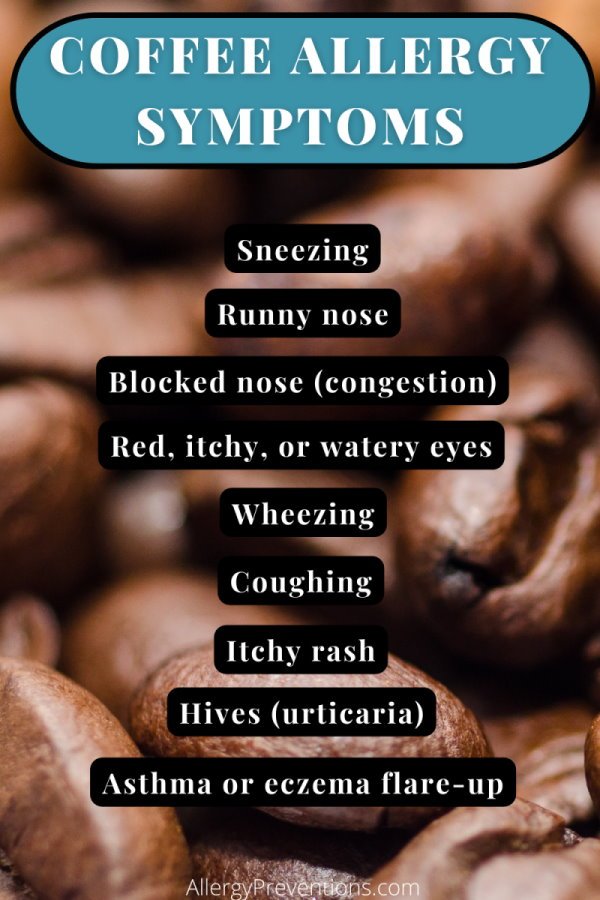 Sneezing

Runny nose

Blocked nose (congestion) 

Red, itchy, or watery eyes

Wheezing

Coughing

Itchy rash

Asthma or eczema flare-ups 
List of Severe Symptoms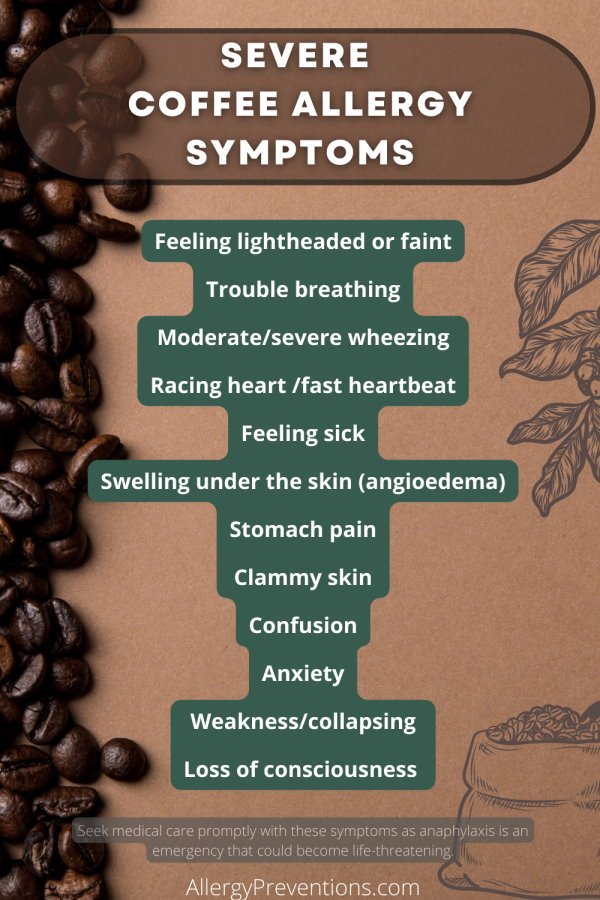 Feeling lightheaded or faint

Trouble breathing

Moderate/severe wheezing

Racing heart /fast heartbeat

Feeling sick

Swelling under the skin (angioedema)

Stomach pain

Clammy skin

Confusion

Anxiety

Weakness/collapsing

Loss of consciousness 
Seek medical care promptly with these symptoms as anaphylaxis is an emergency that could become life-threatening. 
Coffee Allergy vs Coffee Sensitivity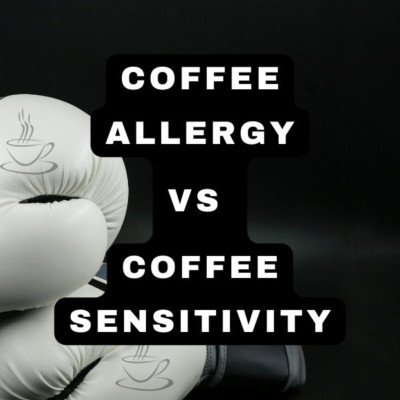 To find the differences between a coffee allergy and a coffee sensitivity, we will break down the meaning of "allergy" and sensitivity". 
 Allergy
Coffee enters your body

Your body mistakenly thinks coffee is a threat

Your immune system tries to attack the coffee/overreacts with allergy symptoms
 Sensitivity or Intolerance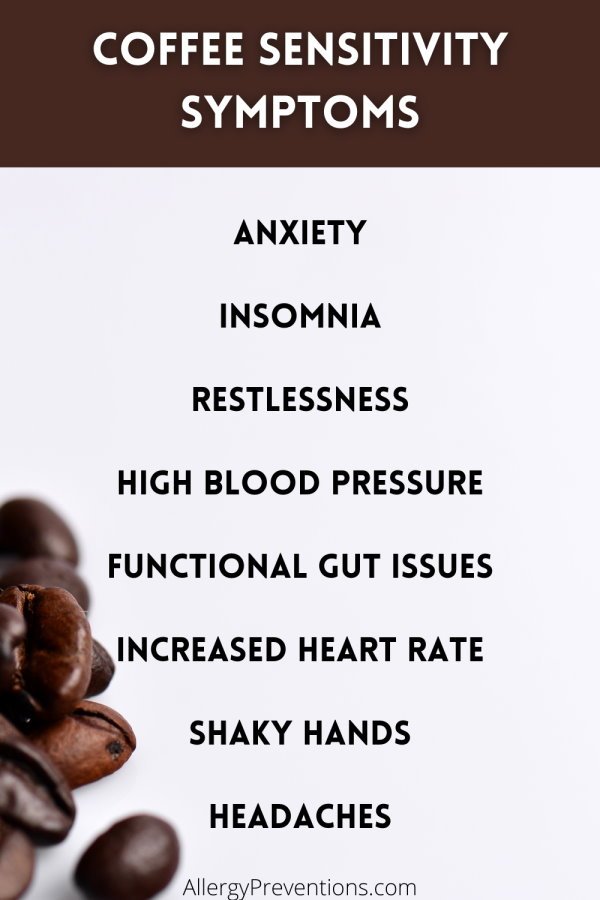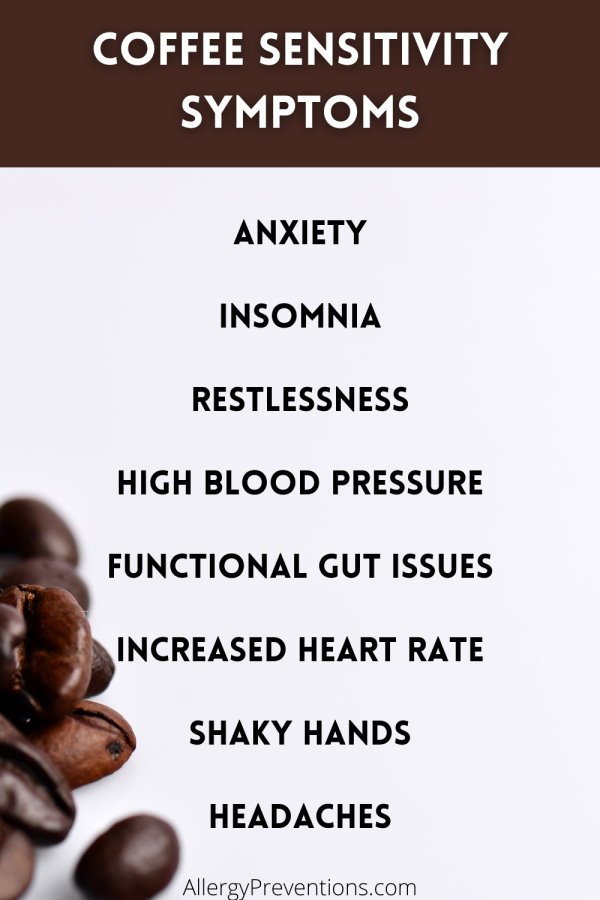 Dietician Catherine Rabess explains that you might have a sensitivity when you consume coffee or tea and have the following symptoms. 
Coffee Sensitivity Symptoms
Insomnia

Anxiety

Restlessness

High blood pressure

Functional gut issues

Increased heart rate

Shaky hands

Headaches  
In simple terms, an allergy is when your immune system gives you allergy symptoms (after drinking coffee). Sensitivity occurs when you have non-immune system symptoms (after drinking coffee). 
When to See a Doctor
You should see a doctor when you suspect that you are allergic to coffee or have symptoms that should be evaluated. The medical professionals will listen to your concerns, review your symptoms, and provide professional education and/or a treatment plan that fits your needs. 
Coffee Allergy Treatment
To relieve symptoms of a coffee allergy, your doctor may recommend taking an over-the-counter antihistamine. If you have an allergy, intolerance, or sensitivity, the best treatment option is avoidance. 
Avoidance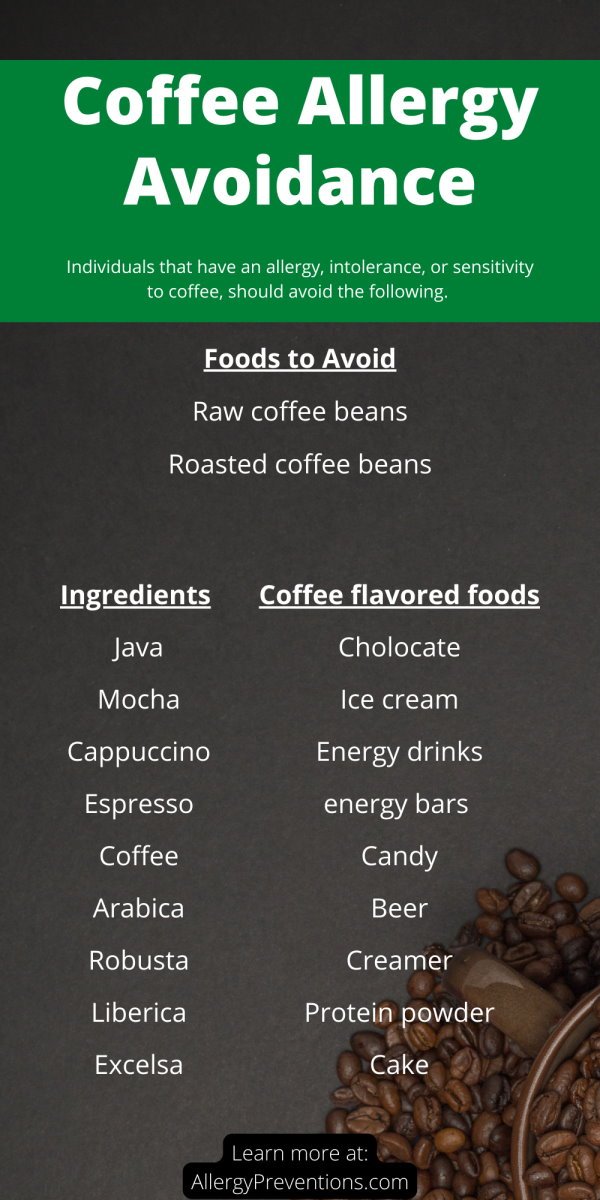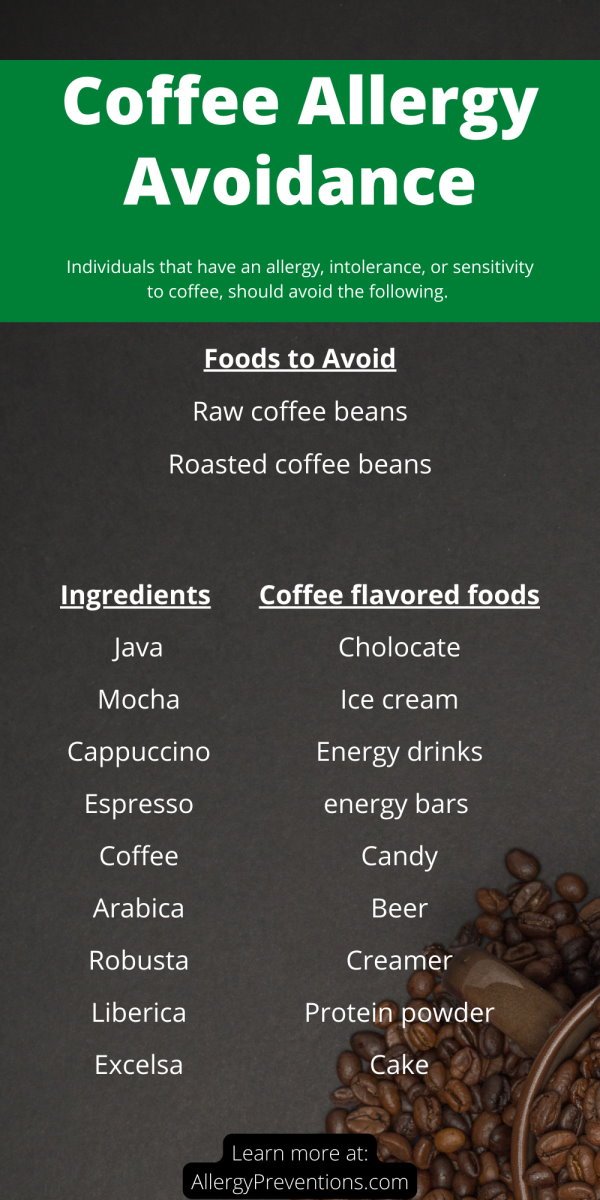 For individuals that have an allergy, intolerance, or sensitivity to coffee, it may be best to avoid the following. 
Foods to Avoid
Raw coffee beans

Roasted coffee beans

Ingredients 

Java

Mocha

Cappuccino

Espresso

Coffee

Arabica

Robusta

Liberica

Excelsa

Coffee flavored foods

Cholocate

Ice cream

Energy drinks

energy bars 

Candy

Beer

Creamer

Protein powder

Cake
Coffee Substitutes
You may want to look into coffee substitutes if you have an allergy, or if you are just trying to cut back on consuming java altogether. Let's be honest, substitutes are just trying to act like coffee but are not coffee, but that doesn't mean they don't taste good!
Here are a few substitutes to try out for getting your coffee fix. 
Capomo Herbal Coffee Substitute 
Quick Facts: 
Gluten-free

Caffeine-free 

Made from Capomo (Maya Nut)

Allergy-friendly

No alkaloids
Crio Bru Ecuador French Roast
Quick Facts
USDA organic 

Gluten-free

100% pure ground cacao 

Natural mood enhancer

Packed with nutrients
RASA Cacao – Adaptogenic Mushroom Coffee Alternative 
Quick Facts: 
Vegan

Keto

Whole 30

Adaptogens (relieves stress) 

USDA organic

Grain-free

Multiple flavors 
Coffee Allergy Testing 
Currently, there is no reliable test on the commercial market.  One issue is there is no specific coffee allergen identified by scientists. There is one blood test that has been developed, which tests the three coffee species, C. arabica, C. canephora, and C. liberica.
Unfortunately, this test is not very accurate due to various preparation, and sourcing issues.  
Scientists have studied using coffee extracts for allergy testing but discovered some substantial issues with this method. Coffee extracts contain caffeine and histamines.
Caffeine and histamines pose an issue because both of these agents can create false-positive tests, and/or anaphylactic symptoms. With these potential false positives, there is no true way to know if the potential allergy is caused by coffee, caffeine, or increased histamine levels in the body. ,
What is in Coffee?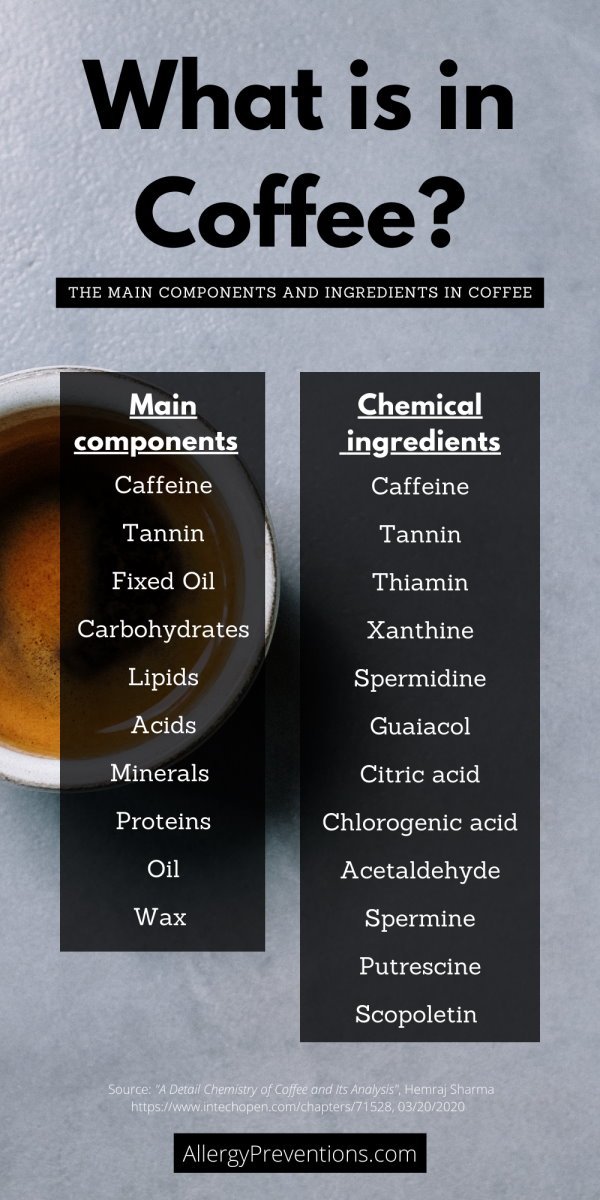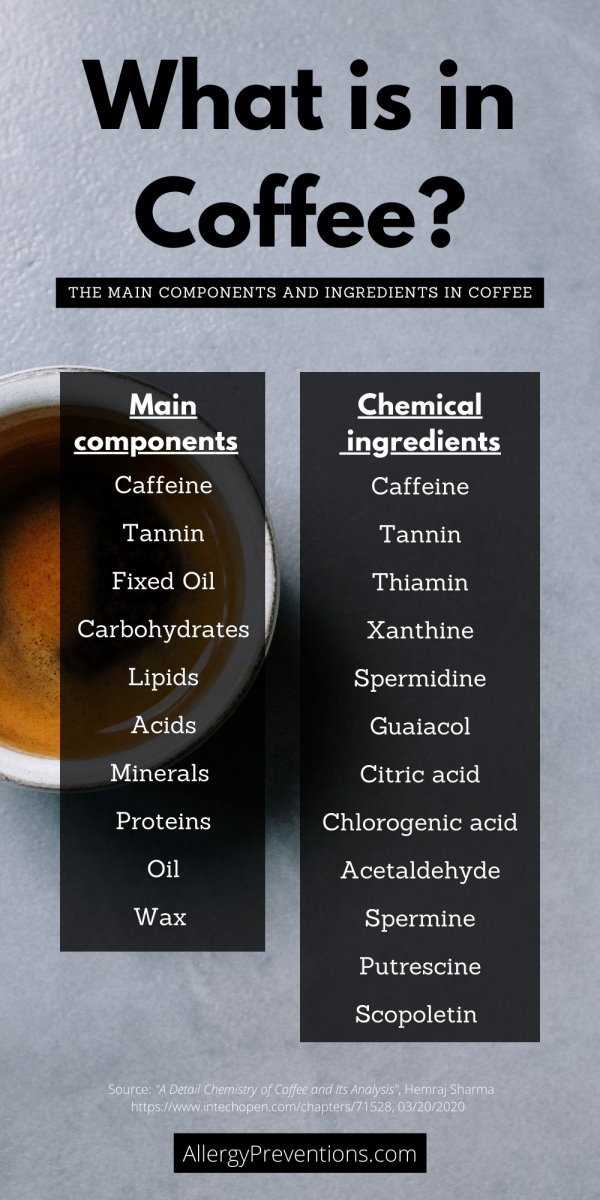 According to,  A Detail Chemistry of Coffee and Its Analysis, coffee's ingredients are broken up by main components and chemical ingredients. 
Main components (constituents) of coffee: 
Caffeine

Tannin

Fixed Oil

Carbohydrates

Lipids

Acids

Minerals 

Proteins

Oil

Wax 
Main chemical ingredients found in coffee: 
Caffeine

Tannin

Thiamin

Xanthine

Spermidine

Guaiacol

Citric acid

Chlorogenic acid

Acetaldehyde

Spermine

Putrescine

Scopoletin 
Coffee Allergy FAQs 
Can I be allergic to my coffee?
Yes, you can be allergic to coffee, but coffee allergies are extremely rare. Depending on your symptoms you may have an intolerance or caffeine sensitivity instead. 
How common is a coffee allergy? 
A coffee allergy is extremely rare, as there are only a few documented cases in the world. 
How long does a coffee allergy last?
You may notice symptoms immediately, or up to two hours after consumption. A second wave of symptoms is possible one to four hours after the initial reaction, explains foodallergy.org.
Can a coffee allergy go away?
Yes, coffee allergies can go away. The immune system is constantly adjusting, so the allergy could go away, although this is uncommon. Additionally, symptoms will go away when you stop consuming coffee. 
How do you test for a coffee allergy?
A blood test, or skin prick test is available to test for a coffee allergy. Unfortunately, more test advancements need to be made to improve their accuracy. 
Next up
Allergies and Genes: Are Allergies Genetic?