Welcome to the NuvoMed Portable UV Sterilizer Review! COVID-19 has opened our eyes to how easily illnesses can spread, thus leading us to try and limit our exposures and destroy illness-causing bacteria. I was grocery shopping when I found this portable UV sterilizer, also known as a germicidal UV light, and decided to purchase it for less than $20 and give it a go.
This is a fully unbiased review of the NuvoMed Portable UV Sterilizer. I crafted this review to help you decide if this is the right ultraviolet sanitizer for you.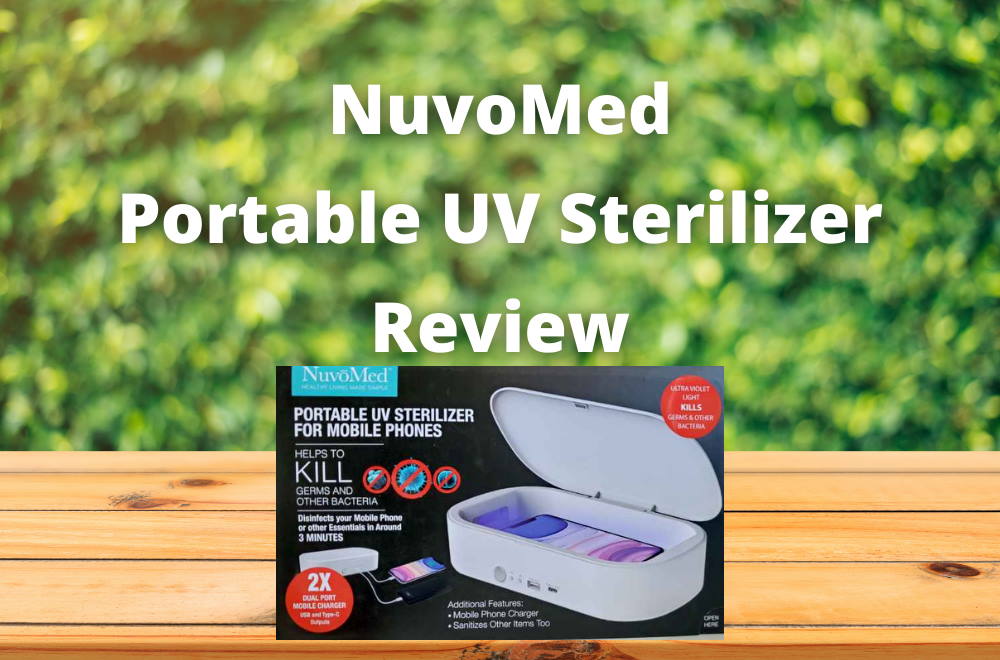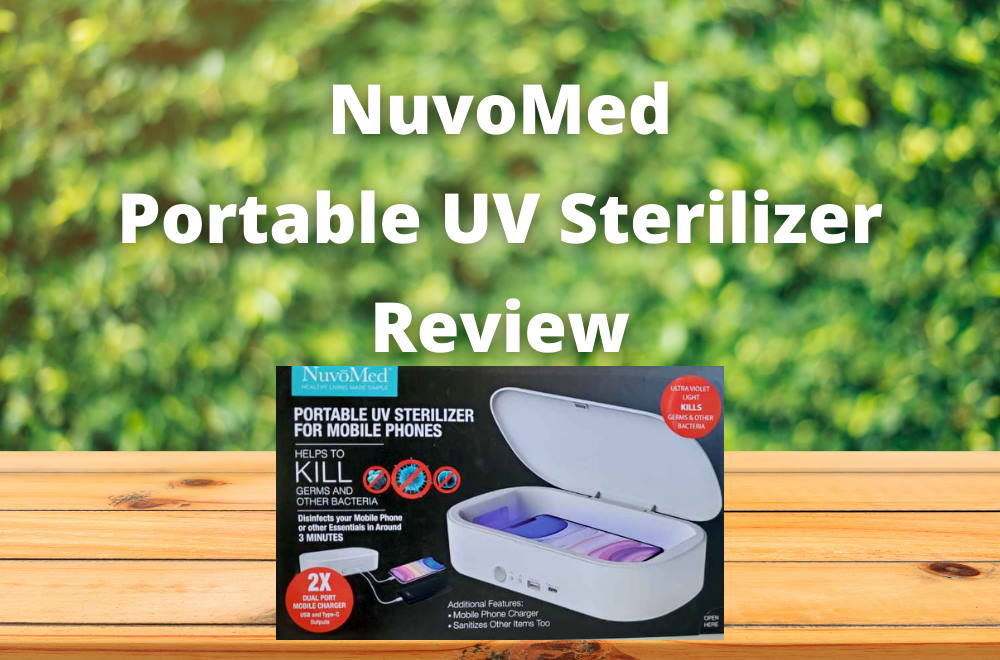 NuvoMed Company Information
NuvoMed Inc. is a Seattle-based company that was founded in 2012. In 2016 NuvoMed Inc. was acquired by Centurion Medical Products Corp, which was founded in 1961.
NuvoMed currently sells the following products:
Air Purifiers
Oxygen Saturation Monitors
Blood Pressure Monitors
Body Analysis Scales
Thermometers
Electronic Sonic Toothbrushes
Blood Glucose Monitors
Blood Oxygen Pulse Oximeters
Electronic Therapy Machine Muscle Stimulators
Massagers (body, hand, foot)
Vibrating Neck Pillow Massagers
Sonic Face Cleansing & Massage Brushes
Heating and Vibration Seat Cushions
Electronic Callus Rollers
Luxury Foot Spas
What is the NuvoMed Portable UV Sterilizer?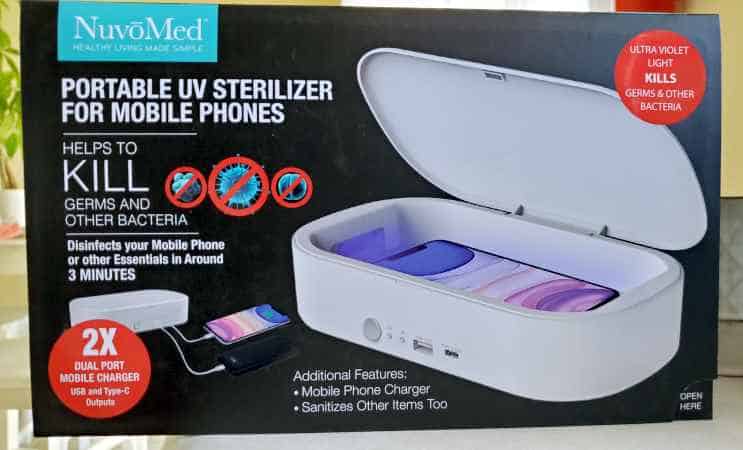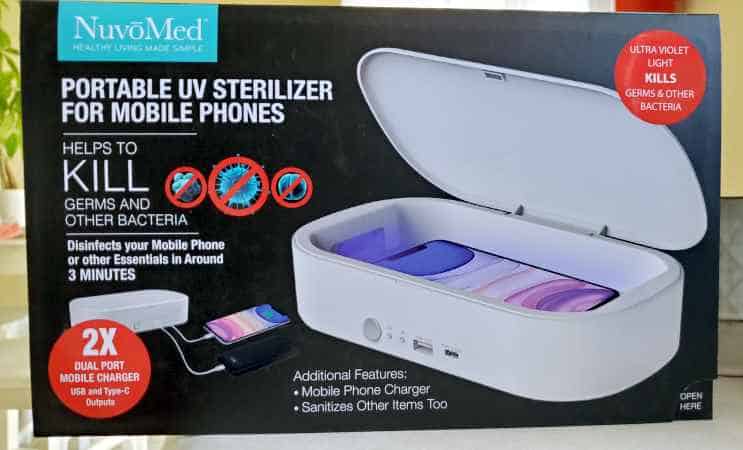 The device is advertised as a portable UV sterilizer for mobile phones. The intent of this portable UV sterilizer is to kill germs and other bacteria on your device in about 3 minutes by using ultraviolet (UV) light.
Features
(2) UV lights to kill bacteria
(1) USB output to charge devices
(1) Type-C output to charge devices
Kills bacteria on mobile devices and anything else you put into the sterilizer
On/off button
Status indicator light
Auto shut-off
Design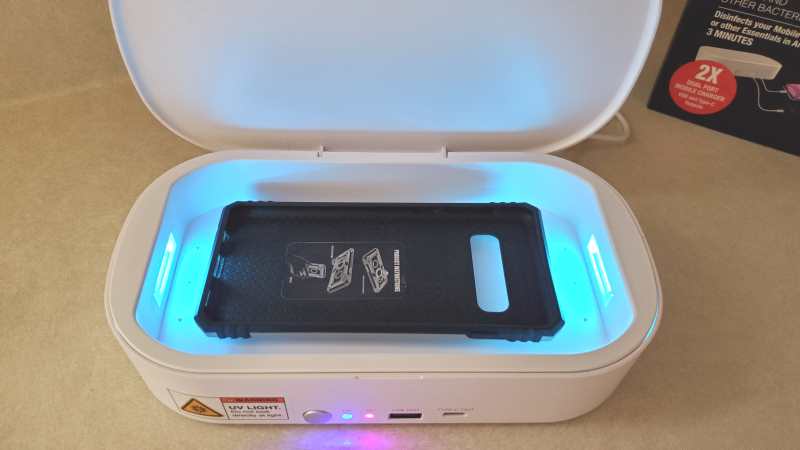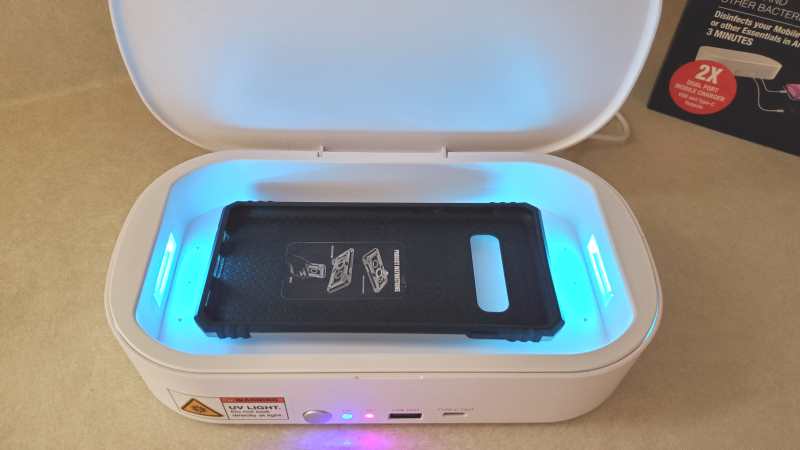 At first glance, the design looks great. This is my Samsung s10 phone case to give you an idea of the size.
Front – Lid closed with sterilizer powered on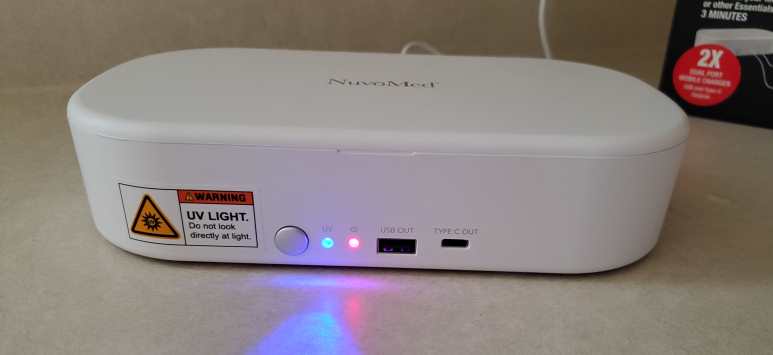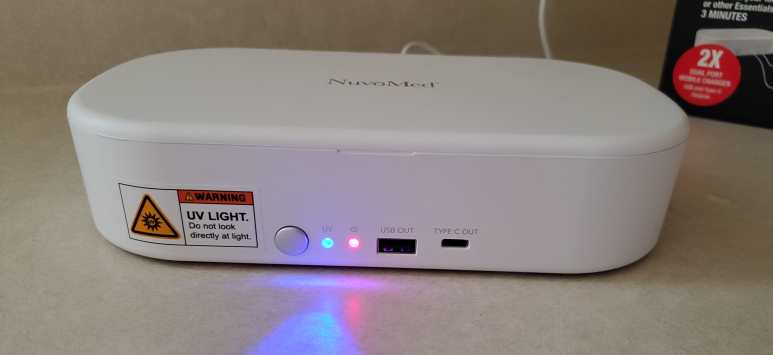 This image is of the front of the sterilizer where you can see the on/off button and USB out ports. There seems to be no UV light escaping the device, as the lid has a firm fit.
Back of UV germicidal lamp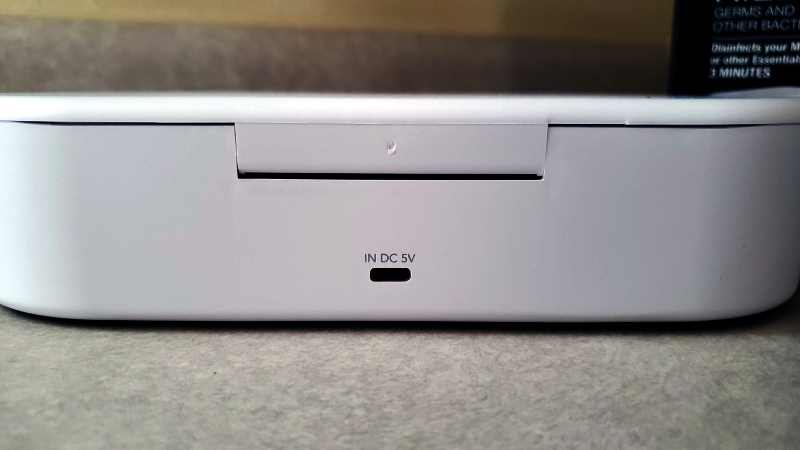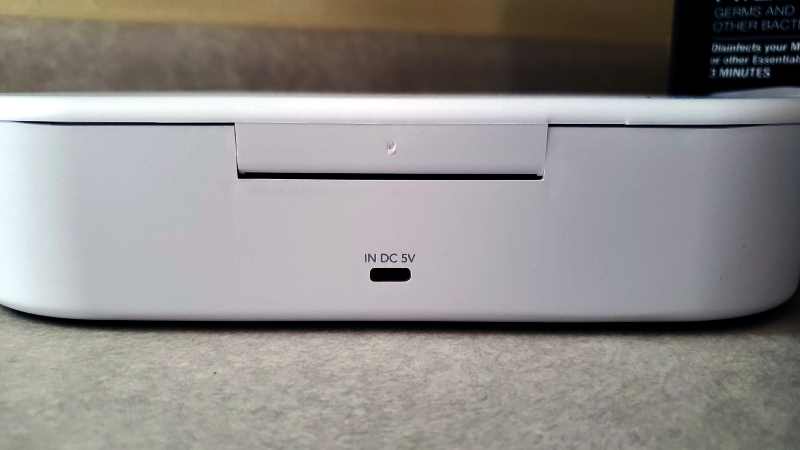 Here is the back of the device, which has the power input and the lid hinge.
Bottom of UV Sanitizer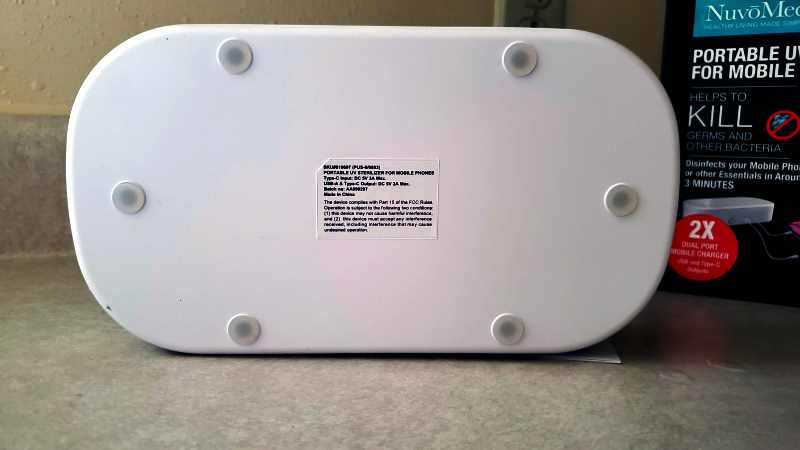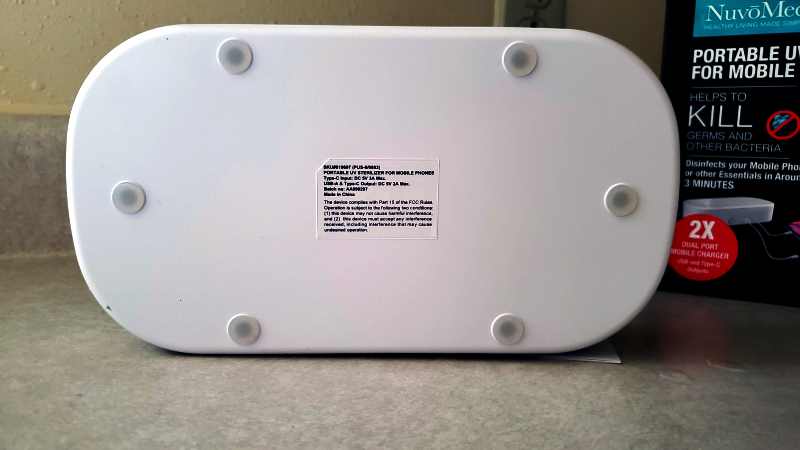 The bottom has six non-slip bumpers to ensure the device stays in place when in operation.
UV Sterilizer with Lid Open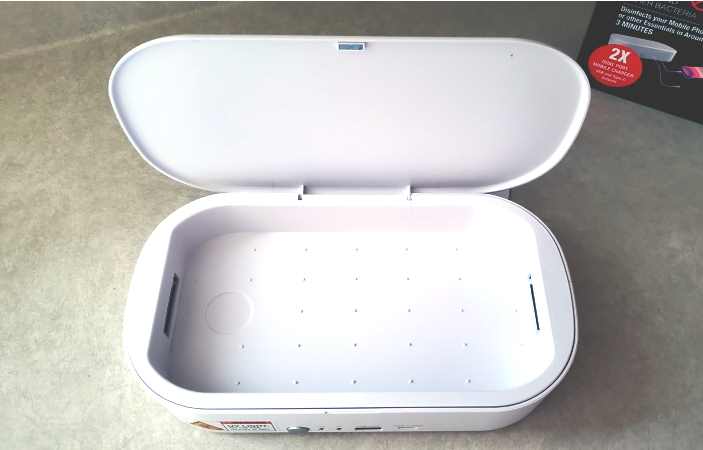 The UV sterilizer has a grid pattern of nodes on the bottom to help lift the device. In my opinion, and with my findings (further down) these nodes are not tall enough to work effectively.
Specifications
Material: Plastic (only found in white)
Source: Made in China
UV output: 2W Max
UV Wavelength: 253.7 nm (nanometers)
Type C Input: 5V / 3A Max
Dual Output: USB A & Type C, 2A Max
Dimensions: 5.00 in. x 2.00 in. x 9.00 in. (W x H x D)
Weight: 0.8 lbs/0.36 kgs
Package Contents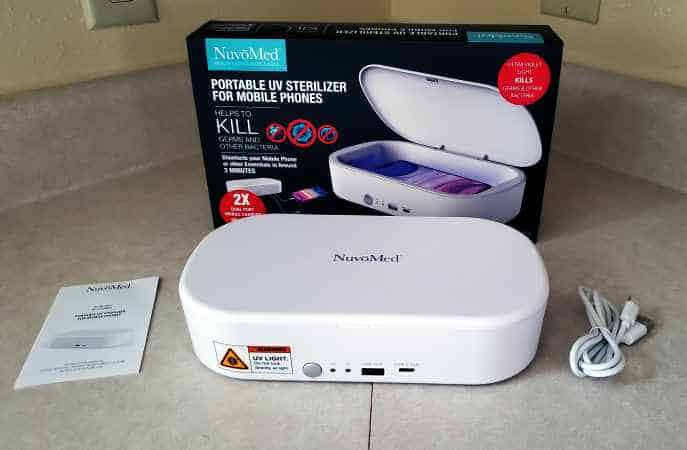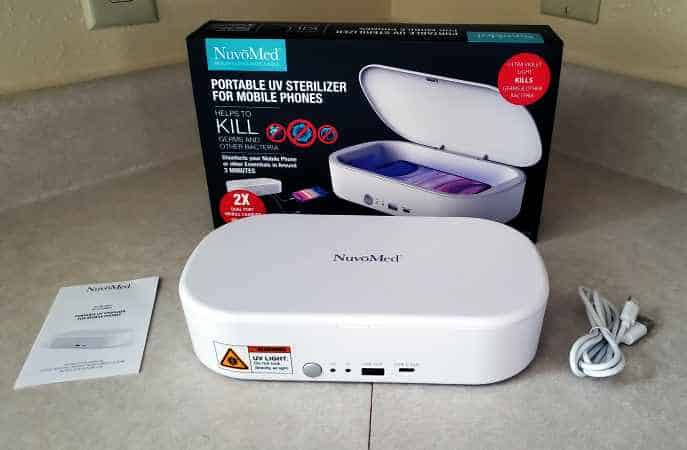 The package comes with the Portable UV Sterilizer unit, a USB A to USB C Cable (power cord, does not include outlet plug), and the instruction manual.
Does the UV Sterilizer Kill Germs on Items Other Than Phones?
Yes, this sterilizer is designed to kill germs and harmful bacteria on other surfaces as well, here are just a few you could throw in the unit.
Jewelry
Watches
Phones
Pacifiers
Eye Glasses
Credit cards
Headphones
Keys
Any small items that fit inside the sanitizer
Effectiveness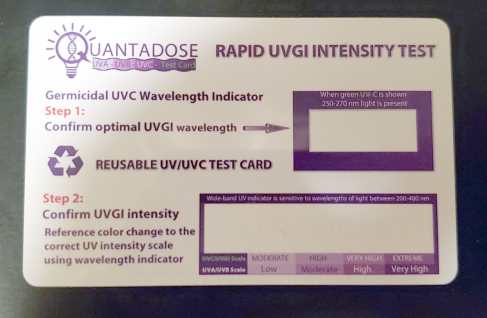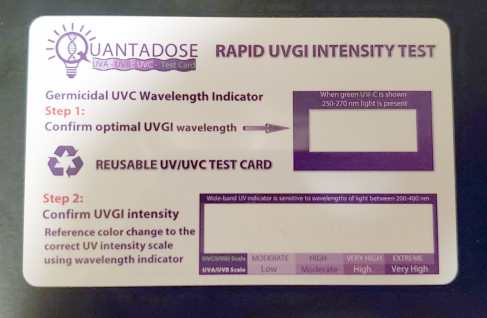 The effectiveness of a UV sanitizer is difficult to measure unless you have the right tool. So I picked up a QuantaDose UVC Light Test Card from Amazon to do the job.
This card is used to see what type of UV rays the device is producing, and to see how strong (intense) the UV rays were pumping out of this sterilizer. The QuantaDose card comes with a disclaimer:
"UV/UVC Dosimeters/indicator cards are intended as a visual reference of UV/UVC irradiation only and are not a substitute for microbiological testing to verify decontamination or disinfection."
What this boils down to is the card tells you the presence and intensity of the UV light, not if that UV light is effective in killing germs. My thought process and logic behind using this card is the higher the UV intensity, the better chance of germ-killing.
If you would like to look more into the Qantadose Rapid UVGI Intensity Test Card, the image below will take you straight to Amazon in a new window.
Anyways, here are my results from testing and handling this germicidal light.
Ultraviolet C (UVC) Light Production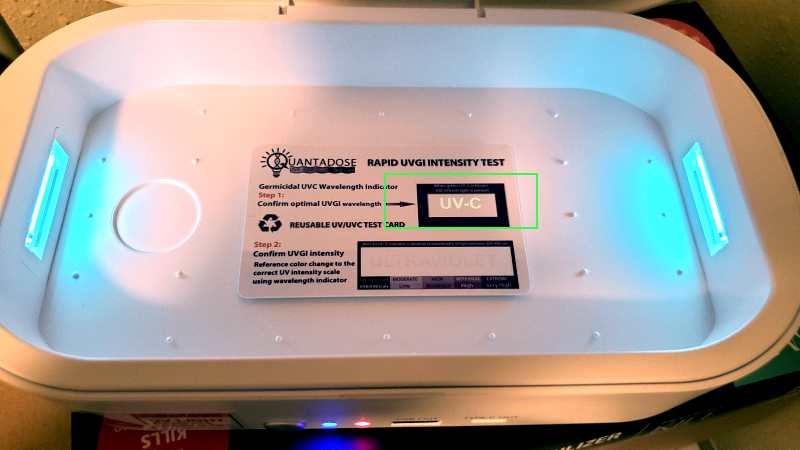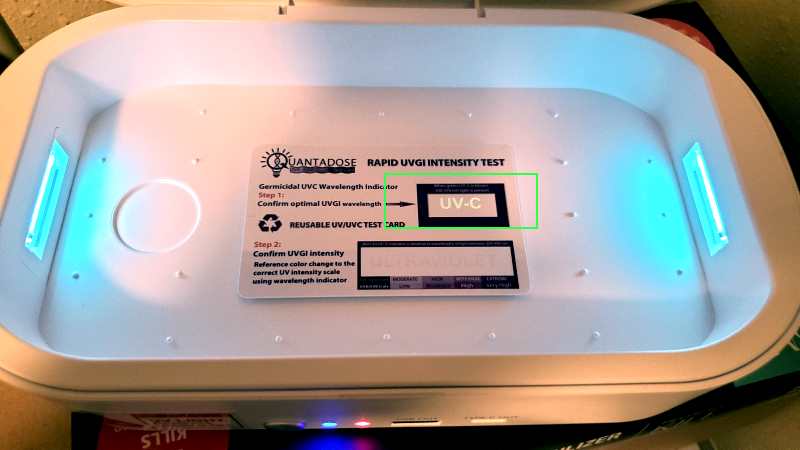 This NuvoMed UV sterilizer claims to use UVC light, and my UV tester card has confirmed that this device does in fact produce UVC light!
Why UVC Light is important in Germicidal Sterilizers
The FDA  states that the use of UVC effectively reduces the spread of bacteria, and may also be effective in inactivating the SARS-CoV-2 virus, which is the virus that causes Coronavirus Disease 2019 (COVID-19).
Testing UV Intensity Levels
Now that we know the NuvoMed Portable UV Sterilizer produces effective UVC light, let's go over the results of how the light intensity measures up.
The Quantadose card has the following intensity categories for UVC
Moderate
High
Very High
Extreme
UV card placed in the center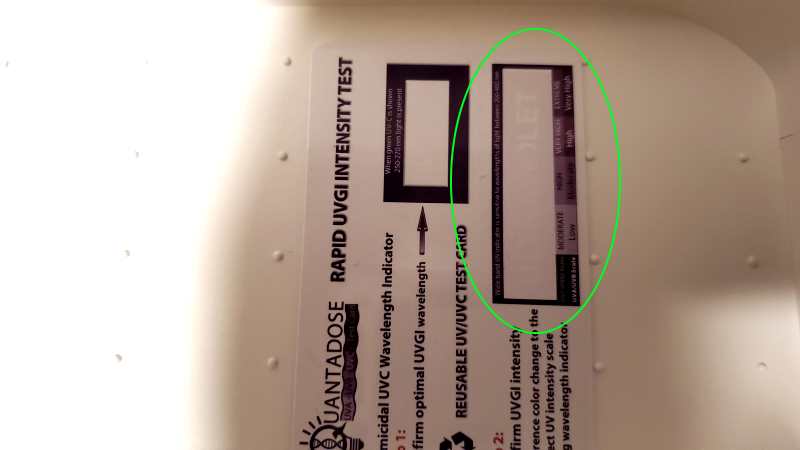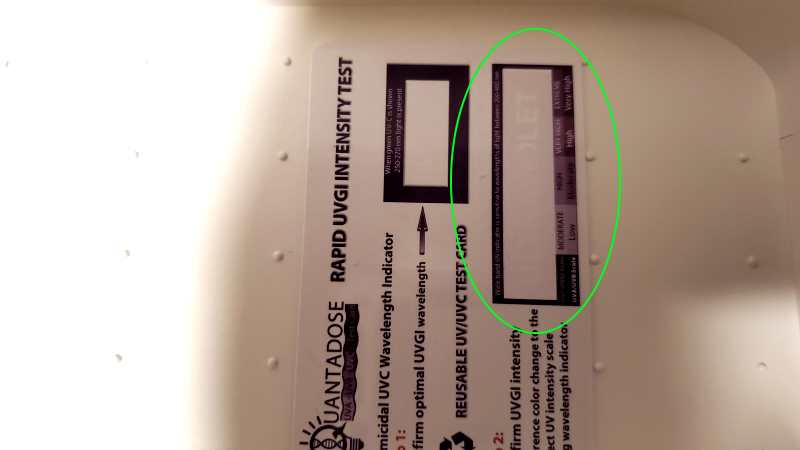 I placed the germicidal UVC test card, face up and centered it into the portable sterilizer, closed the lid, and started the cycle. As soon as the light shut off letting me know the sterilizer cycle was complete I reviewed the test card.
A full cycle with the test card placed in the center revealed (less than) moderate intensity.
UV card placed on right & left side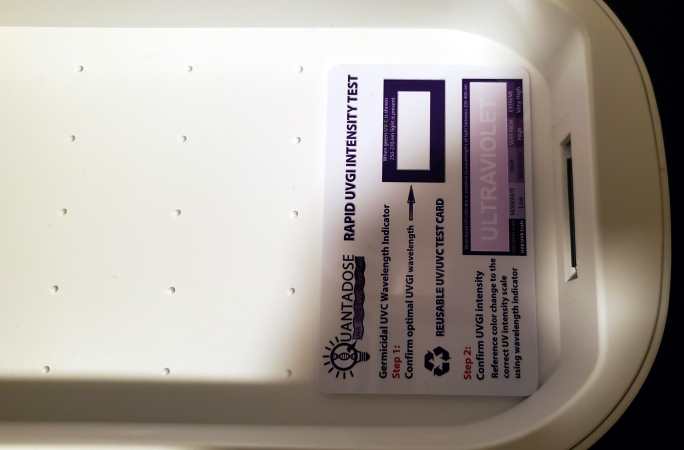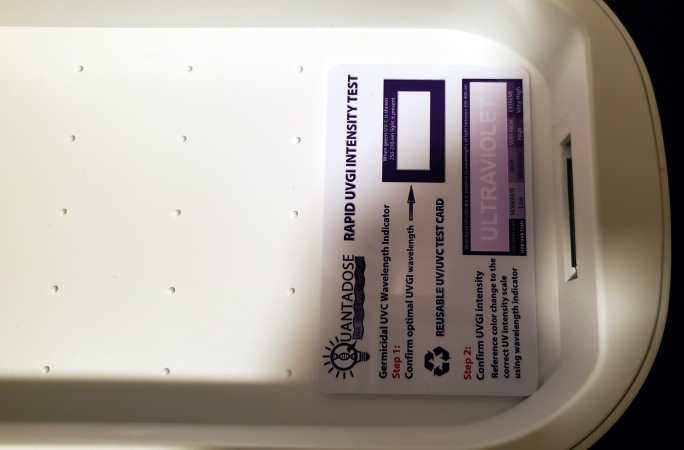 I placed the germicidal UVC test card to the right (closest to the light), closed the lid, and started the cycle. Gathered results and repeated on the left side of the sterilizer.
The UVC card revealed on the left and right sides, very high UVGI intensity.
UV card placed upside down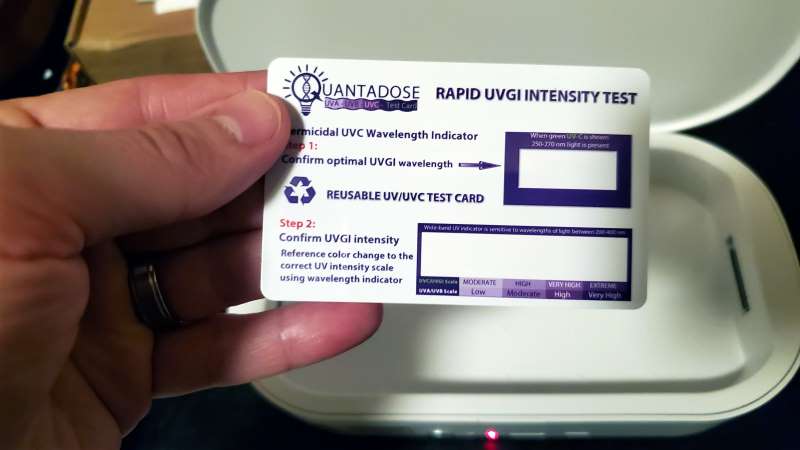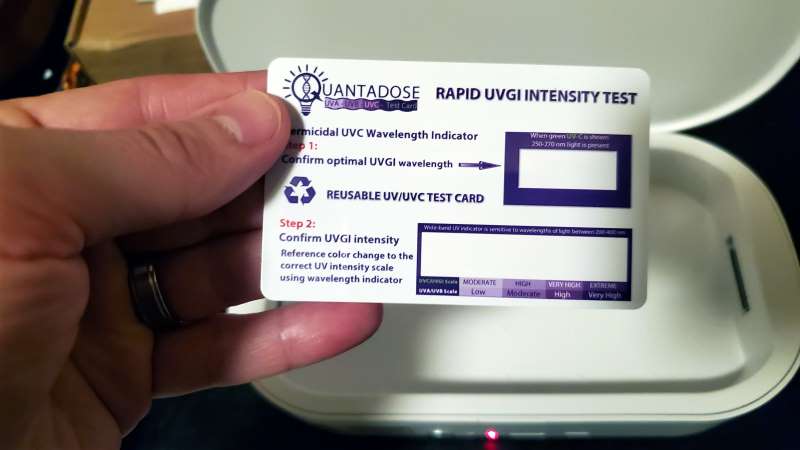 The portable UV sterilizer has tiny bumps on the bottom of the inside of the unit These nubs are designed to lift the item off of the bottom of the sterilizer so the UVC light can get underneath and kill bacteria.
I placed the test card upside down and ran it through the 3-minute cycle.
The results were No Results.
UV card placed at an angle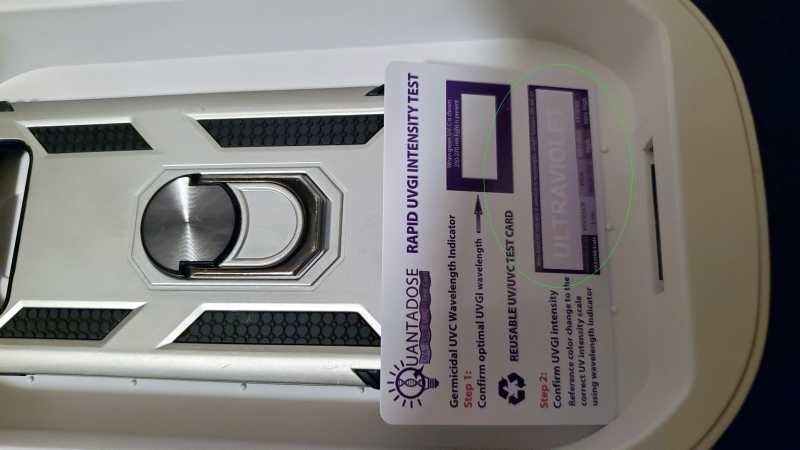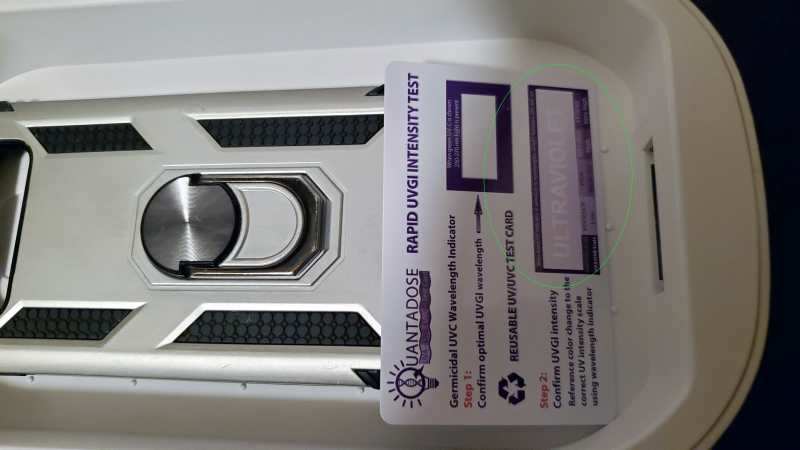 I wanted to get results from all angles, so I placed the test card at an angle. The results were "Extreme" UVGI intensity which is the highest on the scale.
Overall, the portable sanitizer produces UVC light (germ killer) low to extreme UV intensity. So without getting into an actual scientific study of how many germs this device is killing…I would say this device is effective.
Pros & Cons
I have compiled my pros and cons for this NuvoMed sterilizer, but keep in mind that a con for me might not be an issue for someone else.
Pros:
Affordable
Quick 3-minute cycle time
Produces UV-C light
Can produce strong UV (items need to be placed near the light source)
Extra Charge Ports
Cons:
Not sold by the manufacturer
Poor performance in the center of the device
No internal power source to become fully portable
Weak UV intensity under a phone placed inside
Does not automatically shut off when you open the lid
The power adapter to the outlet is not included (USB only)
Warranty/Exchange/Returns
No warranty information is listed on the NuvoMed website, but they do have a phone number that you can call "for any inquiry" at (877)-612-5619.
If I were to have any warranty, exchanges, or returns I would probably start by going through the grocery store, or online vendor where the portable sanitizer was purchased from.
Where to Buy a NuvoMed Portable UV Sterilizer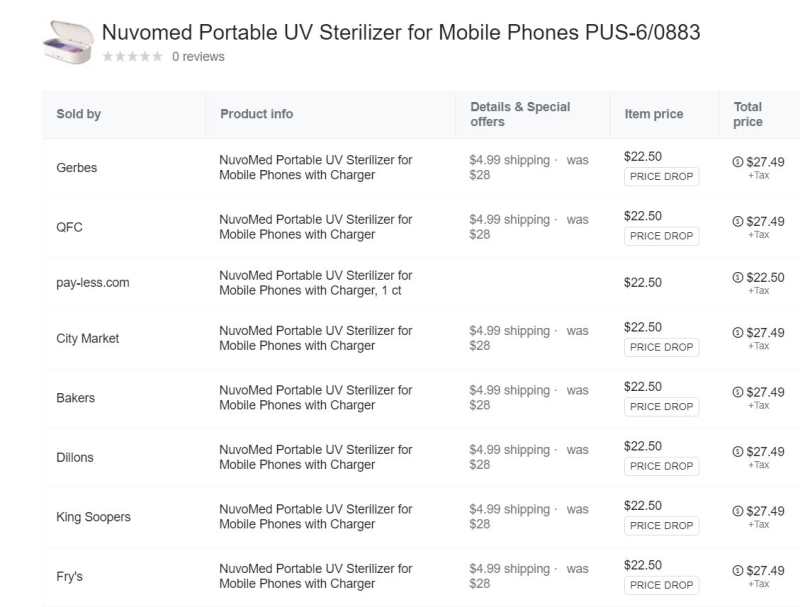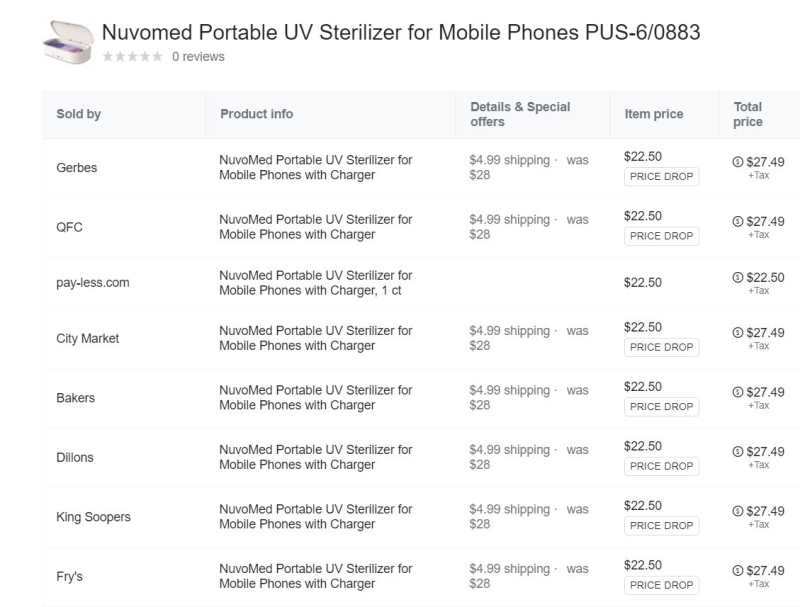 Interestingly this product is not sold on their own website, which is a bit of a red flag for me. I have found numerous third-party sites selling this product, but it looks like this product is mostly sold at grocery stores (this is where we bought ours).
Price
The price online varies from $22.50 – $28.00.
Recommendation
The NuvoMed Portable UV Sterilizer does have the components needed to kill germs, and you can pick one up at a decent price point.
But, the company doesn't sell the product themselves, and it's hard to find a reputable store to purchase from online, which are all concerning factors to me.
If I saw this sterilizer at a local store for $25 or less, I would probably get it.
If I am not buying on a whim and doing the research behind the products, I would probably go with higher quality and more well-known suppliers.
The UV Sterilizer I would Buy Instead

I did some additional research on ultraviolet sterilizers. With my research, the PhoneSoap 3.0 UV Smartphone Sanitizer & Universal Charger is the one I would get instead, and here's why.
PhoneSoap 3.0 Quick Facts
UV Sanitizer kills 99.99% of germs
Fits phones of all sizes
Equipped with an acoustic amplifier so you know when your phone is ringing while inside
Two charging ports
Lifetime warranty on the bulbs
Cleans anything that fits inside
The PhoneSoap 3.0 takes about 10 minutes to sanitize. You can charge your phone while it's inside! The online reviews from the PhoneSoap website and Amazon are great (and lots of them).
Check out the latest prices on Amazon.
Final Thoughts
The NuvoMed Portable UV Sterilizer does work and produces germ-killing UV rays, but there are better options out there. I would recommend the PhoneSoap 3.0 on Amazon if you are looking for a highly effective UV sterilizer.
If you are looking for an all-natural disinfectant/sterilizer to use throughout the home, check out 20 Reasons Force of Nature Cleaner is Legit
It's legit, and you will NOT be disappointed!