Eczema, dry skin, or even just a sensitivity to soaps is something many of us are affected by every day. Although we have been washing our hands every day (right?) we are washing them now more than ever. I have scoured countless sources and reviewed hundreds of reviews to come up with a selective list of the best hypoallergenic soap bars out there.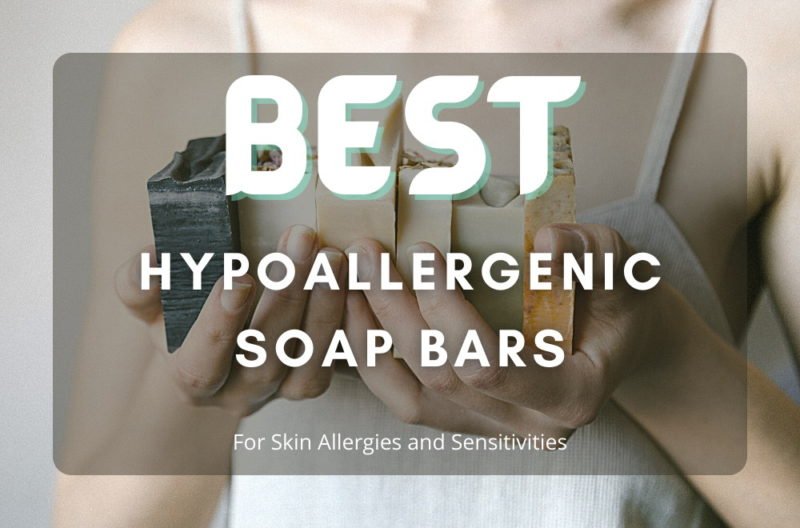 As an Amazon Associate, I earn from qualifying purchases.
EWG with the Hypoallergenic Soap Rating Assist

The Environmental Working Group (EWG) rating was used to assist in finding the best hypoallergenic soaps. Not all the recommended soaps have EWG ratings (yet).
If there is an EWG rating, I provided it to further convey that these are the best of the best.
The EWG rating scale is 1 – 10, with 1 being the best and 10 being the worst.
EWG Rating Scale:
Here is the breakdown of the EWG scale in more detail.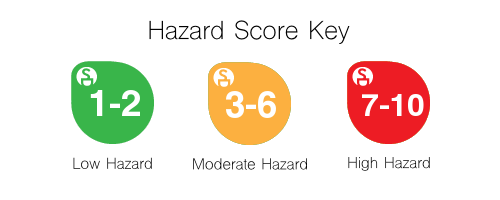 Low Hazard:
"EWG Verified" & ratings 1 – 2
Moderate Hazard:
3 – 6
High Hazard:
7 – 10
The factors that go into EWG ratings
Cancer concerns
Developmental & reproductive toxicity concerns
Allergies & immunotoxicity concerns
Use Restrictions
Overall, the lower the rating the better.
What is Hypoallergenic Soap?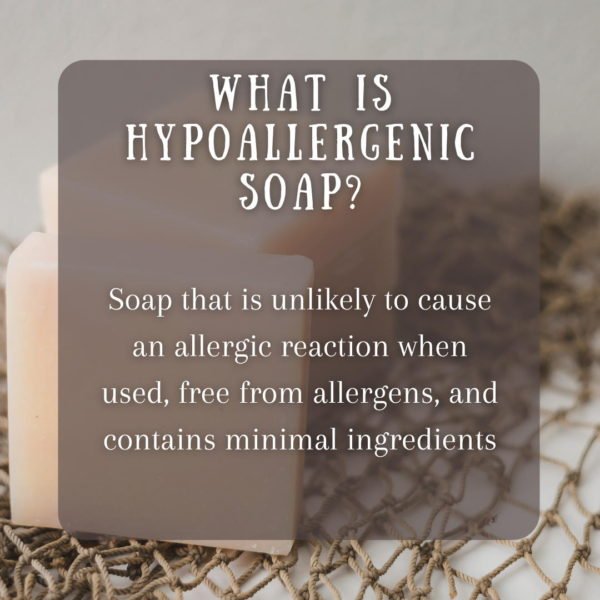 A hypoallergenic soap is a soap that is unlikely to cause an allergic reaction when used. To achieve this, the soap usually contains minimal ingredients, no added fragrance (sometimes natural fragrance), and is free from chemicals that typically cause allergies or sensitivities to the skin.
Hypoallergenic Soap Brands
Here is a list of all the brands that currently offer hypoallergenic soap.
A La Maison de Provence
Basis
Cetaphil
Dial
Dove
Dr. Bronner's
Essentials by Clearly Natural
CeraVe
Kirk's
Kiss My Face
Legend's Creek Farm
O Naturals
Savon de Marseille
The Soap Haven
The Yellow Bird
Tom's of Maine
Vanicream
Keep in mind that not all the products sold by these companies are hypoallergenic, they just have some anti-allergy soap options. Next up is the list of soaps from these brands that are considered hypoallergenic.
Best Hypoallergenic Soap List
I want to provide a complete list of the best hypoallergenic soaps with some key features so you can decide what is best for you. Here is the best hypoallergenic soaps list.
1.  A La Maison de Provence Hypoallergenic Soap – Unscented Bar
A la Maison de Provence® provides an unscented soap with all-natural ingredients that you can read (water, palm, coconut, and/or olive oil, vegetable glycerin, and vitamin E). Overall, this soap is a great major allergen-free moisturizing soap.
EWG Rating

Key Notes: 
Unscented
No titanium dioxide
Suds easily
Vegan
Not tested on animals
Paraben, Phthalate free
Real User Experience
Real users had great things to say about this soap. Many users suffer from eczema and sensitive or dry skin, and this is their "go-to". Others use this product every day, and as a makeup remover bar.
Where to Buy
You can buy this soap from Amazon.com and directly from alamaisondeprovence.com.
2.  Dial Basics Hypoallergenic Soap
Dial® is a well-known major brand that has created a bar soap that is more suited for sensitive skin. This bar soap has been recommended to customers by their physicians because it does not contain harmful chemicals or harsh deodorizers.
EWG Rating

Key Notes:
Can be used for everyday use
Good lather
Minimal scent
Basic (in a good way)
No residue
Real User Experience
Users have praised how wonderful this soap is at NOT causing rashes, itching, or dry skin. Many professionals have recommended this soap to users ranging from tattoo artists to doctors.
Where to Buy
Dial Basics is sold by many retailers, and you might be able to find it at your local grocery store. Here are the top places that carry Dial Basics Hypoallergenic Soap.
3.  Dove Sensitive Skin Beauty Bar Soap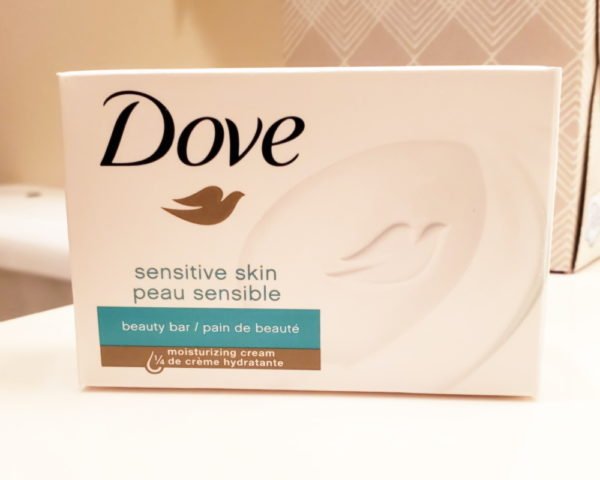 Dove® is another major brand that has been around for a while, and they are no strangers to soap making. This soap is gentle and can be used as a hand, face, or body soap.
EWG Rating

Key Notes:
Unscented
¼ moisturizer in each bar
Cruelty-Free
pH Balanced
No sulfates
Real User Experience
This is the soap that our family uses for bathing, and we love it. It is safe and effective for all of us, and it doesn't dry out our skin. Other users say that this is the only soap they can use and not break out in hives with.
Where to Buy
We buy ours at our local grocery store or from Amazon.
4. 

Dr. Bronner's All-One Hemp Baby Unscented Pure-Castile Bar Soap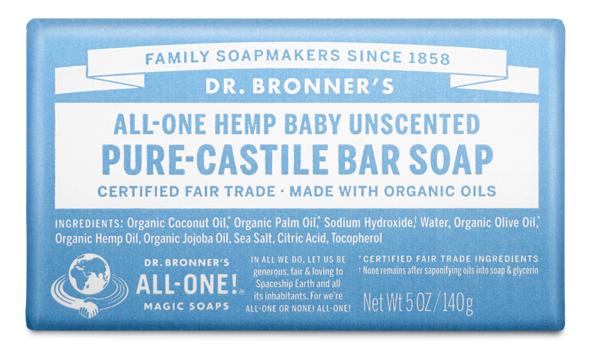 Image courtesy of shop.drbronner.com 
Dr. Bronner's ALL-ONE!® Magic Soaps has been making soap since 1858, and they have evolved with the times. They are an ecologically friendly brand, and they package their products in 100% post-consumer recycled products.
EWG Rating

Key Notes:
Environmentally Friendly
Lathers well
Vegan
Cruelty-Free
Doesn't dry out the skin
Many reports of "Wonderful for sensitive skin"
Real User Experience
A surprising number of users use this bar soap for washing their hair and have had good results. Many recommend this soap for its wholesome properties and safe to use on children. The best thing reported by real users is that this soap does not irritate sensitive skin.
Where to Buy
This soap is another one that is found at many retailers, but you can check it out at their website, shop.drbronner.com 
5.  Essentials by Clearly Natural Unscented Glycerin Soap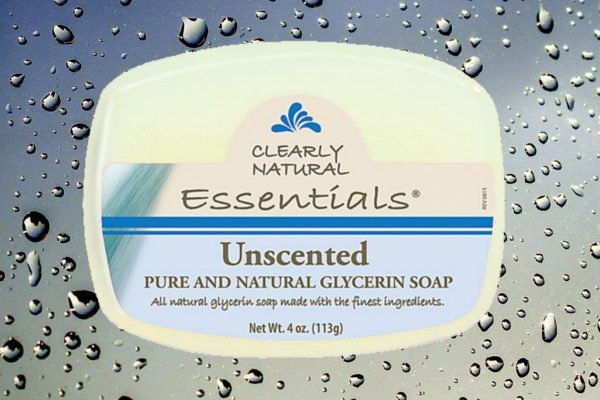 One of the best hypoallergenic soaps out there is this Essentials® Unscented soap. I can personally attest to this soap not drying out hands, as this is our daily hand-washing bar soap. We like it because it is gentle on the skin and doesn't dry your hands out.
EWG Rating

Key Notes:
No petroleum-based ingredients
Refreshes skin
Does not contain parabens
Sodium Lauryl Sulfate (SLS) free
No Sodium Laureth Sulfate (SLES)
Real User Experience
Our family is a daily user of this bar soap, and we like it because it lasts a long time, and we can find it at our local grocery store. Other users like this soap because it doesn't contain animal-based emulsifiers, which some people have sensitivities to.
Where to Buy
We buy ours from Amazon, but it is also found at local grocery stores, it is just really hit or miss.
6.  The Yellow Bird Soap Bar Shea Butter Unscented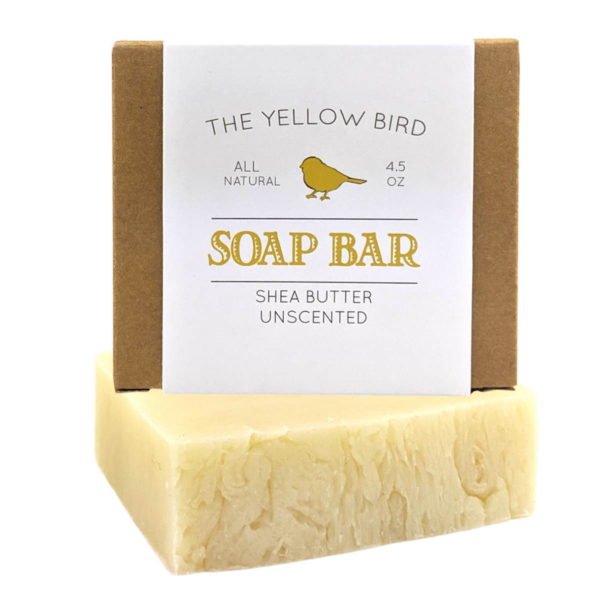 Image courtesy of The Yellow Bird
This soap's goal is to be simple, effective, and moisturizing. Made in small batches with sensitive skin in mind. Yellow Bird makes their soap the artisan way, by hand.
EWG Rating

Key Notes: 
Organic ingredients
No Parabens
Won't clog pores
No Sulfates
Simple ingredients
No Fragrances
Handmade
Real User Experience
Wow. The users have lots of great things to say about the Yellow Bird Shea Butter Soap. One lady couldn't get a firm diagnosis for her skin condition after talking with 5 dermatologists, but this soap cleared her up!
Other users cannot spread the word enough about this soap and buy 10 bars at a time. You have to let the soap dry out or it does become goopy and won't last as long, but other than that the customers love this product.
Where to Buy
Buy Directly from the Yellow Bird Website here: TheYellowBird.com 
7.  Kirk's Original Coco Castile Bar Soap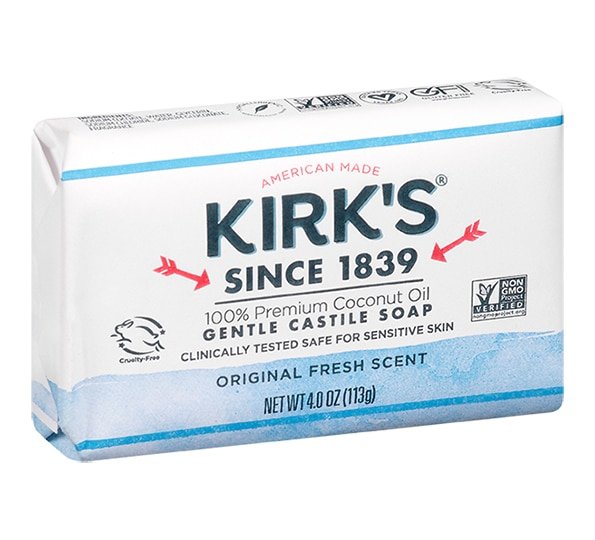 Photo courtesy of Kirkssoap.com
Kirk's® is a company that has been in the soap business a long time, since 1893! Their product is natural, affordable, and fragrance-free.
EWG Rating

Key Notes: 
Biodegradable
No synthetic detergents
Only 4 ingredients
Unscented
Lots of suds
Real User Experience
Recommended from real users for those looking for a totally chemical-free product. Some have reported that it takes a little longer to rinse off fully but can be used head-to-toe- without any issues.
Where to Buy
I would recommend looking for this soap locally, but if you cannot locate any nearby, check out Bed Bath and Beyond.
8.  Kiss My Face Olive Oil Soap – Fragrance-Free
This bar soap is hypoallergenic, moisturizes, and only has 3 ingredients. Kiss My Face has taken a different approach from many in the soap business and uses mostly olive oil in their products.
EWG Rating

Key Notes: 
3 Ingredients – Sodium Olivate (Saponified Olive Oil), Water, Sodium Chloride (Sea Salt)
Contains antioxidants
Vegan
Fragrance-Free
Non-GMO
Soft and smooth skin after use
Real User Experience
Many users who were sensitive to "hypoallergenic" soaps, had no issues with using the Kiss My Face Olive Oil Soap. A vast majority of people experienced really soft skin after the first couple of uses. It has a unique scent when using it, but it doesn't stick around after you rinse.
Where to Buy
You can buy directly from the company (KissMyFace.com), or also at the Kiss My Face store on Amazon.
9.  CeraVe Hydrating Cleanser Bar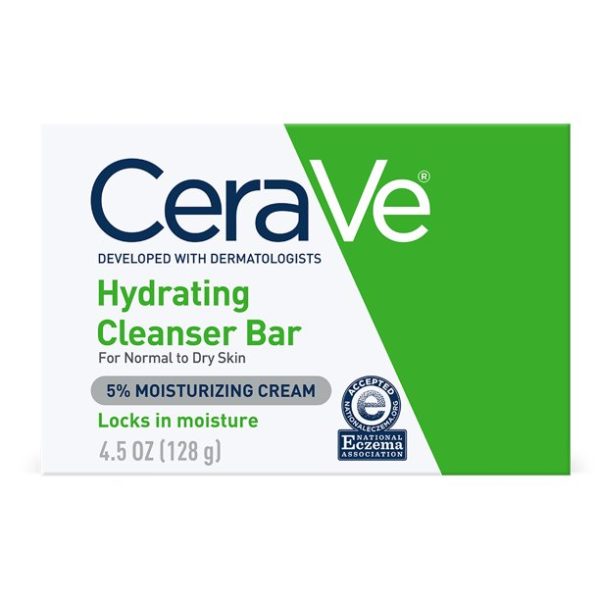 Photo courtesy of walmart.com
CeraVe® has earned the National Eczema Association (NEA) Seal of Acceptance, meaning they produce a product that is good for those of us with eczema or sensitive skin.
EWG Rating

Key Notes:
Contains 3 essential ceramides
Fragrance-Free
5% moisturizing cream
Can use daily
Non-comedogenic (doesn't clog/block pores)
Real User Experience
Users report that the CeraVe Hydrating Cleanser Bar doesn't leave a film, keeps your hands moisturized, and has removed tiny red bumps from their arms and legs (over time). Additionally, they have reported that the soap is gentle and cleared up acne from their body and face.
Where to Buy
As this is a well-known brand, you can find this soap at multiple stores. If you want to save time, you can check to see if your local Walmart carries hydrating cleanser bars, or snag a pack from Amazon.
10.  Legend's Creek Farm Unscented Goat Milk Soap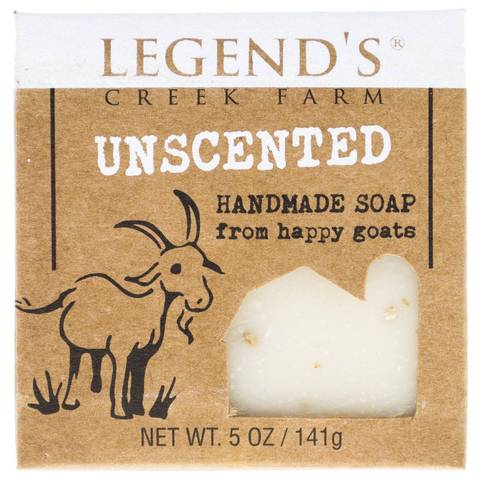 Photo courtesy of legendscreekfarm.com
Legend's® Creek Farm soap is handmade and made from goat's milk. Goat's milk is unique because it contains fatty acids and probiotics which help your skin maintain a healthy microbiome.
EWG Rating
Not yet rated
Key Notes: 
Cruelty-free (they love their goats)
Anti-aging properties (alpha-hydroxy acids)
It helps build a skin moisture barrier
Natural ingredients
Real User Experience
Users have found an improvement in their psoriasis and sensitive skin within a week of using this soap. Countless individuals recommend this soap if you have any sort of acne, redness, or sensitive skin. Some believe that goat's milk contains anti-inflammatory properties. They wish it was a bit cheaper, but they are saying you get what you pay for and this is worth it.
Where to buy
You can buy directly from Legends Creek Farm or they also sell their product directly on Amazon.
11.  Hypoallergenic Soap from SAVON de MARSEILLE – Marius Fabre
Made in France (if you couldn't tell by the name). This soap is made in Marseille, France by cooking it in cauldrons for 10 days, the traditional way.
EWG Rating
Not yet rated
Key Notes: 
Made in a cauldron (how cool!)
Eco-Friendly ingredients
No additives
No coloring added
Fragrance-free
Safe for everyone and all skin types
Biodegradable
Real User Experience
Since there are no added fragrances at all, and it is mostly olive oil, users report this soap as having a unique smell but most like the scent.
Users use this soap for bathing and hand washing, and to remove baby poop stains from fabric.
Yep! There is a review that said this is the only soap that will get baby poop stains out of any fabric.
Where to Buy
Most real users cannot find this in-store and buy directly from Amazon.
12.  The Soap Haven 100% All-Natural Goat's Milk Soap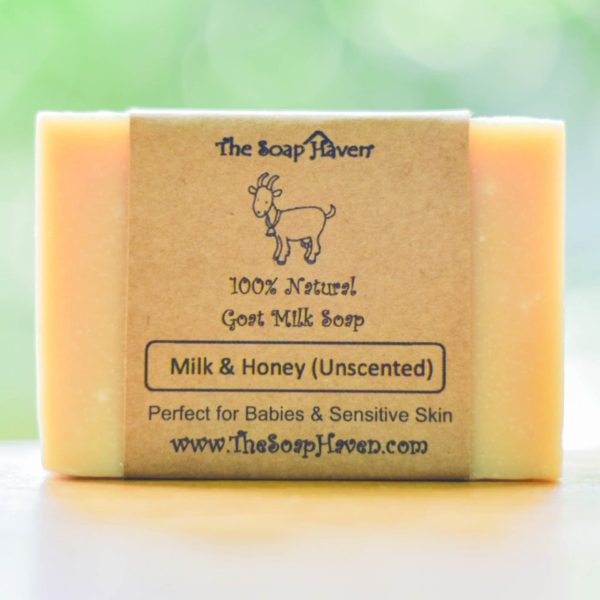 Photo courtesy of The Soap Haven
The Soap Haven provides a natural soap with only 5 ingredients and is handmade in the great U.S. of A. This hypoallergenic soap is made from goat's milk and is unscented.
EWG Rating
Not yet rated
Key Notes: 
Handmade
Unscented
Only 5 Ingredients
Contains raw honey for added benefits
No chemicals
Real User Experience
Users experience their skin clearing up within about a week of use, and gentle enough for eczema. Others have experienced the soap having a smell, some say it smells like chocolate and some say it smells like a goat. Either way on the smell, most users reported that the smell does not stay on your hands after you rinse them.
Where to Buy
You can buy directly from The Soap Haven.
 13.  Tom's of Maine Natural Beauty Bar Soap for Sensitive Skin with Aloe Vera 
Tom's of Maine® is known for its more natural approach and healthier alternative to bigger brands' health/beauty products. Their soap is no different. Plus, this company is a Certified B Corporation and donates 10% of profits to charity.
EWG Rating
Not yet rated
Key Notes: 
Fragrance-free
No Parabens
Made with Aloe
Certified B Corp
10% of profits to charity
Low ingredient count
Real User Experience
Many users swear by this soap because it smells good (without added fragrance) and is gentle on their skin. This soap lathers well and is priced affordably compared to other artisan soaps. There are concerns about the soap not lasting as long if you don't let it dry out so get a soap tray.
Where to Buy
Tom's of Maine products are found in supermarkets and grocery stores, but I have found the best deal out there is currently through Amazon.
14.  Vanicream Cleansing Bar for Sensitive Skin
Photo courtesy of Vanicream
Vanicream™ is a well-known brand, and they are serious about making their products formulated for sensitive skin. All their products (including this soap) are free from dye, fragrance, lanolin, paraben, and formaldehyde. This is great because these are ingredients that can irritate the skin or cause allergic reactions.
EWG Rating
Not yet rated
Key Notes: 
Found at almost any retail store
Free from common irritants
Non-Comedogenic
Unscented
Contains moisturizers
Suds and lathers
Real User Experience
Lots of real users were instructed by their dermatologists to switch to this soap, and all those users were glad they did.
This soap has reversed skin conditions, and it lathers well in hard water.
Folks who have chemical allergies said that this soap is the answer and had no symptoms after using it. moreover, it has been reported to smell a little like crayons when you use it, but overall, a neutral scent that doesn't stay on your skin.
Where to Buy
Vanicream can be found at all major retail stores (i.e. Walmart, Target, CVS, and Walgreens) as well as major online stores like Amazon.
15.  Basis Sensitive Skin Bar Soap
basis® sensitive skin bar soap is fragrance-free and contains skin moisturizers, so your hands or body don't dry out. Additionally, the Basis sensitive skin soap contains natural botanicals to soothe and comfort skin.
EWG Rating:
Not yet rated
Key Notes:
Fragrance-free
No dyes
Contains Chamomile extract
Contains Aloe Vera Extract
Real User Experience
Basis Sensitive Skin Soap is highly praised for its use on sensitive skin, its moisturizing abilities, and its value for the money. There are a few individuals that said it dries out their skin, but many say it's the best soap ever and they have been using it for many years.
Where to Buy
You can find the Basis Sensitive Skin bar soap at Walmart.com, Walgreens.com, and Amazon.com.
Next, check out my Top Hypoallergenic Dish Soap Choices. These soaps are gentle on your hands, but also powerhouses on the dishes.