When looking for the best spongiotic dermatitis moisturizers, you don't want to take a shot in the dark and risk getting a product that may make your eczema worse or is so full of chemicals that it is unhealthy. To find the best over-the-counter (OTC) moisturizer for Spongiotic Dermatitis, I investigated the ingredients, real user feedback, ratings, and price.
As an Amazon Associate, I may receive compensation for qualifying purchases.
Table of Contents
Understanding Spongiotic Dermatitis
Spongiotic dermatitis is a common skin condition that leads to redness, itching, and the development of blisters. It occurs when the skin's natural barrier is compromised, often due to allergens, irritants, or genetic factors.
Triggers and Flare-Ups
Various factors can trigger or exacerbate spongiotic dermatitis, including allergens like pollen, certain fabrics, harsh detergents, stress, and even certain foods. Identifying and avoiding these triggers is essential for managing the condition effectively.
Importance of Moisturization
Moisturizers play a vital role in managing spongiotic dermatitis. They help restore the skin's natural barrier, prevent water loss, and soothe inflammation. However, not all moisturizers are created equal when it comes to addressing this condition.
Key Moisturizer Ingredients for Spongiotic Dermatitis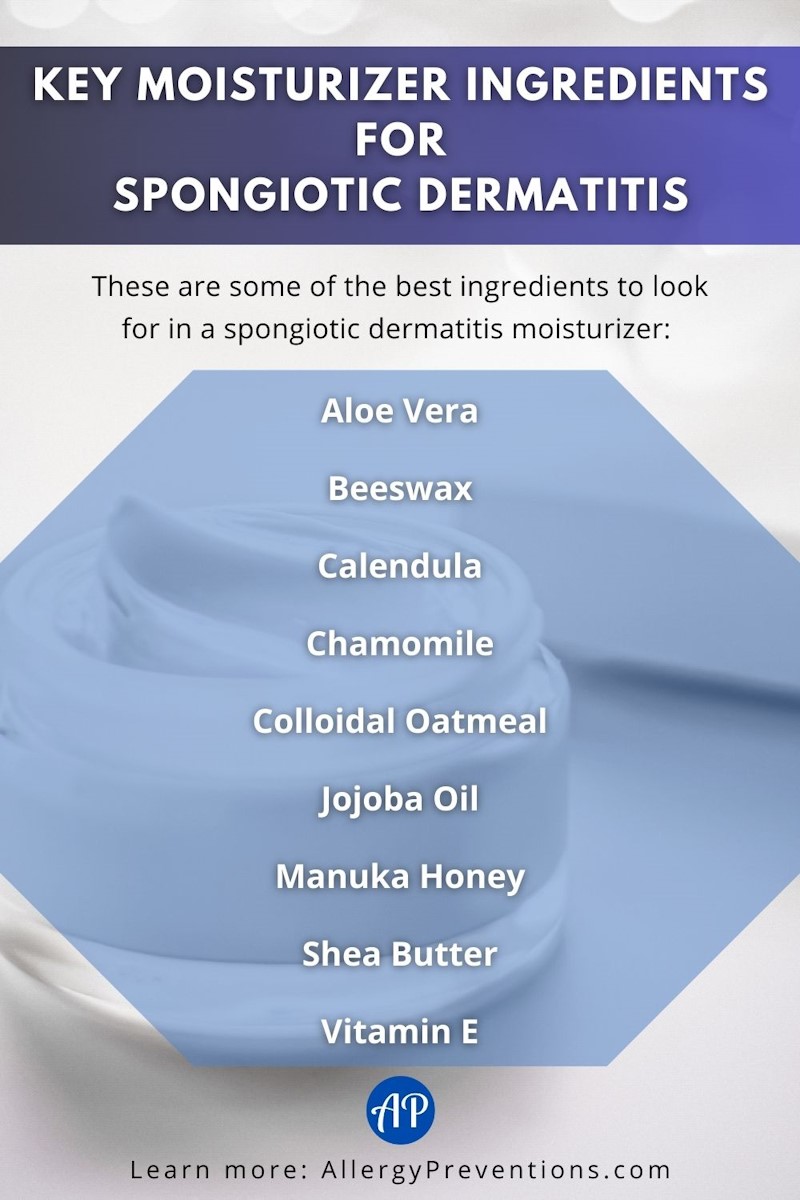 When looking for a spongiotic dermatitis moisturizer, it's essential to consider key ingredients that can help soothe and alleviate your symptoms. Here are some key components to look for:
Aloe Vera: Has cooling and anti-inflammatory properties, making it effective in soothing inflamed skin and reducing itching.
Beeswax: Used in some dermatitis creams as a natural emulsifier and moisturizer.
Calendula: Extract has soothing and anti-inflammatory properties. It can help reduce redness and promote the healing of irritated skin.
Chamomile: Extract has anti-inflammatory and calming properties, which can help relieve itching and redness.
Colloidal Oatmeal: Known for its anti-inflammatory and moisturizing properties. It can help relieve itching, redness, and irritation associated with dermatitis.
Jojoba Oil: A natural emollient that can help keep the skin moisturized and prevent further dryness and irritation.
Manuka Honey: Antibacterial and healing properties that can be beneficial for dermatitis-prone skin.
Shea Butter: A rich moisturizer that can help hydrate dry and flaky skin, which is common in dermatitis.
Vitamin E: An antioxidant that can help protect and repair the skin barrier, which is often compromised in dermatitis.
Should I put moisturizer on spongiotic dermatitis? 
Yes, you should put moisturizer on spongiotic dermatitis, and eczema! According to the National Eczema Association, moisturizers are vital to keeping your skin healthy and preventing flare-ups. When your skin is dry or cracked, you are more susceptible to itching, damaged skin, and infections. 
What Moisturizer You Should Use For Spongiotic Dermatitis
You should use the right moisturizer based on your specific skin type, sensitivities to ingredients, and your condition severity. Luckily there are many choices that are considered the best in their respective categories. Here are the best moisturizers for spongiotic dermatitis. 
I considered the information available from the National Eczema Association (NEA), the Environmental Working Group (EWG), ingredient lists, user experience, and reviews.  My goal is to provide you with options to fit your needs so you can make an informed decision on the best moisturizer for your needs.
Best Moisturizer for Spongiotic Dermatitis 
MJ's Herbals Calendula Salve is the best overall moisturizer for spongiotic dermatitis. This is the cream you will want to get If you are looking for the best SD moisturizer that checks all the boxes. This salve focuses on getting the job done, is safe for daily use, and has rave reviews.
MJ's Herbals Calendula Salve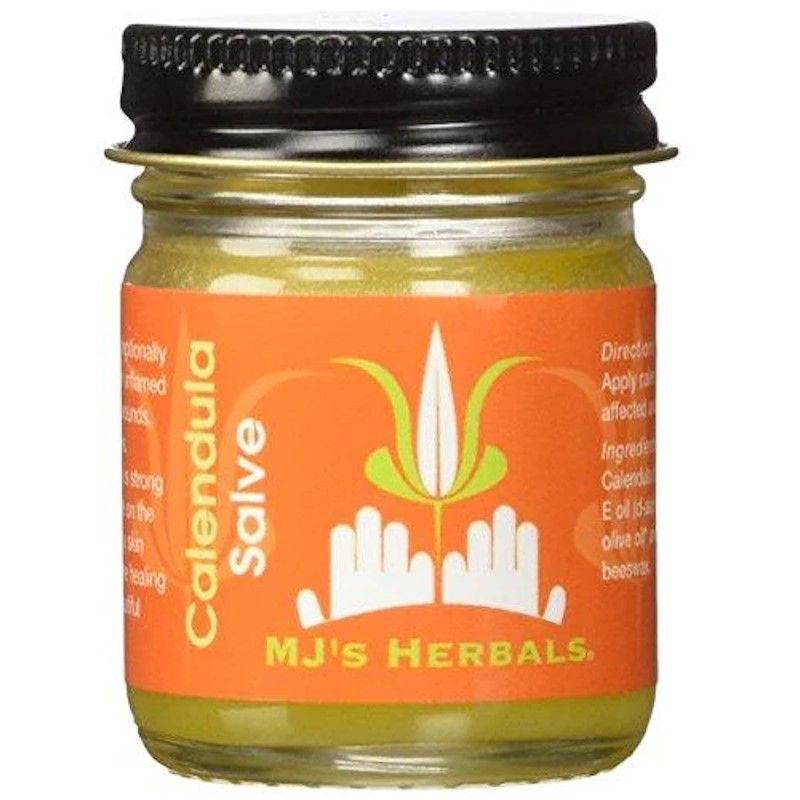 This all-natural, four-ingredient salve offers versatile skincare solutions, ideal for spongiotic dermatitis concerns, and is gentle enough for babies, delivering quick relief and long-term improvement, all while embodying ethical values and quality craftsmanship.
Ingredients
Beeswax
Calendula blossoms 
Olive oil
What we like
All-natural
Chemical-free
Highly praised in the dermatitis community
Low ingredient count
Multiple skin uses
No smell
Reasonably priced
Unscented
Uses the power of calendula flowers
Works on many forms of dermatitis
Considerations
The 1 oz jar is small (4 oz jar available)
User Experience
The majority of users found that within the first few days of using the calendula salve, their dermatitis symptoms substantially improved. Also, the longer you use it, the more it clears up the inflammation and dry skin. Since this product is so natural, many have found it to be suitable for their babies as well. 
YORO Naturals Organic Manuka Skin Soothing Cream
YORONaturals Manuka Honey for Skin is a specialized balm designed to provide effective relief for dermatitis sufferers. Made from pure, high-quality Manuka honey, this balm harnesses the natural antibacterial and anti-inflammatory properties of Manuka honey to soothe and heal irritated skin. I
YORO Naturals Manuka Honey is suitable for various forms of dermatitis, including eczema and psoriasis, offering gentle yet potent relief. The balm deeply moisturizes and nourishes the skin without the use of harsh chemicals or artificial additives.
Ingredients
Beeswax
Filtered water
Grape seed oil
Olive oil
Manuka honey
Manuka oil extract
What we like
All-natural
Chemical free
Eczema Company best seller
Most talked about for spongiotic dermatitis
Multiple skin uses
Suitable for all ages
Unscented
Uses Manuka honey
Considerations
YORO has gone through some formula changes over the years, so long-time users will notice a different consistency. This new version is more like an ointment than a cream. 
User Experience 
The YORO Naturals Organic Manuka Honey Baby Eczema Cream has received overwhelmingly positive reviews from users. Many parents have found it effective in soothing their babies' diaper rash, cradle cap, and eczema. Some users have even reported unexpected benefits, such as relief from chafing between their legs.
In addition to baby-related skin issues, the cream has been praised for its effectiveness in treating eczema in adults, including healthcare workers who frequently wash their hands. Users appreciate its natural ingredients, lack of irritating fragrances, and its ability to provide moisturization and relief without causing pain or flare-ups.
Where to Purchase YORO Manuka Cream
Moon Valley Organics Herbal EczaCalm All Natural Eczema Cream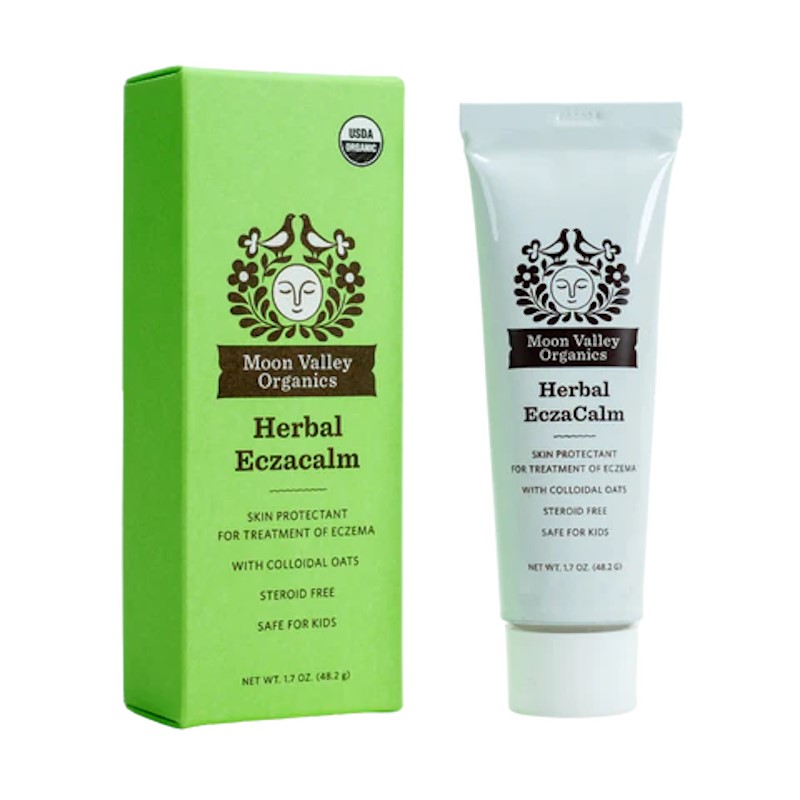 Moon Valley Organics offers a natural and eco-friendly solution for skin irritations with their Herbal Eczacalm. This skin-soothing salve is formulated to protect and relieve skin issues such as eczema, dermatitis rashes, poison ivy or oak, and insect bites.
Herbal Eczacalm combines the soothing power of colloidal oats with the skin-regenerating properties of Rosehip seed oil and Calendula. 
Safe for all ages, it can be applied generously to affected areas as needed. This unscented salve provides an earth-friendly alternative to chemical-laden lotions, boasting a 100% natural ingredient list and recyclable packaging. 
Ingredients
Aloe Vera
Beeswax
Burdock
Calendula
Chamomile
Colloidal oats
Comfrey 
Flax Oil
Horsetail
Licorice Root
Plantain Vitamin E
Rosehip Seed Oil 
Safflower Oil
St. John's Wort 
What we like
All-natural
Chemical-free
Multiple skin uses
Organic
Recyclable packaging
Unscented
Whole body safe
10% of profits to protect the bees
Considerations
Some users reported this formula to be too thick and gooey for their liking. 
User Experience 
Helps with eczema and dermatitis of all ages. Many users put this ointment on their dermatitis as well as their face because they noticed it also reduced their wrinkles. For those looking for a homeopathic approach, multiple customers state that this ointment is the "best they have tried so far" for spongiotic dermatitis. The constant feedback for this ointment is "Try it!". 
Antler Farms 100% Pure New Zealand Lanolin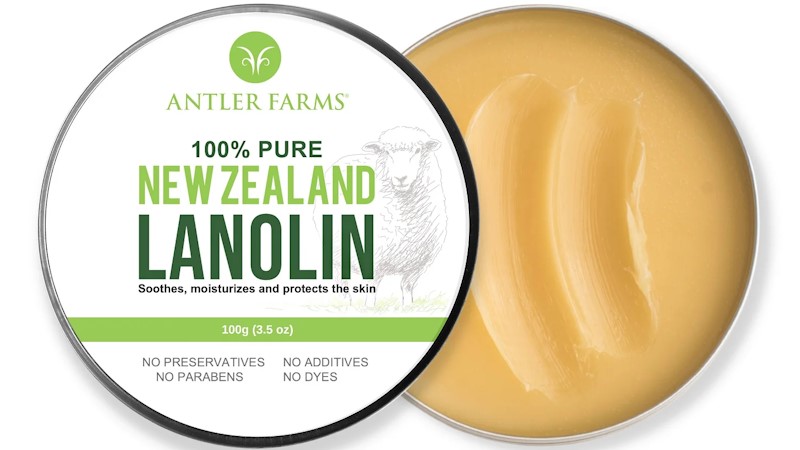 Antler Farms® lanolin is a powerful natural moisturizer and emollient, boasting moisture-binding and humectant properties that effectively soothe, soften, and hydrate even the driest and roughest skin.
Antler Farms Lanolin offers exceptional skin protection by forming a breathable barrier that shields against harsh environmental conditions, locking in essential moisture while keeping impurities out. 
Their clean-sourced, hypoallergenic lanolin is produced in one of the world's cleanest environments and is free from petroleum, parabens, preservatives, sulfates, additives, or dyes.
Ingredients
Lanolin from free-grazing sheep
What we like
All-Natural
Chemical-free
Ethically sourced
One ingredient
Reduces skin moisture evaporation by 30%
Unscented
Considerations
Lanolin is sourced from sheep wool and should be avoided if you have a wool allergy or sensitivity. Lanolin is also a mild comedogenic, so it is best to be avoided by anyone prone to acne. 
User Experience 
The reviews for Antler Farms® New Zealand Lanolin are overwhelmingly positive. Customers have found this lanolin to be highly effective for various skincare needs, especially during the winter months. Many users have reported that it provides excellent moisture and protection for dry, cracked, inflamed, or chapped skin.
One customer mentioned that the lanolin worked wonders for healing dry, cracked lips and was impressed by its long-lasting effects.
Another user found it to be a great product for moisturizing their hands and preventing them from drying out, even after frequent handwashing.
Customers appreciated the purity of this lanolin, with no added chemicals or artificial fragrances. They also found it to be versatile and effective for various skin issues besides spongiotic dermatitis, such as windburn, rug burns, and chafed skin.
Overall, customers highly recommend Antler Farms® New Zealand Lanolin for its moisturizing and protective properties, making it a go-to solution for dry and irritated skin, particularly during the winter season.
Waxelene Multi-Purpose Ointment
The Waxelene Multi-Purpose Ointment Organic Original is an ideal choice for individuals who prioritize natural and organic skincare solutions. This product is perfect for those looking to replace traditional petroleum jelly with a more environmentally-friendly alternative.
If you have eczema or dermatitis and seek a product that offers deep moisturization and soothing relief, Waxelene can be an excellent addition to your skincare routine.
It's especially suitable for individuals who prefer minimal ingredient lists and want a versatile ointment that acts as both a moisturizer and a protective barrier against environmental factors. 
Ingredients
Glycine Soja (Soy Oil)
Cera Alba (Beeswax)
Mixed Tocopherols Oil (Vitamin E Oil)
Rosmarinus Officinalis Oil (Rosemary Oil)
What we like
All-natural
Chemical-free
Non-greasy
Organic
Plastic neutral
Unscented
Whole body suitable
Considerations
Expensive
Hard-to-squeeze tube (also available in a jar)
Initial mild smell 
User Experience 
Users have generally praised Waxelene Organic Original Tube for its versatility and effectiveness. Many have found it to be a soothing and moisturizing product that works well for various skin-related issues, such as dryness, diaper rash, and even eczema. 
Users have also appreciated that it is a petroleum-free alternative and have used it for a wide range of purposes, including skincare, makeup priming, and even as a protective barrier.
Some users, however, have encountered issues with the product's consistency, with one user reporting it being in a liquid state upon arrival. 
A few also noted that it has a distinct scent, with opinions varying on whether it was pleasant or not. Despite these minor concerns, the majority of reviewers have been satisfied with Waxelene's performance.
Egyptian Magic All-Purpose Skin Cream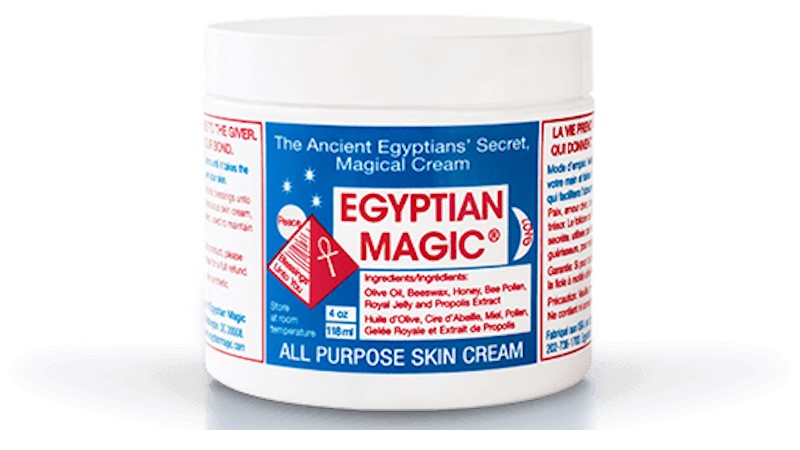 This product is a popular skincare solution known for its versatility and natural ingredients. It is formulated using a combination of olive oil, beeswax, honey, bee pollen, royal jelly, and propolis extract, making it an all-natural and multipurpose skin balm.
Egyptian Magic claims to be suitable for a wide range of skincare needs, such as moisturizing dry skin, reducing the appearance of scars and stretch marks, soothing minor burns and irritations, and serving as a general skin conditioner.
Ingredients
Beeswax
Honey
Olive oil
Pollen
Propolis extract
Royal jelly
What we like
All-natural
Chemical-free
Long-lasting
Multiple skin uses
Unscented
Considerations
A little goes a long way with this moisturizer, and it may seem too oily for some users. This moisturizer is best suited for nighttime applications. 
User Experience 
The user reviews for the Egyptian Magic All Purpose Skin Cream, generally reflect a positive user experience. Many users express satisfaction with the product's versatility, mentioning that it effectively moisturizes their skin, reduces the appearance of scars, and stretch marks, and helps soothe minor burns and irritations. 
Several customers appreciate the natural ingredients in the cream. Some note that it can be used as a multipurpose skincare solution, simplifying their skincare routines.
However, a few users mention that the cream has a unique texture and may require warming between the hands before application.
Overall, the majority of reviews highlight the product's effectiveness and suitability for various skincare needs, making it a popular choice among customers.
The Healthy Porcupine Unscented Body Balm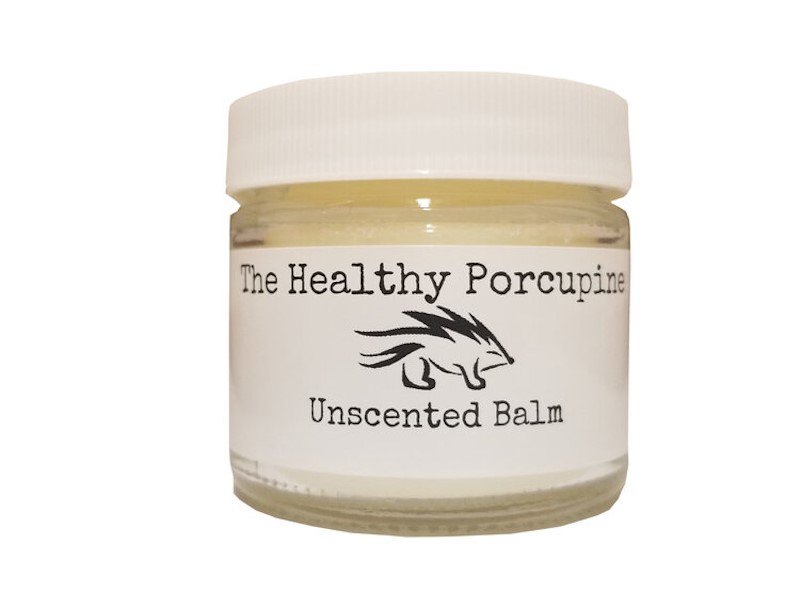 The Healthy Porcupine body balm is known for its key ingredient tallow. Tallow is very beneficial for spongiotic dermatitis because of its moisturizing, barrier repair, and anti-inflammatory capabilities. Whether you have dermatitis or not, this balm will moisturize your skin with ease. 
Ingredients
Grass-fed tallow
Unrefined sunflower oil
What we like
All-natural 
Chemical-free
Supports small business 
Two ingredients
Unscented
Considerations
Difficult to apply when cold
Distinct scent
Not a vegan product
User Experience 
Customers have found the Tallow Balm to be a blessing for both themselves and their babies. Their baby's skin issues, including cracked skin, eczema, and dermatitis improved significantly after using the balm, along with the Organic Manuka Skin Soothing Cream.
They appreciate its consistency and safety for their baby, and as someone who prefers animal oils, they find it more effective than plant-based alternatives.
Overall, they love the Grass Fed Tallow Balm for its moisturizing and soothing properties, along with its natural ingredients.
Where to buy The Healthy Porcupine Tallow Balm
Legends Creek Farm's Calendula Salve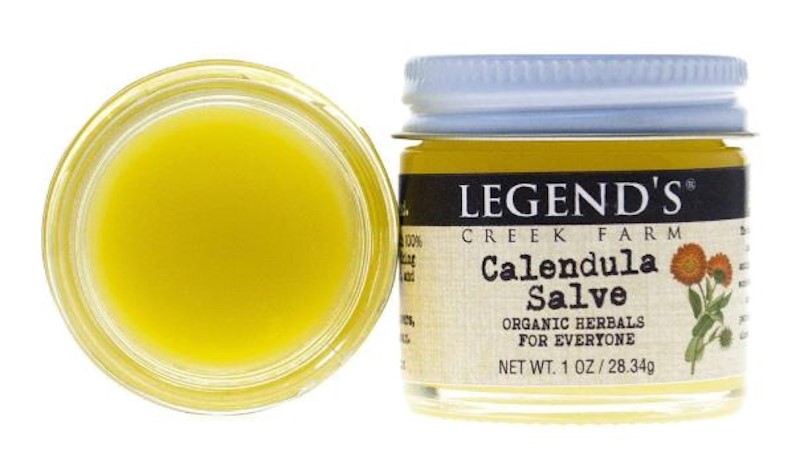 Legends Creek Farm's Calendula Salve is a natural and versatile skin care solution crafted with the soothing power of Calendula, known for its anti-inflammatory properties.
This all-natural salve is free from harsh chemicals and is suitable for all skin types, making it a family-friendly choice. It provides relief for dry, irritated skin, minor cuts, burns, and more.
Ingredients
Beeswax
Calendula flowers
Grape seed oil
What we like
All-natural
Chemical-free
Gentle in sensitive areas
Organic
Unscented
Works quickly
Considerations
If you purchase the smaller size, it tends to get used up quickly. To cover larger areas of the body, consider purchasing the 8-ounce container. 
User Experience 
Legends Creek Farm's Calendula Salve has garnered overwhelmingly positive reviews from satisfied customers. Users have praised its versatility, describing it as a "must-have" product for treating a wide range of skin issues, including rashes, eczema, spongiotic dermatitis, bug bites, and scratches. It's also noted for effectively preventing odors in sweaty areas. 
Customers found that this salve outperformed prescribed creams and have decided to make it a permanent fixture in their households. Whether used on infants with dry skin, to alleviate chronic urticaria, or to heal various skin problems, this Calendula Salve has proven itself as a trusted and effective natural remedy.
Ora's Amazing Herbal Calendula Salve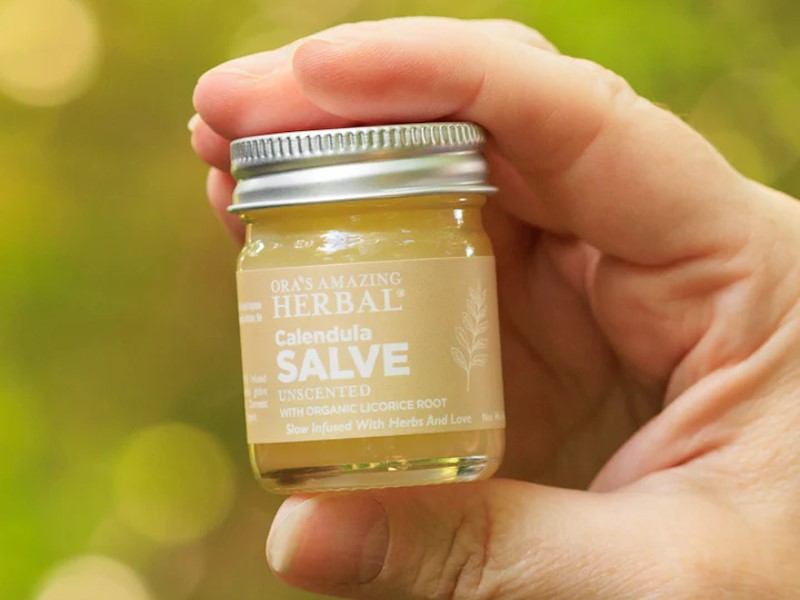 This handcrafted salve is well-suited for individuals seeking a gentle and effective remedy for various skin concerns, making it suitable for all skin types, including sensitive skin. If you have dryness, or minor burns, or are looking to promote skin elasticity and support natural healing, this salve offers a nurturing solution.
Overall, this salve is praised for its versatility and effectiveness in addressing a range of skin concerns, making it an excellent choice for those seeking the healing touch of nature in their skincare routine
Ingredients
Beeswax
Calendula officinalis (Calendula)
Glycyrrhiza glabra (Licorice Root)
Ricinus communis (Castor) Cold Pressed Oil
Tocopherol (Vitamin E, Non-GMO)
Vitis vinifera (Grapeseed Oil, Non-GMO)
What we like
All-natural
Chemical-free
Spreads easily
Unscented
Considerations
Best for small areas
Small bottle
User Experience 
Customers rave about Ora's Amazing Herbal Calendula Salve, giving it high recommendations. One user noted significant improvements in their complexion after using it for over a week, reporting fewer breakouts and even using it as sun protection during extended beach days without experiencing sunburn. 
Others found relief from various skin issues, including pain relief on elbows, itch relief from poison ivy rashes, and helping with eczema-related itching. Many users appreciate that this salve is coconut-free, making it suitable for those with coconut allergies.
Overall, customers find this product to be a versatile and effective solution for various skin concerns, praising its soothing and moisturizing properties.
Emily Baby & Adult Skin Soother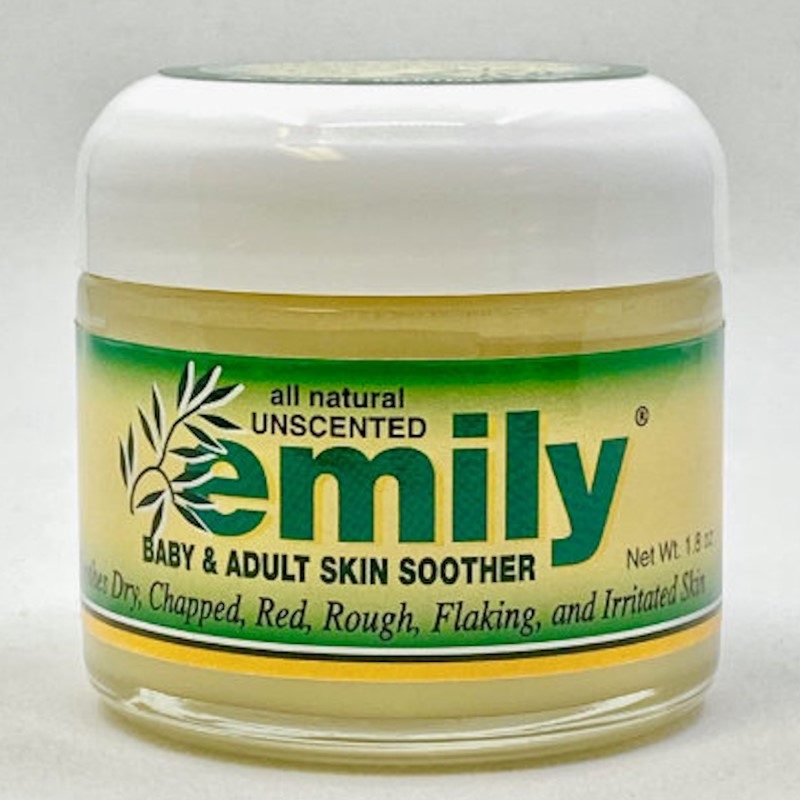 Emily Skin Soothers offers a natural and effective skincare solution for both babies and adults, enriched with the power of herbs not typically found in spongiotic dermatitis products. The brand's mission is to provide highly effective products with minimal, natural ingredients, adhering to the belief that simplicity is key.
Emily proudly avoids suspect or questionable ingredients and has received low hazard ratings from the Cosmetic Safety database. 
Ingredients
Angelica sinensis (Dang Gui)
Beeswax
Mentha Haplocalyx Herb (Bo He / Mint)
Olive oil
Potentillae Chinensis Herb (Bei Zi Cao)
What we like
All-natural
Chemical-free
Eczema Co. best seller
Unique ingredients
Unscented
Considerations
Since this has ingredients that are different from all the other moisturizers, this may be worth a shot for those suffering from spongiotic dermatitis who have tried everything else on the list. 
User Experience 
The reviews for Emily Skin Soothers for Itchy Eczema are honestly hit or miss. While some users found the product to be highly effective in soothing and improving their eczema, others did not experience the same level of relief.
Some mentioned that it worked well for milder cases of eczema but might not be as effective for severe eczema. 
Where to buy Emily Baby & Adult Skin Soother
Carina Organics Unscented Daily Hydrating Skin Cream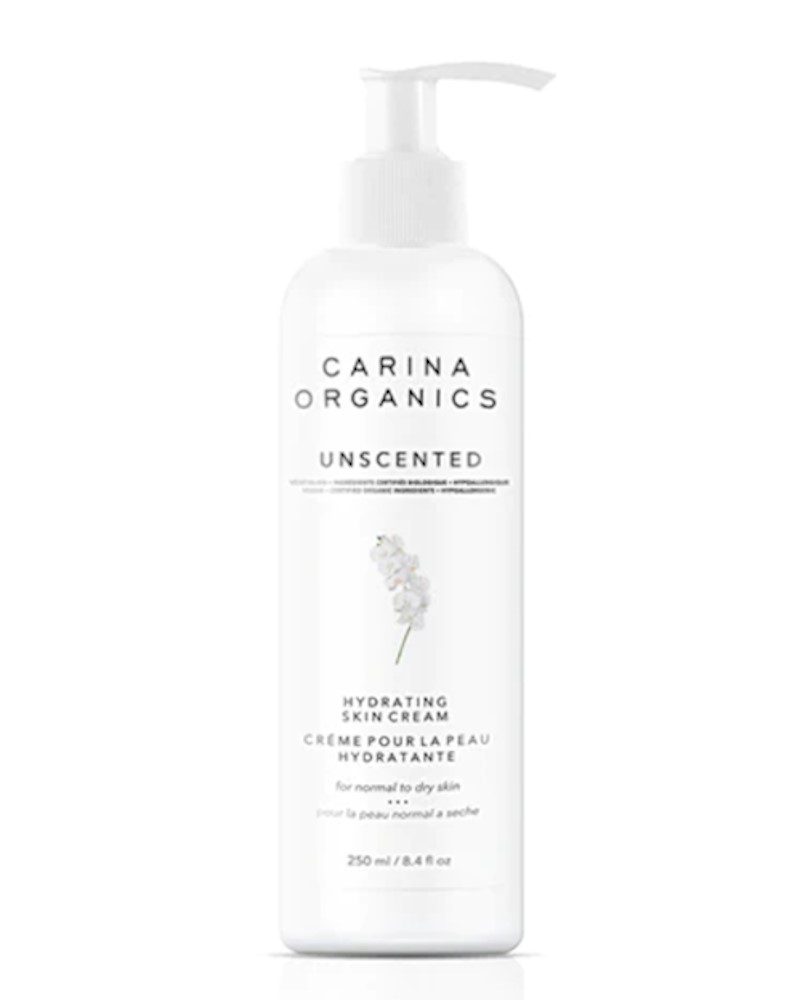 The Carina Organics Unscented Daily Hydrating Skin Cream is a nourishing blend of natural and certified organic ingredients designed to provide daily moisture and hydration without any synthetic additives.
This creamy formula combines the goodness of coconut oil, olive oil, pumpkin seed oil, and extracts of pine, chamomile, nettle, dandelion, and clover. It replenishes essential oils and nutrients, instantly revitalizing dry skin. 
Ingredients
Acetic Acid (Apple Cider Vinegar) 
Cetyl Alcohol (fatty alcohol from Coconut)
Cocos nucifera (coconut) oil
Cucurbita pepo (pumpkin) seed oil
Cyamopsis tetragonoloba (guar/cluster bean) gum
Filtered water
Magnesium Chloride (Magnesium Oil)
Matricaria chamomilla (chamomile) flower extract 
Olea europaea (olive) fruit oil
Pinus banksiana (pine) extract
Pinus elliottii (pine) extract
Taraxacum officinale (dandelion) leaf extract
Trifolium pratense (clover) flower extract
Urtica dioca (nettle) leaf extract
What we like
All-natural
Chemical-free
Good daily moisturizer
Lightweight
Non-greasy
Unscented
Vegan
100% biodegradable
Considerations
This lotion is a light moisturizer, ideal for daily use. Our experience with Carina Organics has been great, but with them being a Canada-based company, returns take a few extra steps if you live in the U.S. The moisturizer is available on Amazon, which alleviates the returns concern. 
User Experience 
Customers have generally praised the Unscented Daily Hydrating Skin Cream from Carina Organics. They appreciate the product's clean and non-toxic ingredients, making it suitable for sensitive skin.
Some users have mentioned that the cream is lightweight and non-greasy, making it a suitable daily moisturizer. However, a few noted that for extremely dry skin, it may not be the most moisturizing option.
Overall, customers have expressed satisfaction with the product's effectiveness and its unscented nature, making it a good choice for those seeking a clean and fragrance-free skincare option.
Balmonds Skin Salvation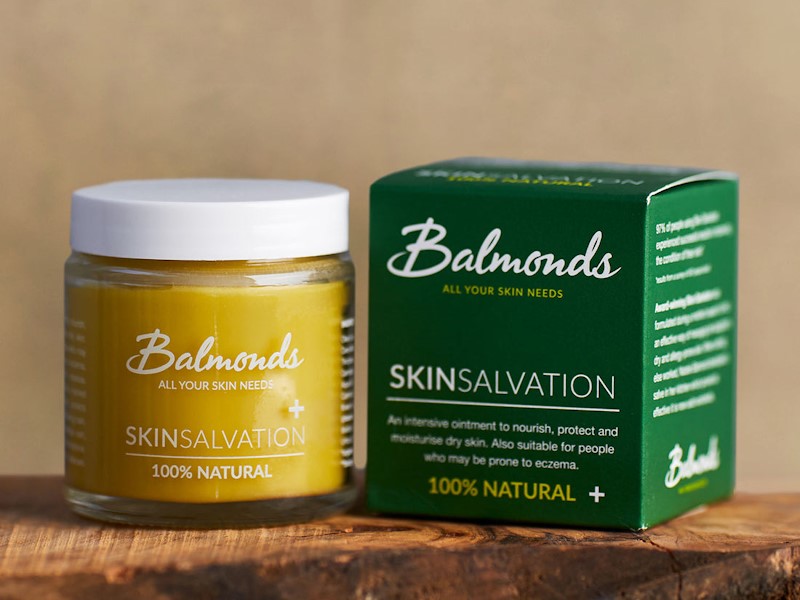 This intensive moisturizer is formulated using natural ingredients and is especially suitable for those with sensitive or problematic skin. It has received praise for its effectiveness in alleviating dryness, eczema, psoriasis, and other skin conditions.
Customers appreciate its gentle, non-irritating formula that provides relief and hydration without the use of harsh chemicals or fragrances.
Ingredients
Aqua and alcohol (from tinctures)
Calendula Officinalis (calendula) flower extract
Carthamus Tinctorius (safflower) seed oil
Cannabis Sativa (hemp) seed oil
Chamomilla Recutita (chamomile) flower extract
Cera Alba (beeswax)
Olea Europaea (olive) fruit oil
Stellaria Media (chickweed) extract
Urtica Dioica (nettle) extract
What we like
All-natural
Chemical-free
Long-lasting
Unscented
Considerations
This salve is very long-lasting which gives it a greasy and sticky texture, especially when it's cold, which may be offputting for some. There have been reports of an unusual smell from this combination of ingredients. 
User Experience
Customers have shared mixed opinions about the Balmonds Skin Salvation product. Some users have praised it as a highly effective solution for various skin issues. For instance, it has received positive feedback for its ability to soothe and relieve eczema, psoriasis, and dry skin.
Users have found it beneficial for combating itching and irritation, particularly for sensitive skin. There are also mentions of its versatility, being used by both adults and infants.
On the other hand, some users have noted certain drawbacks. The product's texture, described as thick and greasy, may not be suitable for everyone.
Some users have reported an unusual smell that they found less pleasant. Additionally, there are a few negative comments suggesting that the product did not work for specific skin conditions or caused adverse reactions.
Overall, while Balmonds Skin Salvation has been effective for many in addressing skin concerns, individual experiences may vary due to personal preferences and skin types.
Satya Organic Eczema Balm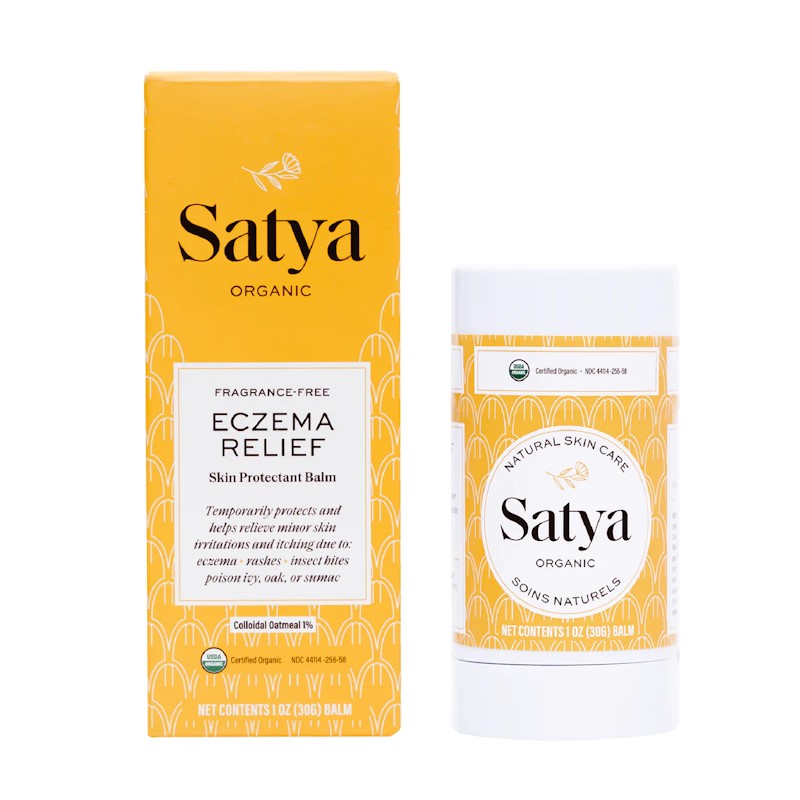 Satya Organics Eczema Stick is a skincare marvel rooted in the healing potential of organic ingredients. This product is well-suited for individuals with eczema and sensitive skin, as it offers instant relief for dry and itchy skin while promoting natural beauty, and is great for on the go.
Satya Organics is a woman and Indigenous-owned brand that prioritizes purity, using carefully selected ingredients free from harmful chemicals. If you appreciate products crafted with love and a commitment to quality this moisturizing stick may be an excellent choice.
Ingredients
Beeswax
Calendula (Calendula officinalis, flower)
Gluten-Free Colloidal Oatmeal (Avena sativa, seed)
Jojoba
Sweet Almond Oil
What we like
All Natural
Chemical-free
Low ingredient count
Organic
Portable
Unscented
Women & indigenous owned
Considerations
The Satya Organics Eczema Glide Stick does have some considerations to consider. Some may find that the product is spendy for the amount you receive.
This product is a heavier moisturizer that some may consider as greasy. The product container is great for on-the-go, but there is some waste as you are not able to get all of the product out of the container. 
User Experience
The reviews for the Satya Organics Eczema Glide Stick are mixed, with some customers finding it effective while others had issues. One customer received the product quickly but noted its small size and relatively high price.
They mentioned that it had a slightly unpleasant smell but found that it improved their skin after two days of use.
Another user had been struggling with a severe eczema outbreak for several months and found that this product worked better than others they had tried.
A satisfied customer reported that the Eczema Glide Stick had helped their daughter's eczema significantly in just a few days, praising its natural ingredients but wishing for a larger amount of moisturizers on the stick.
Overall, the Satya Organics Eczema Glide Stick appears to work well for some users, providing relief from eczema and other skin irritations. However, it may not be equally effective for everyone, and some customers have concerns about the product's price and packaging.
Where to buy Satya Organic Eczema Balm
DERMOIA Manuka Honey Cream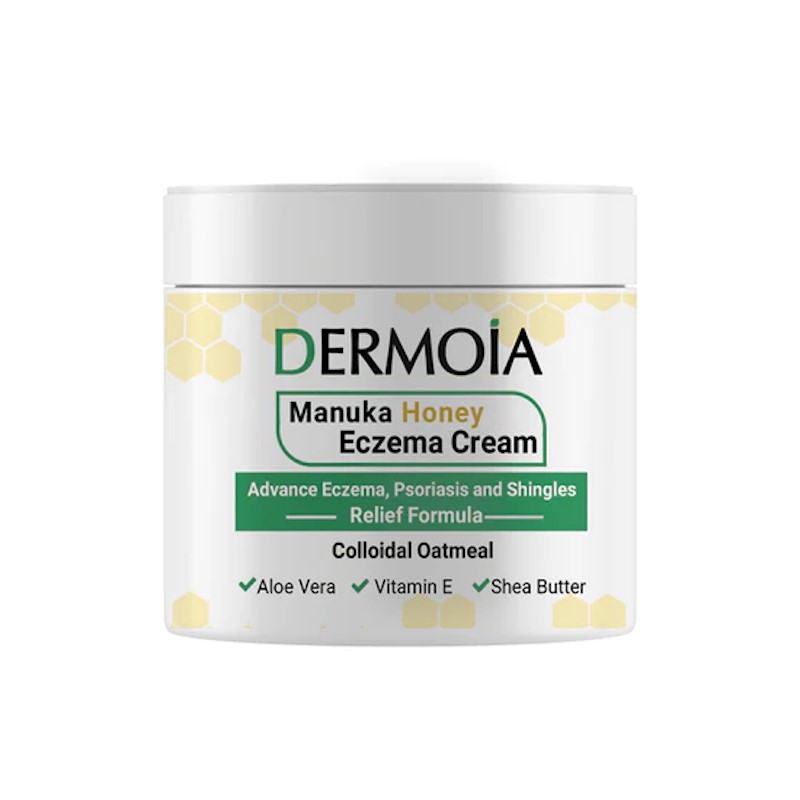 DERMOIA Eczema Cream is a powerful solution for eczema and related skin conditions. Packed with natural ingredients like New Zealand Manuka Honey, Colloidal Oatmeal, and various botanical extracts, this cream effectively nourishes and rejuvenates skin cells.
DERMOIA Eczema Cream isfragrance-free, non-greasy, and suitable for all skin types and ages, including babies and kids. Manufactured in the USA in an FDA-registered and GMP-certified facility, DERMOIA is committed to quality and cruelty-free practices.
Ingredients
Acai Palm Fruit Oil
Aloe Vera, Manuka Honey
Arnica Montana Extract
Arnica Montana Flower Extract
Colloidal Oatmeal
Jojoba Oil
Passion Fruit Oil
Shea Butter
Vitamin E
What we like
All-natural
Chemical free
Great for itch relief
Unscented
Considerations
The price is considered higher than the average for a dermatitis moisturizer. Some users have found that the consistency is a little watery. 
User Experience
Overall, customer reviews for the DERMOIA Eczema Cream are mixed. Some users reported positive experiences, noting improvements in their skin conditions, reduced itching, and quick relief.
They appreciated its non-greasy texture and lack of a strong scent. Others, however, expressed concerns about the cream's consistency, with some finding it watery or curdled.
Some users also mentioned that the product didn't work effectively for them, and a few had concerns about the price. In summary, while some users found relief and improvement with DERMOIA, others were less satisfied with its performance and consistency.
Thyme Out Natural Skin Treatment  
Thyme Out is your ultimate daily skincare solution, tailored to provide relief for common skin issues like eczema and dermatitis. This remarkable product is designed to help you win the daily battle against these conditions while you search for long-term solutions.
Thyme Out's natural and potent formula soothes skin inflammation, offering rapid relief from the discomfort and irritation associated with eczema and dermatitis.
Thyme Out is specifically crafted to address the bacterial and fungal triggers that often exacerbate these skin conditions, providing a gentle yet effective approach without any side effects.
Ingredients
Colloidal Oatmeal
Grain Alcohol Remnant
Purified Water
Thyme
What we like 
All-natural
Calms skin inflammation
Chemical-free
Family Safe (adults, kids, pets)
Great for itchy skin
Many skin uses
Considerations
Soothes more than moisturizes
Strong smell when first applied
User Experience 
The reviews for Thyme Out as an eczema treatment vary widely. Some users have found it to be effective in relieving their eczema symptoms, with one user mentioning that it worked well for their child's eczema.
However, there are also negative reviews, where individuals claimed that the product didn't help or even worsened their eczema. Some users reported a burning sensation upon application, suggesting that it may not be suitable for all types of eczema.
On the positive side, Thyme Out seemed to have benefits beyond eczema, with users mentioning its effectiveness against acne, mosquito bites, and other skin issues.
Overall, the effectiveness of Thyme Out as an eczema treatment appears to vary from person to person, and it may be more suitable for certain types of eczema than others.
Final thoughts
There are many choices when it comes to skin moisturizers, and all of these listed I would happily try. As a recap, the best spongiotic dermatitis moisturizer to start with is MJ's Calendula Salve on Amazon, and the runner-up best moisturizer for spongiotic dermatitis would be the YORO Organic Manuka Skin Soothing Cream from The Eczema Company.
Which moisturizer are you going to try? What have you already tried, and it did not work? Let me know your thoughts by emailing me at chris@allergypreventions.com
Looking for other skin-friendly products? Check out: