This is a review of the WINIX PlasmaWave® 5500-2 True HEPA Air Purifier.  The Winix PlasmaWave 5500-2 True HEPA Air Purifier is what our family has used for the last  4 years (and counting). This review covers hands-on testing of the durability, price, and efficiency versus allergies, mold, dust, bacteria/viruses, and chemicals.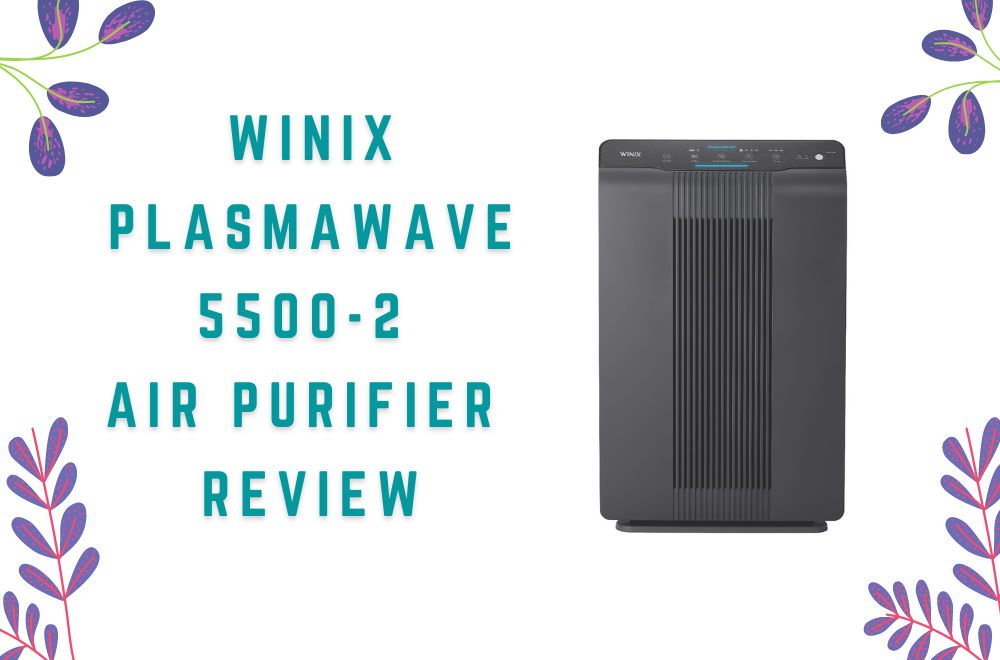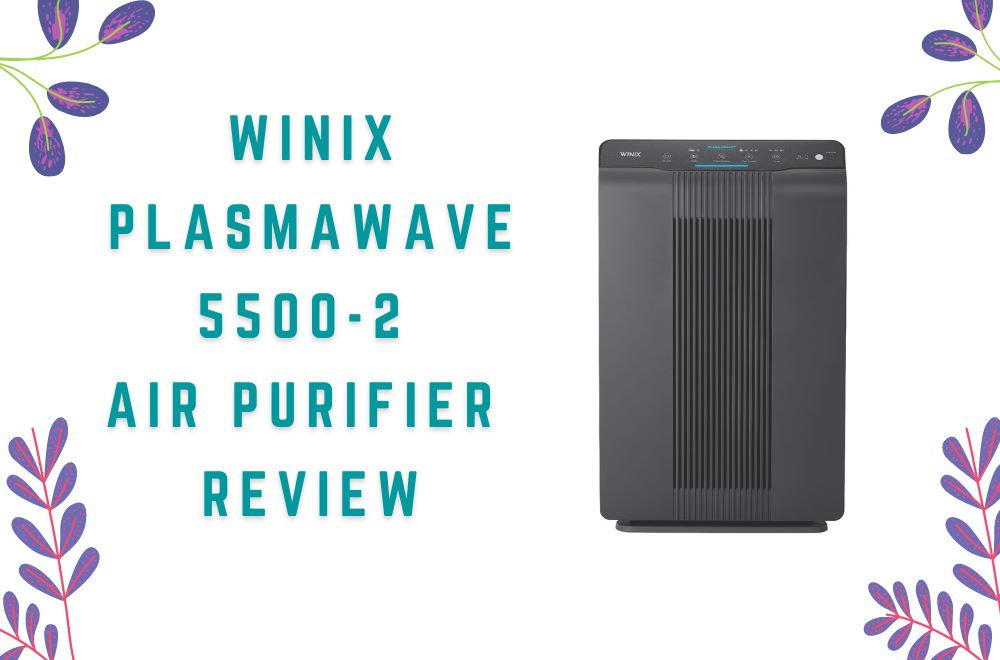 This post may contain affiliate links. "As an Amazon Associate, I earn from qualifying purchases". When you click the link and make a purchase, we might get a kickback from Amazon or other affiliate companies at no extra cost to you. We pride ourselves on only linking products, goods, and services that we have thoroughly researched and/or use ourselves. Please contact us here with any questions.
WINIX PlasmaWave 5500-2 Review Background
My family has been using the Winix Plasmawave 5500-2 for many years (we bought it from Amazon in September 2017). That means we have gone through at least 5 filter changes and 16 cleanings, and we have cycled through 175,200 clean air exchanges (and counting). 
This review will give you the most in-depth look at the longevity and performance of this Winix PlasmaWave 5500-2 true HEPA Air Purifier.
Is WINIX a Good Brand? 
With my extensive research and product experience, my opinion is that WINIX is a good brand, and here is why.   WINIX is a company located in South Korea that was founded around 5 decades ago. (A long time to be in business!) WINIX is not just in the air purifying business. They have products in the humidifier/dehumidifier, and water cooler niches as well. 
All WINIX products are made and designed in South Korea and have sales offices in Asia, America, and Europe. 
Certifications
Various WINIX products hold certifications from many reputable companies and organizations around the world. 
ENERGY STAR

UL
Association of Home Appliance Manufacturers (AHAM
California Air Resources Board (CARB)
European Centre for Allergy Research Foundation (ECARF)
Conformitè Europëenne (CE)
Restriction of Certain Hazardous Substances (RoHS)
Technical Inspection Association – English/Technischer Überwachungsverein – German (TUV)
Allergy UK Seal of Approval
Awards
The WINIX company has earned awards from Red Dot Design, Good Design, IF Design, and the International Design Excellence Award. Home Air Guides awarded this purifier as the "Best Value Air Purifier".
WINIX has been around for a long while delivering consumers quality and affordable products, they make sales globally, hold multiple reputable certifications, and have been awarded numerous awards. For these reasons, as well as my personal experience with their products, I have every reason to believe WINIX is a good company and brand. 
What is the WINIX PlasmaWave 5500-2 True HEPA Air Purifier?
The WINIX PlasmaWave® 5500-2 True HEPA Air Purifier is a high-efficiency particulate air (HEPA) purifier.  This HEPA air filter is designed to remove 99.97% of smoke, pollen, dander, dust/dust mites, and other allergens from the air in your living space. 
What is PlasmaWave Technology?
I didn't want to mess this up, so here is what I grabbed from WINIX directly from their FAQ page.
" PlasmaWave® Technology safely breaks apart odors, allergens, chemical vapors, and other pollutants at the molecular level, without causing harmful ozone. PlasmaWave® creates positive and negative ions that combine with natural water vapor to form hydroxyls, which cleans the indoor air. Winix Air Purifiers are tested and certified by the California Air Resources Board (CARB) to be well within very safe emission levels. CARB EO reference numbers are available on request"
There is quite a bit of banter across the internet on whether this technology produces ozone.  WINIX states it does not produce ozone.
 The ENERGY STAR rating states there are no ozone emissions (0.0 parts per billion) on the WINIX 5500-2 (and 6 other WINIX models).
In my opinion, there is enough credible information out there to prove to me that this does not produce harmful ozone and we use it consistently.  If the PlasmaWave technology is something that you don't want to mess with, you can simply shut it off.
Air Purification Stages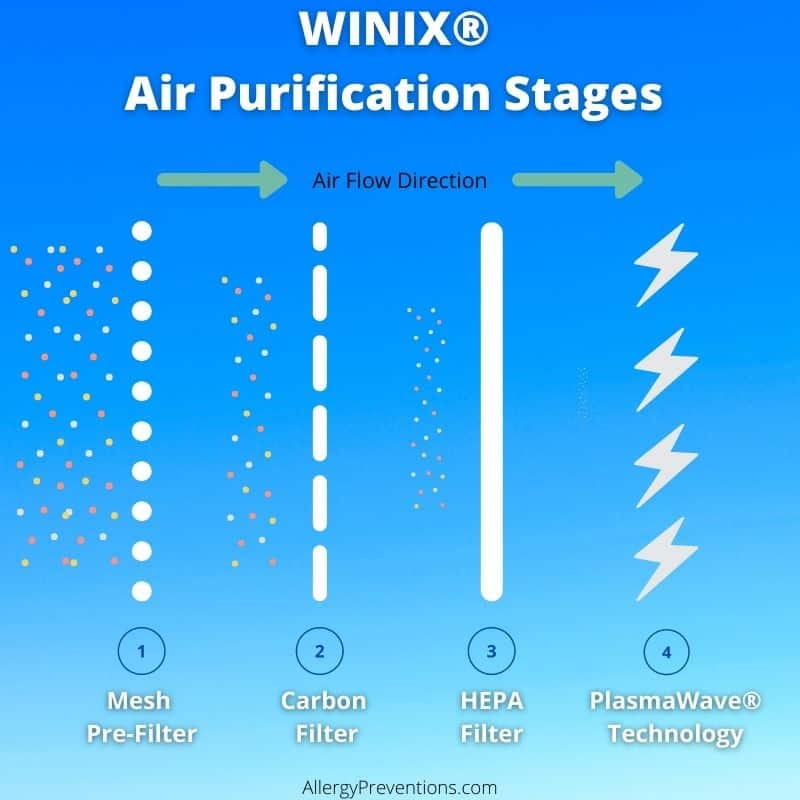 The WINIX 5500-2 has 4 stages to the air purification process: pre-filter, carbon filter, HEPA filter, and PlasmaWave.
Stage 1: Mesh Pre-Filter
The washable mesh pre-filter grabs the big floating around, which extends the life of the HEPA filter.
Stage 2: Washable AOC™ Carbon Filter
WINIX AOC is Advanced Odor Control.  The Advanced Odor Control (AOC) Carbon filter contains carbon, which reduces Volatile organic compounds (VOCs) from paints, air fresheners, varnishes, etc.
In addition to VOCs, this middle filter layer removes odors floating around from cooking, smoke, pets, and humans.
dare I say… it filters/removes bodily function odors? (hey, it works) 
The more often you wash the carbon filter, the less efficient it becomes, but you can purchase replacements if you need to change it more than once a year. 
Stage 3: True HEPA Filter
Don't wash this one!  The True HEPA  filter Captures 99.97% (particles as small as 0.3 microns) of the little things floating around that the other stages didn't stop. 
The HEPA filter is where most of the magic happens,  as it filters out more of the smoke, pet dander, dust, pollen, mold spores, and other airborne allergens.
Stage 4: PlasmaWave Air Cleaning Technology 
WINIX's PlasmaWave helps reduce airborne bacteria, and viruses  using hydroxyl define) to break apart the molecules.  You can easily disable this feature. 
Important Filtration Facts 
The most important stages of a good air purifier would be its HEPA efficiency and 2nd the carbon filter.  This air purifier has True HEPA which is more efficient than a regular HEPA as well as the carbon filter which isn't offered by quite a few comparable air purifiers 
Overall, the WINIX 5500-2 contains all the quality components to be an effective air purifier. 
Effectiveness of the WINIX 5500-2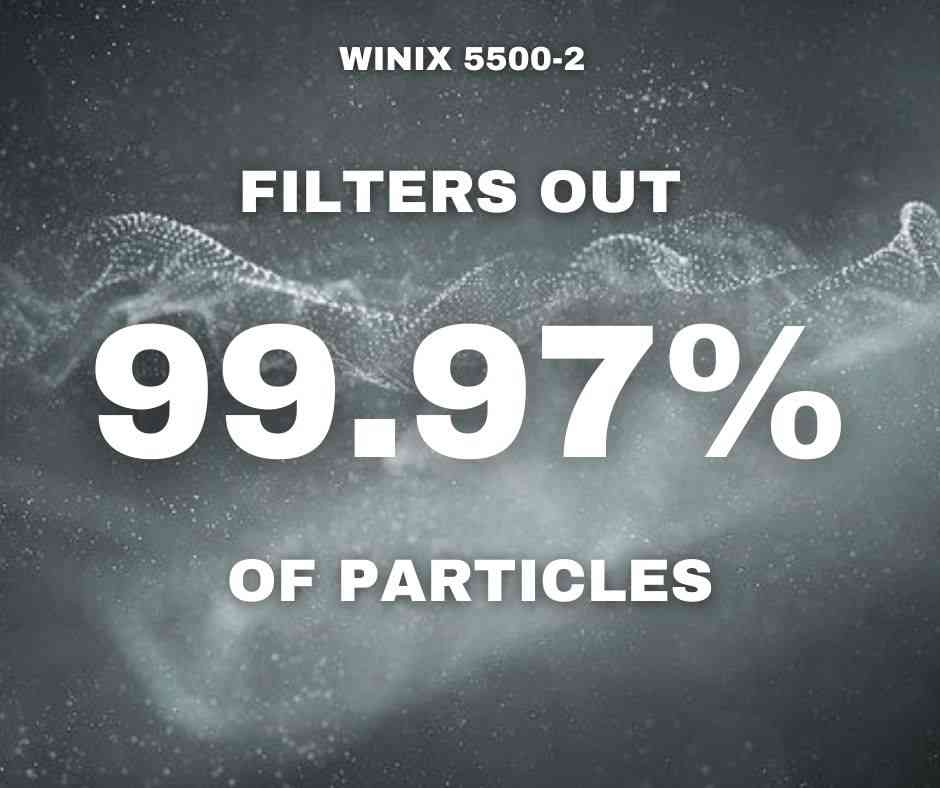 The WINIX 5500-2 is a True HEPA filter, meaning it is capable of filtering out 99.97% of particles larger than 0.3 microns. 
For maximum efficiency and airflow, WINIX recommends that the air purifier unit be placed 12 – 18 inches from the wall.  There are HEPA imposters out there that claim to be "HEPA-like", and "Removes over 95%"; these are not true HEPA filters. 
The WINIX 5500-2 Utilizes a True HEPA Filter  
We have noticed that our allergy symptoms have improved, and there is less dust gathering on items, and in the air.  You know when the sun hits just right and you see all the dust floating around? With this air purifier, there is barely anything floating around!
4 Fan Speeds (Quiet, Medium, High, Turbo) 
Quiet – Truly quiet, and you cannot hear it unless you are right next to it 
Medium – You are actually able to hear the fan, not intrusive in any way 
High – You notice that the purifier is on and has a night white noise 
Turbo – Maximum filtration is happening, and you can for sure hear it. But it's in Turbo mode…you know it's doing some heavy air purifying.
Noise 
When set to auto, we rarely hear the machine.  If there is something really stinky going on we might manually turn it to turbo mode, then you can hear it. 
The air purifier does play a little tune when you turn on or shut off the device, as well as makes a beep when you change a setting.  The sounds you are not able to shut off might be off-putting for some.  Through normal daily operations, we don't hear it. 
Looks
We like the look of our purifier. We have lived in a few houses over the years and we have found it fits into its surroundings no matter where it is. 
We like that it is versatile with blending into its environment. 
Durability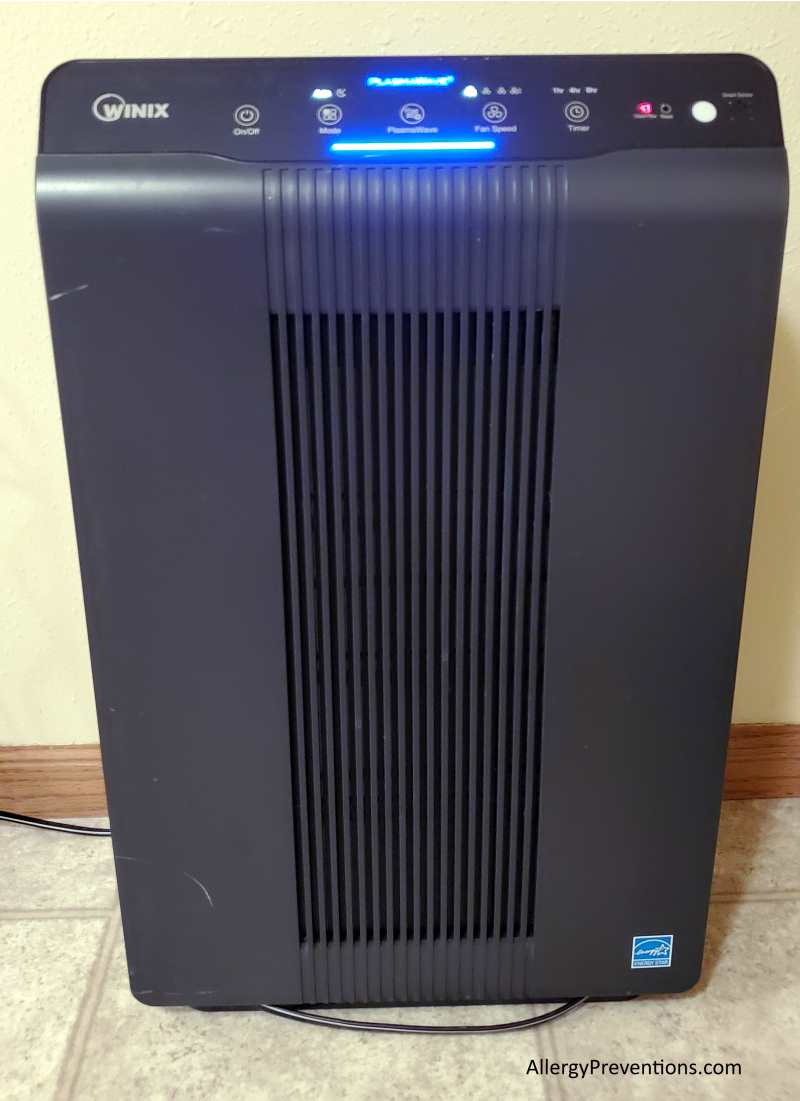 This thing is a (sleek) tank!  It has been through kids pushing it over onto the ground and onto its face multiple times, moved all around the house into different rooms, as well as multiple moves with some not-so-great moving companies.
As you can see in the image, our air purifier has some scuffs and scratches but still runs strong.  Our WINIX 5500-2  has survived it all and still runs like a champ 4 years later. 
Ease of Use
The Winix 5500-2 is very easy to use, and it's straightforward with its design and instructions. 
There is nothing complicated about this HEPA filter, and that is a good thing! 
Remote Controlled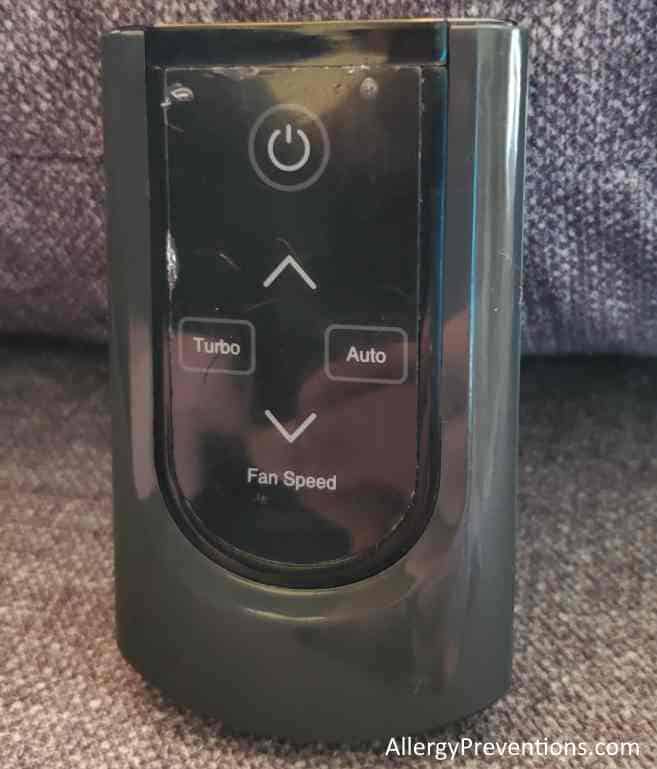 There is a remote control for this device and you can control:
Power on/off

Turbo on/off

Auto mode on/off

Fan speed up/down  
The remote does not allow you to turn on/off the PlasmaWave or put the air purifier into sleep mode.  Honestly, we don't use the remote control and rarely know where it is. (the protective plastic is still on ours 4 years later) 
We have our purifier near the living room and kitchen so we can walk up to it and change any settings we want.  Most of the time it's on auto mode and we don't worry about it at all. 
Specifications of the WINIX 5500-2 Air Purifier
Model Name 
Power Voltage 
Power Rate 
Verified Room Size
Dimensions 
15 in (Width) × 8.2 in (Depth) × 23.6 in (Height) 

38.1 cm (Width) x 20.8 cm (Depth) x 59.9 cm (Height)
Weight 
Replacement Filter 
What Size Room is the WINIX 5500-2 Rated For?
The Association of Home Appliance Manufacturers (AHAM) has certified the Winix PlasmaWave 5500-2 True HEPA Air Purifier to work best in a room that is 360 Sq ft/medium to large rooms.  
AHAM measures the air cleaning rate by using the Clean Air Delivery Rate (CADR). They test with tobacco smoke, fine dust, and paper mulberry pollen (small, medium, and large particles) measuring typically in cubic feet per minute, how fast the air in the room will be cleaned. 
The higher the CADR numbers, the faster the air cleaner will clean that room. Keep in mind there is no max number when using the CADR. The best way to compare the air purifiers' performance is to compare the CADR numbers. 
Here is an example of WINIX vs Honeywell.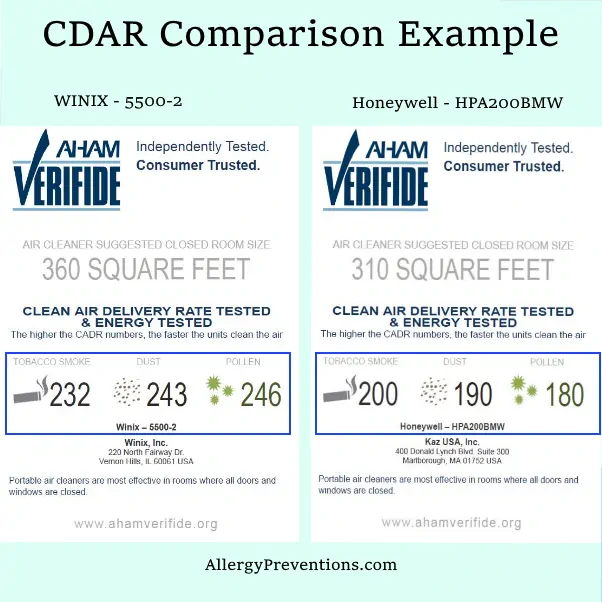 As you can see the WINIX has higher numbers in all categories meaning it will clean the air faster than the Honeywell. If the room you are looking to purify is around 360 sq feet, the WINIX 5500-2 is certified effective for your needs. 
Air Quality Indicators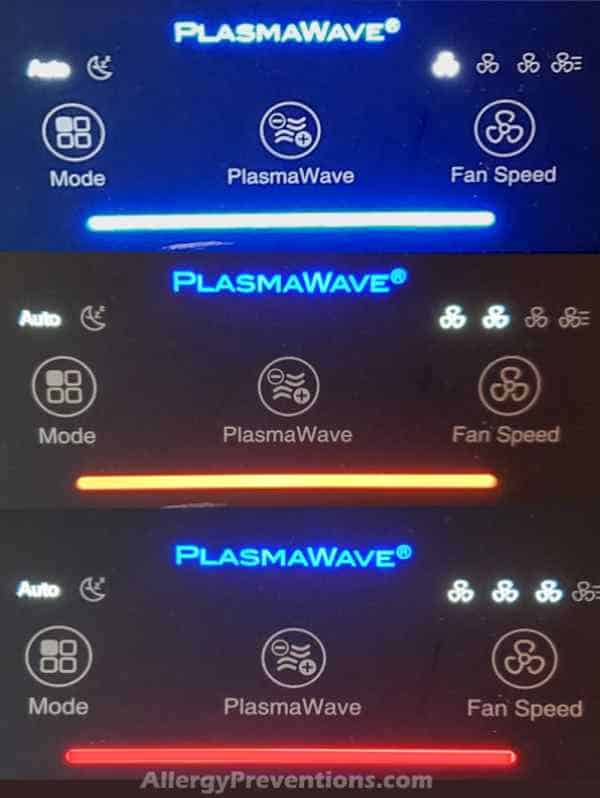 The front of the device is equipped with an Air Quality Indicator. This indicator tells you what the air quality status is currently in your room. 
Good Air – Blue

Fair Air- Orange
Poor Air – Red
I like to say there is a 4th indicator that I call "Disco".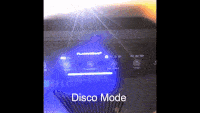 When you first turn on the filter it flashes all the colors for a few seconds, like a disco party. "Disco" is just essentially booting up/calibrating. 
Sensors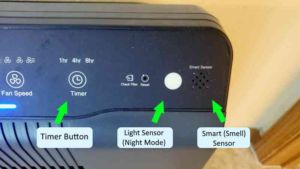 This air purifier is equipped with a sensor, to "sense" air quality. 
The sensor is "smelling" the air and adjusts the fan speed (and the air quality indicator) when it senses there is something bad in the air.  This all happens automatically which is great.
You can override auto mode and have the purifier running on any of its modes if you prefer as well. 
Sleep Mode
The WINIX PlasmaWave 5500-2 True HEPA Air Purifier has a sleep mode. When the room gets dark it goes into sleep mode.
During sleep mode, the filter is on its quietest setting (still running), and the Air Quality Indicator lights shut off.  Don't you hate devices that are too bright when you turn out the lights? this is not one of them and goes to sleep when you do.  
When the room gets bright, the purifier "wakes up" and goes back to auto mode and your indicator lights turn back on. 
We love sleep mode. 
You Can Set A Timer 
There may be a time when you only want the filter to be running for a bit and then shut off.  There is a timer button that allows you to set a 1, 2, or 8-hour timer. 
Once the time has been reached the filter will play its little notification noise and the unit will power off.
Power Cord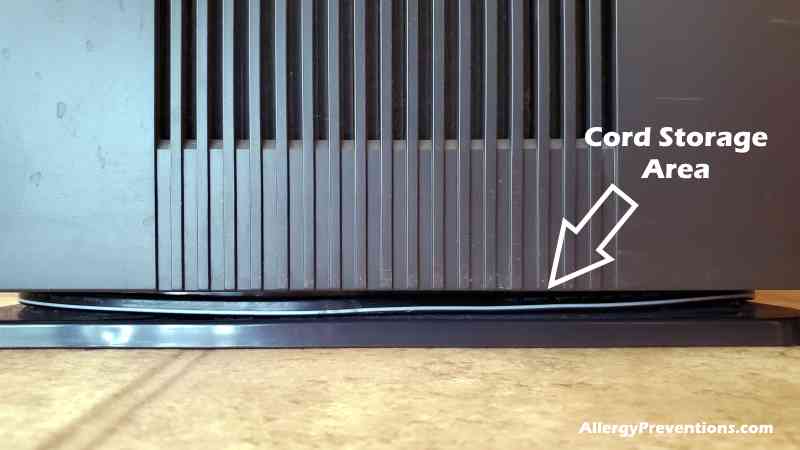 The WINIX 5500-2 has your standard power cord, which is plenty long. You are also able to wrap any excess cord around the base of the purifier so it is out of the way. 
Warranty/Returns/Exchanges
Warranty 
The WINIX PlasmaWave 5500-2 comes with a 2-year limited warranty. WINIX will fix or replace the unit if any part is found to be defective.  WINIX does have specific criteria that will need to be met to honor the warranty, as well as a list of actions that will void that warranty.
I recommend you read the full terms and conditions page on their website for details. 
Returns
WINIX America does take returns within 30 days of purchase from their website. If you bought the air purifier from a third party (Amazon, Target, Wal-Mart, etc.) you would simply start the return through that retailer. 
Exchanges
WINIX's exchange policy is you send them the item to be returned ( start the return process) and once you are reimbursed you can order a new product. Not really an "exchange" if you ask me, but they do have "exchanges".
Replacement Filters
It is recommended that you buy WINIX replacement filters as WINIX honors their warranty on their products, and using a third-party filter would void your warranty. If you don't care about that or you are over the warranty timeline, you can use the third-party filters which have worked great for us and can save you money.
WINIX recommends you replace your HEPA filter at least annually, and this specific model (5500-2) uses the type "H" filter.
Operation Costs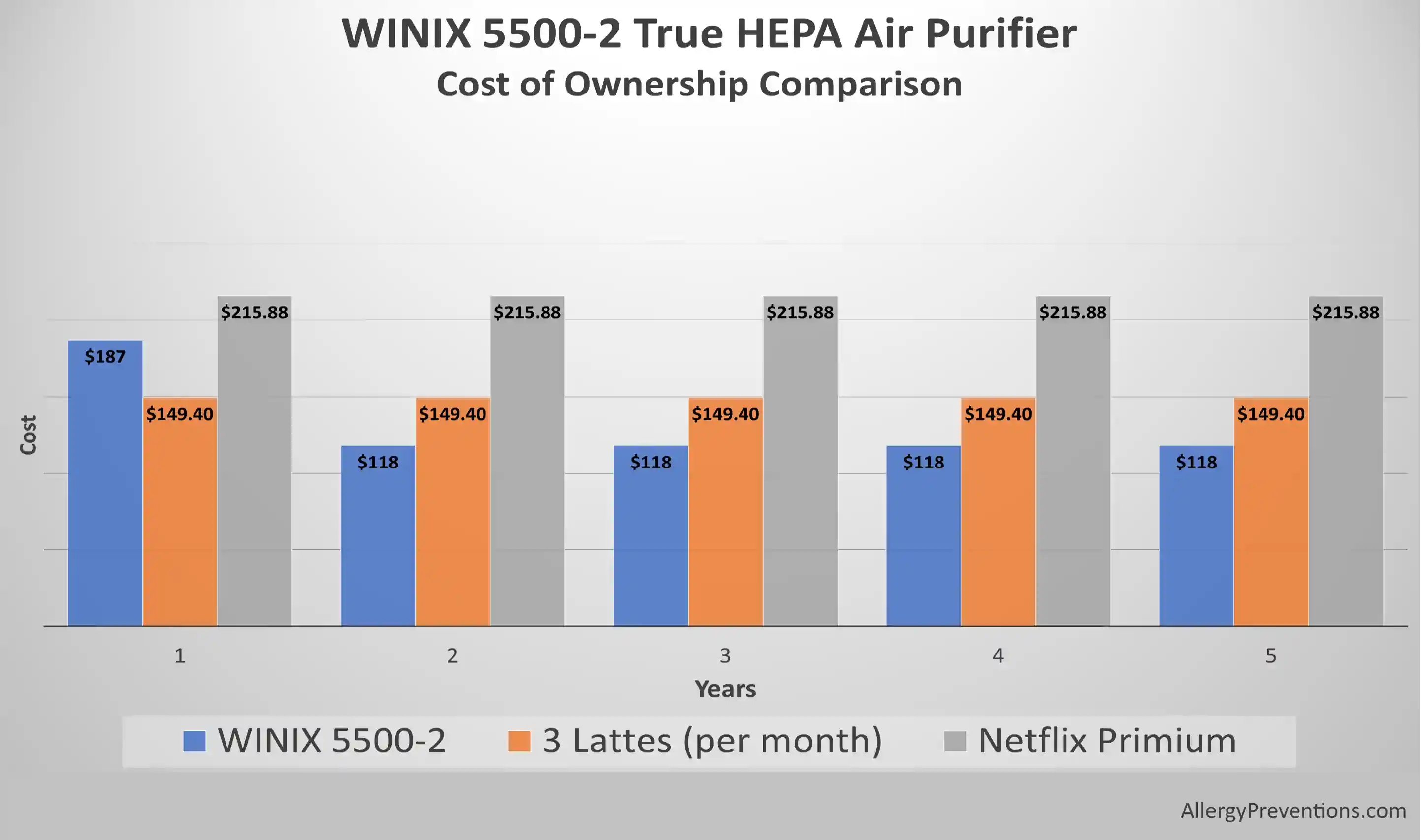 The initial purchase price of the WINIX PlasmaWave 5500-2 True HEPA Air Purifier varies between retailers, currently, the price from Amazon is $149. 
The HEPA filter is good for up to 1 year of use, and its efficacy life depends on proper pre-filter cleanings, how long you run the filter, the concentration of airborne contaminants, and where you are operating the unit. 
Using the filter for 1 year, it would cost $79.99  from WINIX to replace it every 12 months (your first-year filter is included)
Electricity
ENERGY STAR has rated the annual energy use at 296.58 kWh per year, and the average US cost per kWh is around 13 cents.
At these rates, the WINIX air purifier costs about $38 a year to operate.
Overall Costs
Combining the price of the unit as well as the electricity, we can develop the overall annual costs.
The first year would cost you $187
The second/third year would cost you $118
After the first year, you'd be spending around $118 annually or $9.83 monthly, or 32 cents daily.
That's cheaper than going out for a coffee with a friend once a month!  Of course, you may need to change your filters more often and your electricity costs might be higher or lower. 
Do I Recommend the WINIX PlasmaWave 5500-2 True HEPA Air Purifier?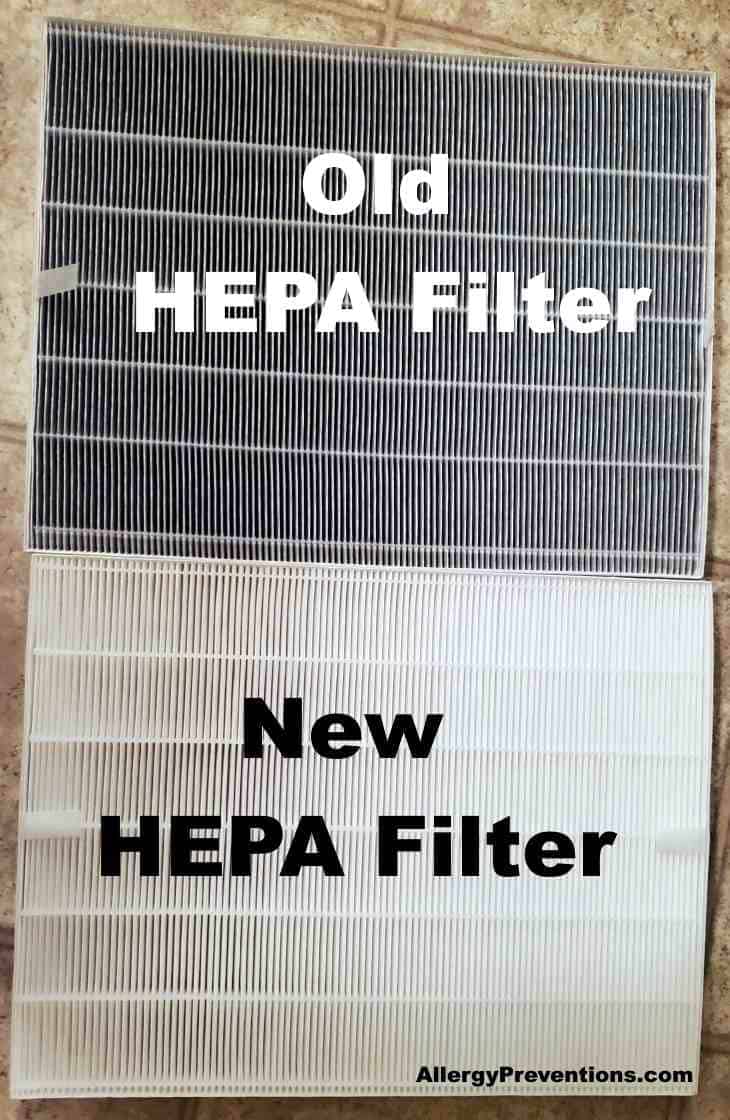 Yes, I recommend this air filter. As you can see from this image, the WINIX 5500-2 works!!
I get excited about filter changes so I can see these comparisons and get the satisfaction of knowing I reduced the dust, mold, bacteria/viruses, dander, and violent organic compounds for my family.
Cost aside…Being able to relieve your symptoms, breathing fresh air, and the good potential that this device can keep you from getting sick… Priceless  Based on my 4+ years of using this product with no issues and relief in allergy symptoms for my whole family…
Where to Buy 
The Winix 5500-2 Air Cleaner with PlasmaWave Technology is found at many major retailers. I have listed my recommended locations to purchase based on current price, ease of access, and/or customer service. 
WINIX Website
For those who like to buy directly from the source. Not always the cheapest, but has deals throughout the year. You can buy directly at winixamerica.com 
Wal-Mart
May be eligible for fast shipping and/or store pickup. Buy directly from walmart.com 
Final Thoughts 
Once you own a True HEPA filter, you will not want to go back to life without one.  Reducing illness, asthma, and allergy symptoms while promoting a healthy indoor environment for yourself and your loved ones, makes it all worth it.
I understand that this specific unit may not be the one for you, so find one that does fit your needs and price point.  If this WINIX 5500-2 checked all your boxes, get it, you will not be disappointed. 
Please take a moment to share this article if you have found it useful, and feel free to check out the articles below.
How to Replace a WINIX HEPA Filter
Charcoal Air Purifier: Does it Work?